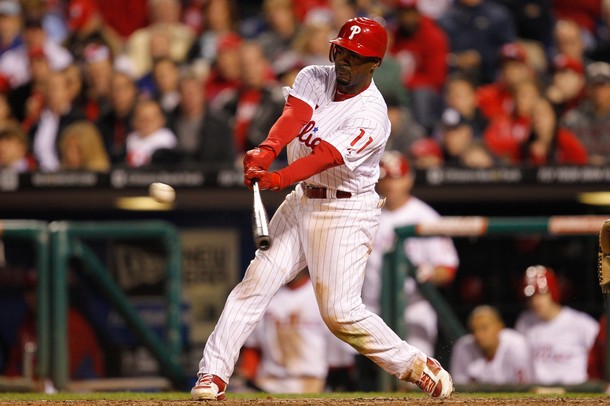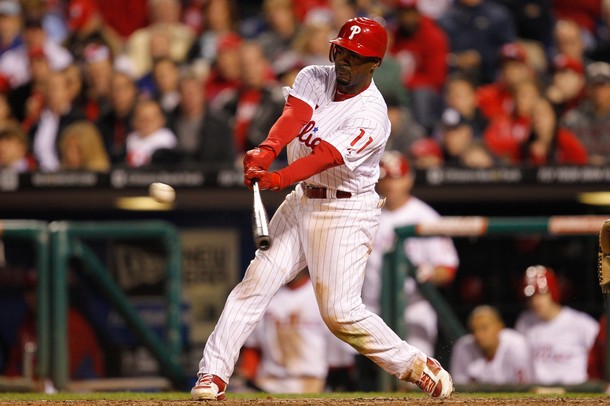 The Philadelphia Phillies lost the first game of their double-header with the White Sox, falling 5-4. Their record drops to 46-48.
Jonathan Pettibone pitched a decent game, allowing three runs on six hits and four walks over six innings.
Pettibone pitched four scoreless innings to begin the game, but then ran into some trouble in the fifth. The rookie allowed the first two batters to reach base, and then gave up a two-run double to Alejandro De Aza.
Pettibone put the team behind the sixth inning. He began the inning by walking Adam Dunn, and then gave up a double to Dayan Vicedo. Conor Gillapsie knocked in a run on a sacrifice fly to make it a 3-2 game.
Domonic Brown gave the team the early lead with an RBI groundout in the first inning. Brown came to bat with runners at second and third with one out, after Ben Revere singled and Michael Young had doubled earlier in the inning.
Delmon Young followed Brown with a two-out RBI single to make it 2-0.
Ben Revere just won't cool off right now. Revere had another multi-hit game.
Carlos Ruiz continues to have issues with timely hitting, grounding into yet another double play. Ruiz had runners at first and second with one out in the bottom of the fourth, but ended the inning with a poor at-bat. Ruiz also had an opportunity to win the game with runners at second and third with no outs in the bottom of the ninth, and couldn't get the job done.
Justin De Fratus took over for Pettibone in the seventh, and pitched a scoreless inning.
Darin Ruf tied the game in the seventh inning with a solo home run off of John Danks. Ruf worked Danks for an eight pitch at-bat, fouling off four pitches before launching his second bomb of the week. Ruf also singled in the 10th inning.
Antonio Bastardo pitched a scoreless eighth inning.
Jonathan Papelbon worked a scoreless ninth.
All that Laynce Nix needed to do to win the game in the ninth was put the ball in play with runners at second and third with one out, and instead he struck out. Nix is now batting just .200 for the year with two homers and six RBIs.
J.C. Ramirez came on to handle the 10th inning. Ramirez gave up a lead-off single to Adam Dunn, but then got himself a double-play ball.  Ramirez came back out for the 11th, and although he got the first two outs, he couldn't give the team another scoreless inning. The rookie gave up a two-out triple to De Aza, then an RBI double to Alexi Ramirez, and then gave up another run thanks to an error.
The Phillies had another good opportunity to win the game in the 10th. With runners at first and third with one out, Delmon Young struck out, and Kevin Frandsen grounded out.
The team managed to score a run in the bottom of the 11th after a double from Ruf and an RBI single from Humberto Quintero.
Final Thoughts

What an unexcusable disaster.
The Phillies had a victory in the palms of their hands on Saturday afternoon, and they just flat out refused to seize it.
How disgraceful is it that they had two great opportunities to get a walk-off win, and they failed miserably both times? Carlos Ruiz, Laynce Nix, and Delmon Young each had a chance with less than two outs and a runner at third to just put a ball in play and win the the game, and not one of them could do it.
The team's bullpen is not built to endure any kind of extra inning affair, and they were lucky to get even one scoreless inning out of J.C. Ramirez.
The Phillies could have evened out their record at .500, and been in a great position heading into the second game of their double-header. But instead they come away with a deflating loss, after enduring a ballgame that lasted nearly five hours.