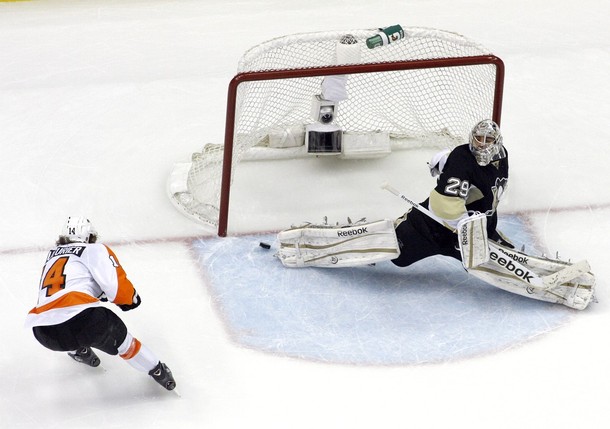 The Philadelphia Flyers announced early Saturday afternoon that center Sean Couturier has been signed to a two-year, $3.5 million contract extension.
Couturier, 20, had one more year remaining on his entry level contract before becoming a restricted free agent. The extension increases his salary cap value from $1.375 million to $1.75 million and keeps him as a restricted free agent at the end of the extension.
The Flyers have made it an organizational standard practice to not risk their players hitting free agency. Captain Claude Giroux, who would have also been a restricted free agent next offseason, signed an eight-year, $66.2 million contract at the end of June. Veteran defenseman Kimmo Timonen signed a one-year extension in February while free agents Scott Hartnell and Wayne Simmonds, who needed to be signed by this offseason, were each extended right before the NHL lockout last August.
I've hit this chord a number of times before, but it bears repeating- little moves like this are why Paul Holmgren deserves credit as a respectable general manager. There have certainly been cases where he has made moves that didn't pan out or were arguably disastrous (*cough* Bryzgalov *cough*), but a general manager should be judged by the sum of his work, and this is a fantastic signing.
Couturier has been the subject of trade rumors for over a year, as the Flyers have been asked to include him in nearly every trade offer known to date. He hasn't reached his potential yet, but everyone knows it's there.
Couturier's role next year will be as the third line center and potentially second line center in the event of injuries. Moving up permanently from the fourth line, where he spent a considerable amount of time in the past two seasons with Zac Rinaldo and Max Talbot, will bring with it improved linemates. Better linemates should improve his scoring touch, a concern that many fans had with his play last season after he only scored 4 goals and 15 points in 46 games.
Couturier isn't going to get favorable zone starts or easy competition in this role, but that's not the point. He's still just 20 years old and needs time to mature physically and mentally. This extension will pay him like a 3rd/4th liner while giving him the time and room to grow into a more prominent role.
The remaining restricted free agents for the 2014-15 season (among those who have already logged in considerable time in the NHL) are Brayden Schenn, Erik Gustafsson, Marc-Andre Bourdon, and Steve Mason. Of that group, Schenn is the only one not playing for a new contract. If the team can sign him to a similar "bridge contract" like Couturier's and Giroux's last contract in the range of $3.0 to $3.5 million, then the actual cap hit for the 21 year old will be a marginal increase over his current contract.
Don't be shocked if a Schenn announcement also comes before the end of this summer.