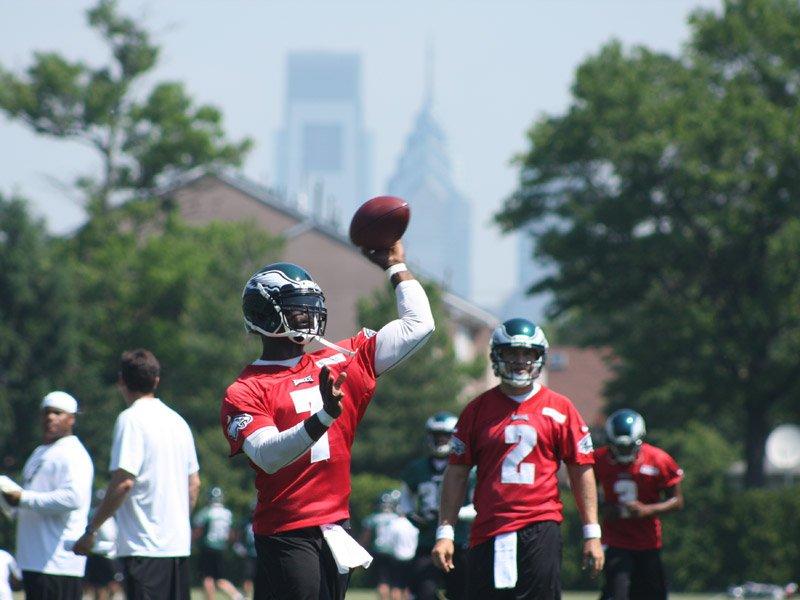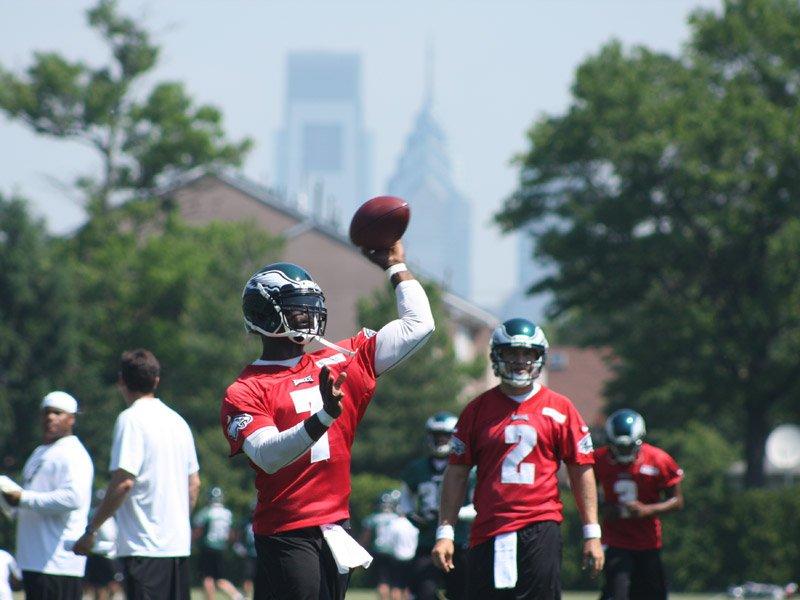 Yesterday after the team's first practice, Eagles quarterback Michael Vick was presented with a scenario which had him failing to win the team's starting quarterback job.  He was asked how he would handle it.
"I'd continue to support this team," Vick said. "I'm here for one reason – to help this team win football games . . . by any means necessary, whatever it takes. If I have to watch film with all the quarterbacks, or if I have to coach the quarterbacks one day, that's what I'll do. I can do it."
Vick seemed sincere in his comments and he says he's committed to getting better as a quarterback whether he's starting or not.
"I came back to play for coach Kelly," Vick said. "That was it. I'd heard a lot about him, I'd watched Oregon, and I just felt like this was the best opportunity for me, and I chose it. Regardless of what the fate may be, I'm still going to compete, I'm still going to try to be the best quarterback I can be, and I'm still learning every day. I feel like I've got a lot left in my tank."
"From now on, until my career's over, until I stop playing the game of football, I'm going to compete every day," Vick said. "I love that part about football. I love the competition aspect . . . I love the game that I play, and I think that supersedes everything."
To nobody's surprise, Vick said he was very eager to get the chance to compete for the starting job.
"I love the competition," he said Tuesday as he walked off the practice field at the NovaCare Complex. "I embrace the competition. I really do. It makes all of us better quarterbacks. It makes all of us better football players. It definitely pushes me."
Chip Kelly isn't going to be pressured to make the quarterback decision before he has to.  When asked about when he's going to name a starting quarterback, Kelly replied, "We'll have our starting quarterback named before we get our game plan in for the Redskins,"
The Eagles didn't get much done yesterday in their first practice of training camp, which involved about 30 players.
"It was good", Kelly said yesterday to a group of reporters. "We knew we had to slow things down from a  teaching standpoint. We only had a couple kids at certain positions; we only had one inside linebacker, one outside linebacker, two corners, one safety. [Practice was] technique-oriented, get guys back and just spend some time, because sometimes I think once you get to Friday, you're back into scheme and there's 90 guys flying around you, these young guys can use as much practice as they can."