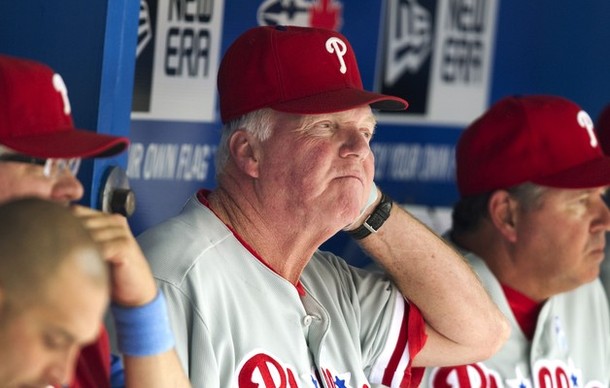 What I've always admired about Philadelphia fans, we understand the big picture.  Can we be Negadelphians? Of course.  We still purchase the jerseys, over-pay for the tickets, food and beverage, and invest way too much of our everyday mood to how our team performed.
The 2013 Philadelphia Phillies are done.  The past portion of the "core" is no-more.  Player names still remain, but age, injury and drop-off in production has riddled their output for this.  Their contracts are too hefty for other teams to take them off our hands; we are mediocrity at best, and have aged quickly.
Charlie is going to finish the season as will Amaro in their respected roles. Amaro needs to be realistic with what this team has and invest in our future.  Charlie can only do so much; the team has made no true attempts to extend his contract past the current year he is playing out.  The H-2-O, the 4-Aces and other clever nicknames have faded for the pitching core than was put together to bring us a second parade.
It's sad but true; transition will take place before our next playoff race.  Re-sign Utley and let him be a Philadelphia Phillie forever, and find a new home for Rollins as his quick glove has slowed; and really his defense is all he has left to offer.  Bye Bye to the Young's, AL teams would both have much need for their services.  Papelbon hopefully can still get you a major league ready prospect with his recent struggles and enormous contract.  Cliff Lee or Hamels, one of their 20 million dollar plus contract has to be unloaded, and both players are the only real talent that will get you true value on the market.  Chooch at this point won't get you much, but I like Kratz with his minor league story-line and local connections, let him catch and bring up Tommy Joseph for some experience.
The product on the field is really hard to watch but we force ourselves to tune in anyway.  We need to consider what the product will be in 2014. This consideration process must be made correctly before the July 31st trade deadline, and even with the waiver-trade period that comes later down the line.   I hate this feeling, but also can't ignore it.  It's a sad ending to how good this team was, and we will always be hunted by the fact that we never won a second World Series.