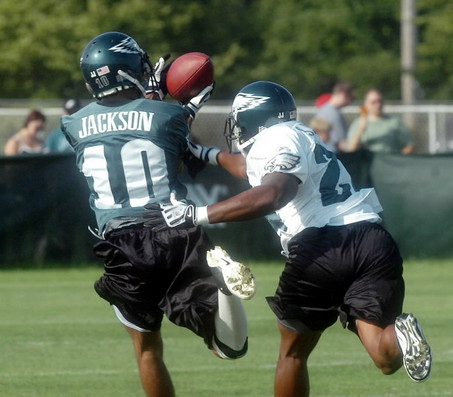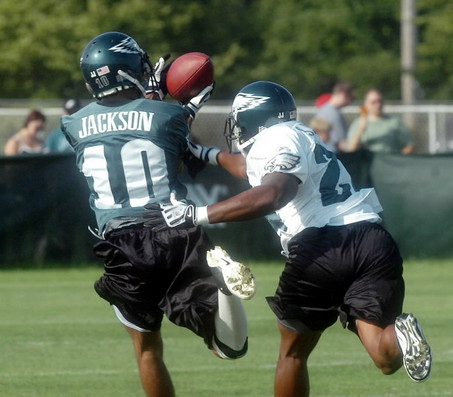 DeSean Jackson made the play of the day when he caught  a long pass from Nick Foles while cornerback Bradley Fletcher was trying to cover him.  He stopped the ball with his left hand and tipped into the air to himself.  Fletcher had great coverage on Jackson, but he made the mistake of waiting for the ball, but he went up and attacked the ball in the air.
He couldn't catch the ball cleanly with the one hand but he found a way to come down with it.  It was an outstanding play and one of the reasons Jackson is one of the game's best big play guys.
Earlier in the practice, Jackson dropped a couple of punts and did a few pushups because of them.  He dropped those two early in one of the special teams periods, then rebounded to finish strong.  Jackson made that one spectacular catch, but he had an impressive day by hauling in quite a few passes.  They had him involved in a lot of plays and the quarterbacks were coming his way quite a bit. Head Chip Kelly has been impressed with his speedy wide out.
"One thing about DeSean that I'm real impressed with is how he came back in shape. He did a great job yesterday in the conditioning test," said Kelly. "That proves to me that he spent a lot of time this summer investing in himself, and that's what we talked about before we left, is I think the sky is the limit for him. He can be a real special player in this league but he's got to make that decision that he wants to be. I think what he did, just watching where he is right now, kind of his pace and tempo in practice now, he's what we want."
Starting cornerback Cary Williams strained a hamstring during the practice, but he didn't think it was anything serious.
"I'm just hurt; I'm not injured," Williams said. "It's something that's minor. It's nothing to go all crazy about."