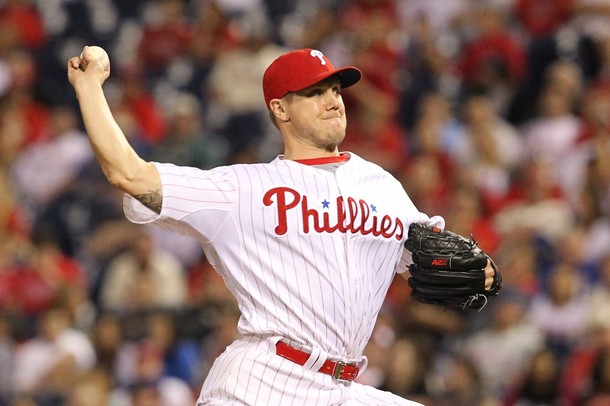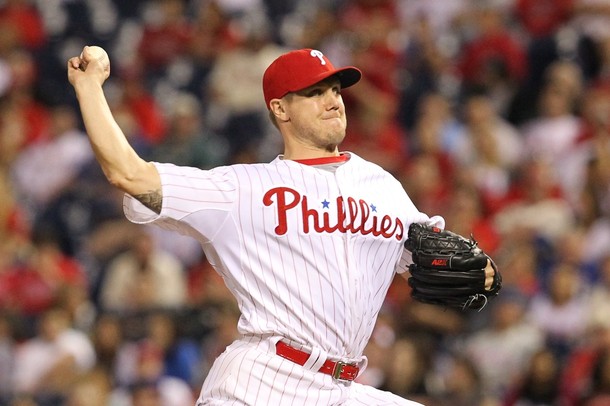 Major League Baseball's trade deadline is just a couple of days away, and it seems all but assured that the Phillies will be sellers for the second straight year. What do the Phillies have to offer other teams? Which players are most likely to be ex-Phils by 4 p.m. Wednesday? Let's take a look.
Cliff Lee (Stays)
Lee is probably the most valuable asset that other teams would want and pay a high price for. The ace has been one of the few consistent bright spots on the team in 2013, posting a 10-4 record with a 3.05 ERA. Lee also made the All-Star team for the second time in the last three seasons.
Lee is still one of baseball's elite pitchers, and he's proven in the past that he can be a serious difference maker in the postseason, carrying the 2009 Phillies and 2010 Rangers through the playoffs to World Series appearances.
Given Lee's performance this year and his previous track record, the Phillies could get an impressive package in return for the lefty if they were interested in moving him. However, the sense around baseball and the sense I get personally is that the Phillies don't want to move him.
Ruben Amaro likes to keep his pitching staff well-stocked with top of the line starters. Even though some that believe Lee will be traded will point to the fact that the organization just paid top dollar to get Miguel Alfredo Gonzalez to sign, the reality is that he's an unproven commodity.
If the Phillies want a shot to be competitive next year, a great way to start would be to have a deep starting rotation built around Cole Hamels, Cliff Lee, Gonzalez, and Kyle Kendrick.
Chase Utley (Stays)
Chase Utley isn't what he once was, but he's still a pretty solid player. He's finally figured out a way to cope with his knee issues, and he's still got a little bit of pop left in his bat. He's hit 13 homers this year, two more than he had last season, and is on pace to hit more than 20 for the first time since 2009.
The former All-Star has a reputation for being a smart player, and he would bring invaluable playoff experience to any contending team looking to make a run. The Phillies could certainly flip him for a decent return.
However, the Phillies seem to be completely uninterested in moving Utley. Infact, all signs point the team agreeing to a contract extension with the second baseman.
While I believe the Phillies will (and should) keep Cliff Lee, it just doesn't make any sense to me to hang on to Utley.
If Utley really wants to be here that badly, he can re-sign in the off-season. Trade him now, give him the opportunity to play meaningful baseball for the rest of this season with another club, and then bring him back for another try over winter. But the idea of just throwing another contract extension at the feet of a guy who is going to be 35, has a degenerative knee condition and hasn't been completely healthy in nearly four years is a recipe for disaster.
Carlos Ruiz (Stays)
Ruiz is another guy whose name has come up in trade discussions, but I don't see the Phillies moving the popular catcher.
First, Ruiz just hasn't had a good year. He's hitting just .253 with only nine RBI's through 46 games. He hasn't hit a home run, and only has four extra-base hits. He's still got good value as a defensive catcher and as a guy who can handle a pitching staff, but I don't think that's enough for the team to get a return that justifies dealing him.
Ruiz is a guy who shouldn't cost much to re-sign, and given his history with the team and the value that he has to this pitching staff, I think he's a guy that the team will want to keep in the fold for a couple more years. They don't have any better option at the position for next season; top prospect Tommy Joseph doesn't appear to be close to contributing anytime soon.
Jonathan Papelbon (Goes)
Papelbon has been the only reliable figure in the team's bullpen, converting 20 saves in 25 opportunities with a 2.21 ERA. The closer is a big-time reliever who thrives on performing in big moments, and any team in need of late inning help would certainly be interested in adding him.
I think there's a good chance that Papelbon gets moved. He's made some negative waves several times throughout the season, beginning in Spring Training when he stated that the Phillies lacked leadership within the clubhouse. Then once the regular season began, there were several incidents where Papelbon threw his teammates under the bus after he had blown a save. Now after Sunday's game, Papelbon came out told Todd Zolecki of MLB.com that he didn't come here for this welcome a move to a winning franchise.
When asked what it would take to turn the team around, the closer stated "Oh, man," he said. "We could be here all day."
When asked if he wants to remain in Philadelphia, Papelbon said: "No, I would like to stay here. But if I'm going to have to put up with this year after year, then no, I don't want to be here. Why would you? Why would anybody?"
Papelbon sounds like a guy who wants out, and I think the team could very well be willing to grant his wish. They've got to make at least one significant deal that brings back a great deal of talent, and if they're going to hang on to Cliff Lee and Chase Utley, Papelbon is the only other tradeable guy on this roster that can net a high return.
I also would love to see the Phillies get out from the rest of Papelbon's contract. The 32-year old has lost a bit of velocity this season, and there's no telling how much longer he's going to be on top of his game. It'd be a serious issue for the club if they were stuck with a declining, expensive Papelbon for two more years.
Michael Young (Goes)
There's been a decent amount of reported interest in the veteran third baseman.
Young is a glorified singles hitter at this stage in his career. He's got very little pop left in his bat, and its been a struggle for him to find the gaps all season. He's still a smart hitter, he can work a count and give a decent at-bat, and he's got some good playoff experience but he's not a difference-maker for any team.
Still, the Phillies should have little trouble flipping Young's expiring contract on a team looking to add a veteran bat.
Delmon Young (Goes)
Delmon won't command a team's top prospect, but the Phillies should still be able to work out a deal for him.
Young has been decent for the Phils, hitting .266 with seven homers and 29 RBI's. He had a strong postseason in 2012, he's playing on a very cheap expiring contract, and he'd be a very serviceable bench piece or DH option for a team.
Check out G. Cobb later today on Lunch Break with Rhea Hughes at 12:30 on Comcast Sportsnet.  You can also check out G, Cobb on Comcast Sportsnet television this afternoon on Sportstalk at 5pm.