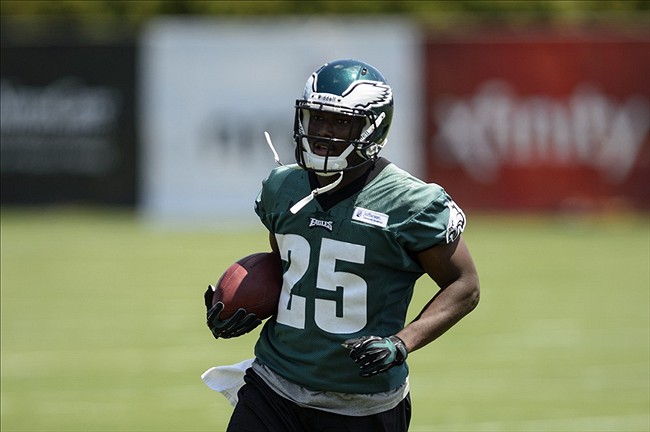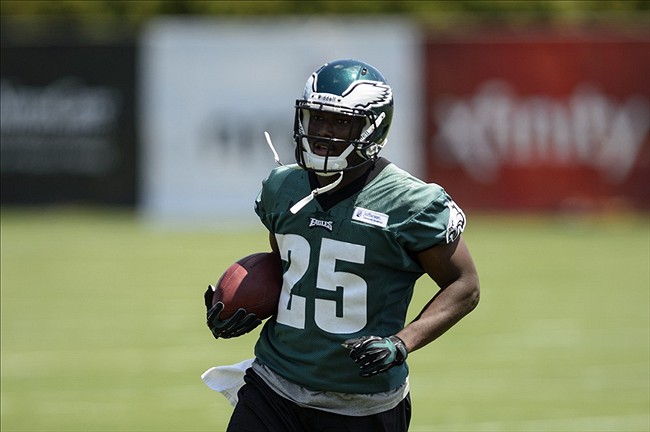 Eagles Pro Bowl running back LeSean McCoy is the starter and the best running back on the football team, but the running styles of Bryce Brown and Chris Polk fit the zone blocking running scheme better than McCoy's style of carrying the football.  The inside zone and outside zone running attack which Chip Kelly espouses require the running back to make one cut and hit the hole at full speed.  He's not supposed to spending any time dancing in the backfield.
They take a lateral step while taking the handoff, then head downfield once they spot the hole.  They're not supposed to waste time, dancing behind the line of scrimmage.  It's supposed to be a lateral step, get the football, and head downhill, no dancing.
The offensive line fires out at whichever defensive player is in front of them.  They block whomever is in that area and that's why it's called a zone blocking scheme. They try to knock the defender off the ball and to their left or to their right.  They want to get him moving to one side or the other figuring that a natural hole will open up if they get the defenders moving.  They let the running back find the hole regardless of wherever it opens up.  The opening could occur in one direction or the other.
Both Brown and Polk are one cut running backs, who look for the hole, make one cut and they're going down hill.  McCoy likes to dance and use his instincts to make yardage when he gets his hands on the football.   He's an improvisational running back.  Like Barry Sanders, he could go anywhere with the football.  He wants to breaks the rules sometimes, but this running attack isn't really built for that.
This blocking scheme and running attack is supposed to eliminate the improvisation of the running back.  Like a robot the running back is supposed take a lateral step, get the football then head toward the line of scrimmage while looking for the hole.
This running attack is not for a dancing running back.  This is a one cut and downhill attack.
McCoy is going to need to make an adjustment or he will become frustrated with this offense.  I'll be very interested in seeing how things turn out.  I predict that early on in the preseason, Brown and Polk may have more success than McCoy, until he makes the adjustment.  He'll get it and flourish in it, but right now, his backups fit the running attack better than he does.
The Denver Broncos under Mike Shanahan were the first team to incorporate this rushing attack with Terrell Davis back in the mid-1990's.  They won two Super Bowls with it.  Kelly has taken it to another level by adding the read option to it.  Davis was a one-cut back, who was not a dancer.   Shanahan is using the zone blocking running attack in Washington and it allowed rookie Alfred Morris, who is just an average back to run for 1613 yards in his first year.
Shanahan was able to talk all types of mediocre backs and make them successful with the zone blocking scheme.  There haven't been too many top level improvisational backs like McCoy who have flourished in it, but if this offensive line gets the defensive linemen moving, you can be sure McCoy will find the hole.
"I'm studying, taking what I learn on to the field", McCoy said. "It's different, but I will get it. It's just a matter of time, but it's tough."
"The offense as a whole allows players to be players, just to do their best," Brown said. "If you see (the hole), wherever it's at, if you see it, if you feel it, just (be) instinctive, and you just have to make a play."
"I feel a lot better," Polk said. "I lost 15 pounds, but I still got my strength. My style is one cut, get up field."
Polk has shocked the coaches with his ability to run routes and catch the football out of the backfield.  At his lighter weight, he's like a different player.
McCoy suffered a minor knee injury on Monday and missed the last part of the practice.