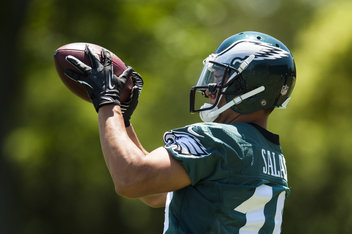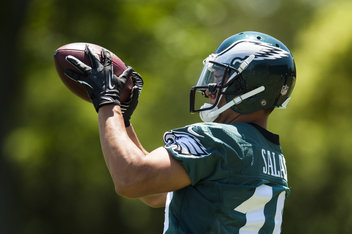 Stock Rising
Vinny Curry: There's been a great deal of speculation about whether or not Curry would be a fit in a 3-4 scheme, but the former second-round pick made a good first impression against New England. Curry played hard, and was disruptive. He finished with two tackles and a half a sack. He was the team's best defensive lineman, and if he continues to play this well he could even find himself with a chance to become a starter before long.
Casey Matthews: Before leaving the game with an injury, Matthews was having an active night. He broke up a pass to a running back, and was in on several tackles. Those tackles weren't Matthews chasing anyone down the field either, they were situations in which the linebacker made his way to the football, and stopped the ball carrier after a short gain. The Eagles have a lot of question marks concerning their linebacker depth, but Matthews made a good case for himself on Friday.
Greg Salas: Salas led all Eagles receivers with three catches for 53-yards and a touchdown. Salas made some nice moves on his touchdown reception to avoid two tacklers on his way to the endzone, and then finished his night with a spectacular one-handed reception for 35 yards in the fourth quarter. He looked comfortable, and played with confidence that some of the other young receivers lack. With the lack of depth that the Eagles currently have at receiver, Salas has a shot to make it. He's got to continue his production from the receiver position, and some contributions on special teams could help as well.
Jake Knott: The undrafted rookie looked pretty comfortable, and was always around the football, finishing with four tackles and half a sack. Coaches spoke very fondly of him after the game, stating that this is the way he's been throughout camp. He's gotten the team's attention in a good way, and has three more games to make that impression even stronger.
Clay Harbor: Harbor is going to make it difficult for the Eagles to release him. He made three receptions for 47 yards. He's an athletic tight end that I'm sure the coaching staff would love to find a way to keep around.
Stock Falling
Felix Jones: Jones did have a couple of nice runs, but those two drops he had were brutal. He's clearly behind Bryce Brown and Chris Polk right now, and even Matthew Tucker outshined the former first-round pick of the Dallas Cowboys. He's going to need to show a lot in the next three weeks to have any shot of making it.
Jamar Chaney: Chaney was only in the game briefly, but he looked terrible. Chaney was beat in coverage by running back Zack Sudfeld, and then he missed the tackle, springing the running back for a 22-yard gain. That's not the level of play that a coaching staff should see from a linebacker who has been in the league for three years. Chaney had already fallen out of favor with the previous regime, and with other young linebackers stepping up looking for playing time, his chances of being here after the final preseason game are dwindling.
Russell Shepard/Ifeanyi Momah: Neither of these two wideouts were able to do much to convince anyone that they're worthy of a roster spot. Shepard was pushed around by his defenders, and also drew a flag for offensive interference. Momah hasn't shown that he can catch a ball yet.
Danny Watkins: Its not a good sign when you're a former first-round pick, and the team has you playing out in the fourth quarter of the preseason against the opposition's third and fourth team defenders.