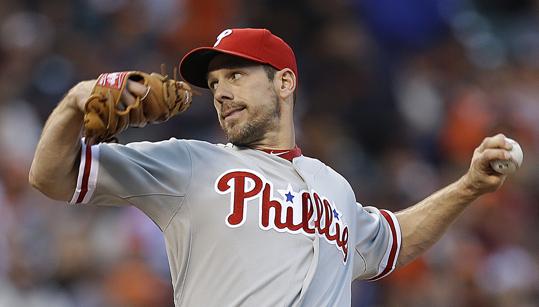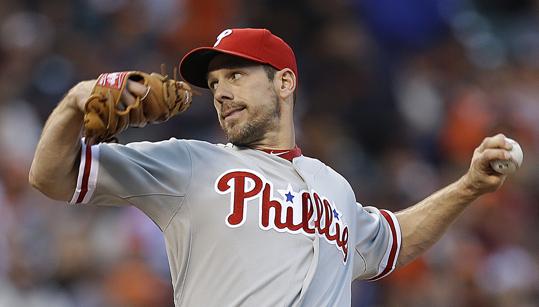 The Philadelphia Phillies lost the second game of their series with the Nationals, falling 8-5 on Saturday night. Their record drops to 52-63.
Cliff Lee lasted six innings, allowing three runs on seven hits. It wasn't Lee's strongest outing, but it was an improvement from his previous starts.
Lee also drove in a run with a sacrifice bunt.
Darin Ruf gave the Phillies a two-run lead in the second inning with his sixth homer of the year.
Domonic Brown went 2-4 with a solo home run, his 26th of the year.
Cody Asche went 1-4 and scored a run.
Michael Martinez got another start in center, and went 2-4 with a couple of singles.
Jake Diekman took the loss, allowing two runs in the sixth inning. Diekman walked two batters and recorded two outs before being pulled.
Zach Miner was the guy who really imploded tonight. The righty recorded just one out, and allowed three runs on four hits and a walk.
Luis Garcia pitched a scoreless eighth inning.
Final Thoughts
Well, incredibly enough, we haven't seen a solid implosion from the bullpen in about a week or so, so I guess they were overdue for a rotten performance.
Remember back in Spring Training, when a lot of people (myself included) actually thought that this bullpen was going to be the team's greatest strength?
We loved the addition of Mike Adams. We thought Phillippe Aumont was going to help out as a set-up man. We had some good young arms in the system with the likes of Mike Stutes, Justin De Fratus, and Jake Diekman. We even thought Chad Durbin had a chance to come back a be a solid veteran presence.
And not one of those guys has panned out. Not one. How amazing is that?
Ok, we knew Adams was fragile and had health concerns. We knew Aumont had issues with control and confidence in the past. We knew Stutes, De Fratus, and Diekman were all still a little raw. We knew Durbin wasn't going to be as good as he was back in 2008. You could certainly accept and understand it if things went south for a couple of these guys. But for every one of these guys to just flat out fail miserably?
And to top it all off, Antonio Bastardo gets slammed with a 50-game suspension for PEDs, and closer Jonathan Papelbon begins to go into a decline with diminished velocity and effectiveness. The amount of things that have gone wrong for this bullpen is nothing short of remarkable and uncanny, its the most tragedy-stricken bullpen I've ever seen.