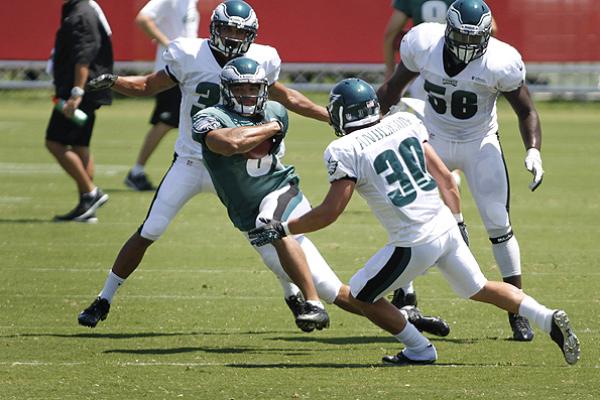 In what I think is a great move, the Eagles had tight end Clay Harbor take some snaps at the wide receiver position.  I've seen steady improvement from Harbor for the last couple of years.  He's gotten faster and more fluid in his routes.
He was dropping passes last year before the season, since them he has been catching passes after practice everyday from the jug machine with Jason Avant and Kurt Coleman.  Harbor's hands have gotten better.  I've seen improvement from him and I think they need to find a way to get him on the field.
They're going to be playing multi-tight end formations and using Harbor wide receiver in certain situations makes sense.  It's going to create matchup problems for the defense.  Unlike the Andy Reid-led teams, which struggled in the red zone, I think Chip Kelly's team is going to be formidable with a good running game and a multitude of pass catching tight ends.
"We've got seven tight ends, and he already knows how to play inside because all the tight ends know how to play the slot," coach Chip Kelly told members of the local media.  "He had three big catches for us Friday night.  He's probably the fastest of the tight ends.  Until, really, there's some cut downs and there's some guys available, we think that the best route for us is the guys we have."
At some time during this preseason, you're going to see Harbor playing some wide receiver.
"So if we can cross-train Clay a little bit and get him to play outside receiver now — we believe he knows how to play inside and understands all our route concepts — so it's just a matter of the more versatile you can be the better impact you can make," Kelly said.