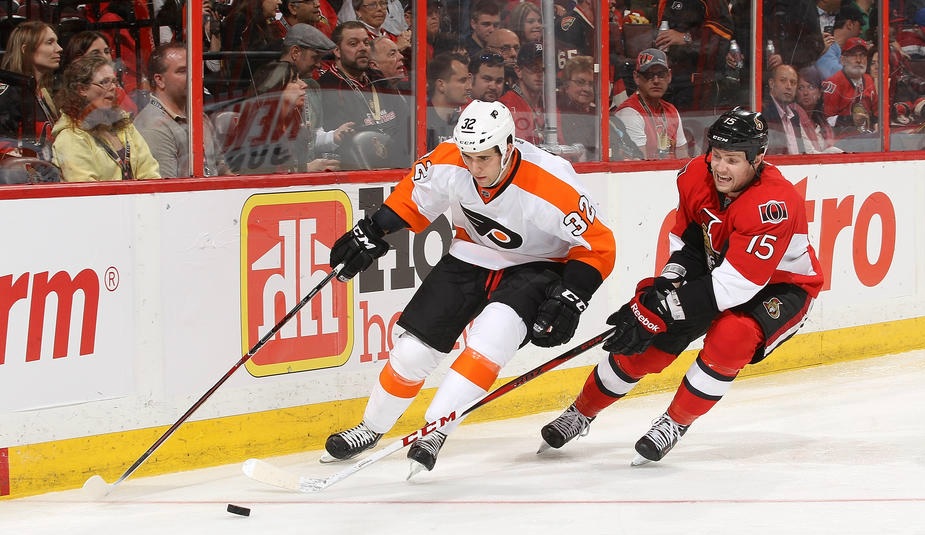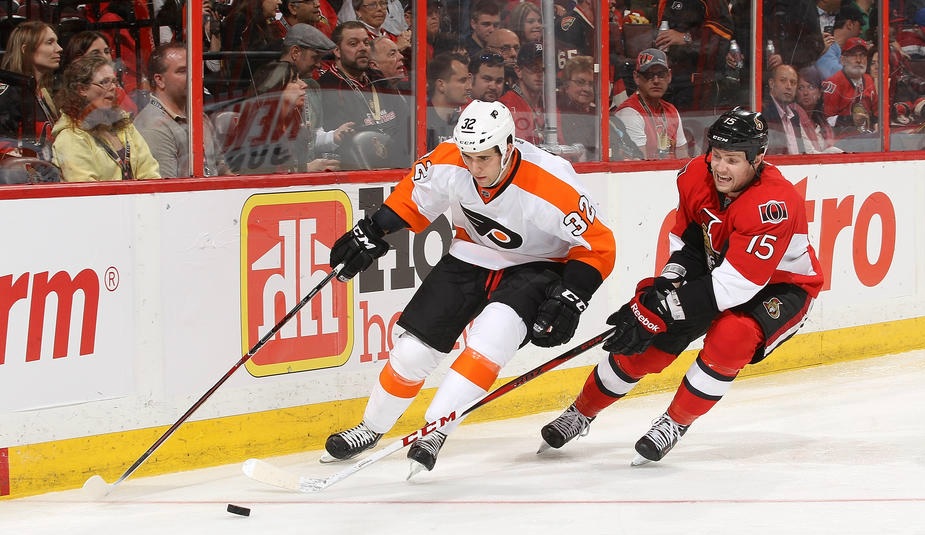 The hockey updates that have continued to roll in over the month of August have largely been prospect signings and European league signings. The last transaction documented on CapGeek was defenseman David Rundblad's two-year extension with the Phoenix Coyotes. The most interesting "blip" this morning was that former Chicago Blackhawks defenseman Steve Montador has joined Kurtis Foster on the Croatian KHL team Medvescak Zagreb.
The Philadelphia Flyers still have some unfinished business of their own- the signings of restricted free agents Brandon Manning and Eric Wellwood (and maybe Simon Gagne, depending on how patient he is). Both were among the four prospects tendered qualifying offers in July.
Although the Flyers are currently above the salary cap and are tight against the 50-contract limit (48 players signed with two that may slide if Scott Laughton and Anthony Stolarz remain in juniors), there is no obvious reason why both remain unsigned.
Per Dave Isaac of the Courier-Post, the qualifying offers extended to Manning and Wellwood are valued at $715,000 and $594,000, respectively.
Manning, 23, has played in ten games with the Flyers over the last two seasons as a depth defenseman. He's been a serviceable bottom pairing defenseman, logging in an average 14:22 of ice time with two assists to his name at the NHL level.
In April, Michael Cignoli of The Saratogian caught up with Manning on what had been a disappointing AHL season to date as the defenseman struggled to adapt to Phantoms head coach Terry Murray's defensive system and contracted a flu virus in December that caused him to lost 13 lbs in the process.
Manning told Cignoli:
"I'm pretty comfortable with not letting those things affect me, but I'm probably leading the league [in negative ±]. It's head and heels above other guys. It's tough to swallow sometimes, but it's something for me to look back on this summer and give myself motivation and prove to the coaches that I'm not that player… Down the stretch here, if I could put nine games together and climb out of it a little bit and do some good things, it leaves a good impression in everyone's mind."
Manning seemed to acknowledge that he had some work to do to prove he was capable of stepping up his game, and his six-game stint in Philadelphia to end the 2013 NHL season, in which the team went 5-1-0, had to help his confidence.
Whether it's dollars, years, or just a matter of putting pen to paper, it's a bit unusual that Manning remains unsigned.
For Eric Wellwood, it gets a little more complicated.
In early April, the 23-year-old winger suffered a season-ending injury in the form of a sliced Achilles' tendon. It was a freak accident- he fell into the boards and cut the tendon with the skate on his other foot.
An estimate at the time from general manager Paul Holmgren put Wellwood's recovery at nine months, or January 2014.
Writer Bill Meltzer posited the following about what the injury means for Wellwood and the Flyers organization when it came to re-signing him:
"Now, the Flyers have a decision to make. They already know that if the player is re-signed: a) Wellwood will have to be carried on the NHL roster next year because, as an injured player, he cannot be placed on waivers and be assigned to the AHL if he clears, and b) Wellwood's NHL salary would correspondingly be dead space on the salary cap unless the team places him on LTIR if it is bumping up against the $64.3 million cap ceiling next year. That situation seems likely unless the team uses both of its compliance buyouts this offseason." [Editor's Note: Both buyouts have been used and they're still up against the cap. Go Flyers!]
In spite of not wanting to keep him up at the NHL level during the shortened season and the repercussions of keeping Wellwood in the system as noted by Meltzer, the Flyers went ahead and qualified Wellwood anyway. Whenever he signs, the Flyers will have to add another chunk of change to their already bloated salary cap or else place him on long-term injury reserve (LTIR), risking a penalty for the 2014-15 NHL season if they end up going over by season's end.
What if he doesn't sign?
Restricted free agents must sign NHL contracts by December 1. After that date, they are not eligible to play in the NHL for the rest of the season.
For an organization like the Flyers, this really isn't that big of a deal. Wellwood wasn't likely to get a call-up anyway, so signing him in January and sending him to the AHL won't cause too many shockwaves in the hockey world. It's where they would want him anyway.
It's also highly unlikely that he wouldn't clear waivers. What NHL team would want a 5'-11" bottom six forward who hasn't played in nine months to slot in immediately into the big show?
If the Flyers have an agreement in place with Wellwood to hold off on signing his contract (which raises another series of questions about circumvention), this scenario could easily play out after the New Year.
From Wellwood's perspective, though, it wouldn't make much, if any, sense. It's in his best interest to sign that contract as soon as possible, as injured players still receive their salary during rehab and have all medical expenses paid for.
It all depends on what conversations that Wellwood has had with the organization. The most likely scenario is that he signs and the organization simply places him on LTIR. It's not desirable, but again, it's not a big deal either.
Training camp is less than a month away. Both Brandon Manning and Eric Wellwood should be signed by then, unless there are other scenarios playing out in back rooms (rinks?) of the Wells Fargo Center.