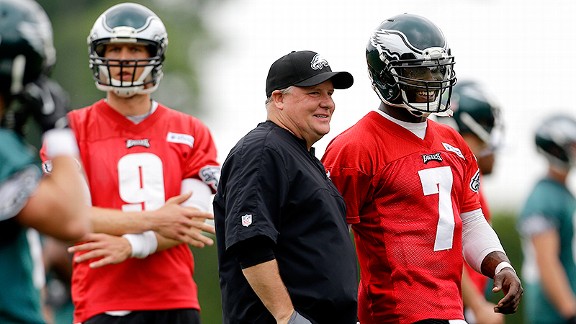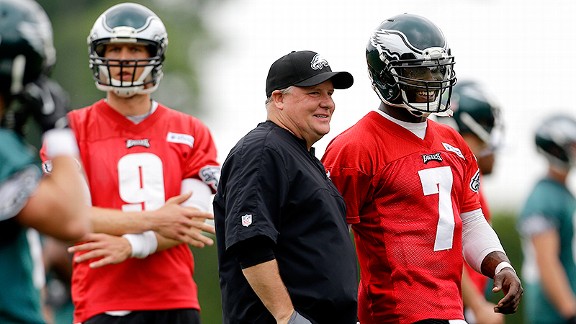 Quarterbacks
Michael Vick has a chance to further secure the starting job with another quality performance. Vick made quick, effective decisions against the Patriots and he needs to continue to do that against Carolina. The starting job is Vick's to lose. Another quality performance could put an end to the battle, but he could just as easily prolong it if he falls back into his bad, turnover-prone habits.
Nick Foles needs to show a lot to keep himself in the running for the job. Foles looked very good running an uptempo offense last week, but its not going to be enough to convince Chip Kelly to give him the nod over Vick. This week will be his best chance to impress; Foles begins the game as the starter.
Matt Barkley showed some good things last week, but I wasn't overly impressed with him. Granted, it was his first taste of NFL game action, and at this point he's still very raw. I want to see how much more comfortable, if at all, he looks now that he's experienced what its like to quarterback in the NFL.
Running Backs
Is Chris Polk still ahead of Bryce Brown? Polk got the start ahead of Brown last week, and did some good things (particularly in pass protection) but Brown is the better overall talent, and the former seventh-round pick looked pretty good once he got into the game.
Felix Jones didn't help his cause at all last week, and he's got to bring something to the table this week in order to have any legitimate shot of sticking around. Jones is an explosive talent that is a threat to take the ball to the house anytime the ball is in his hands. If he can show that he can hold on to the ball and make some things happen, he could still force his way onto the roster.
Matthew Tucker looked pretty good last week. He's got little shot of making the team, but he's a prime practice squad candidate.
Wide Receivers/Tight Ends
Can Greg Salas keep his level of play up? Salas had a strong showing against New England, and he appears to be in the lead for the fifth receiver position.
Can newcomer Jeff Maehl make a good impression? The Eagles acquired the receiver this week from the Texans in exchange for offensive lineman Nate Menkin, and he's familiar with Chip Kelly from their time together at Oregon.
Are we going to see any flashes from either Russell Shepard or Ifeanyi Momah this week?
I'd like to see Zach Ertz play a little with the first-team.
Offensive Line
The Carolina Panthers have a very talented defensive line. Ends Greg Hardy and Charles Johnson combined for 23.5 sacks last year, and the team added Star Lotulelei in the first-round. We're going to get a good look at how much better the Eagles' offensive line is this year, as they try to hold up against this tough line.
It sounds like Jason Peters is a no-go again, so we'll get another look at Alan Barbre at left tackle.
Todd Herremans needs to have a better game than he did last week. Herremans has been having some problems, and if he struggles again it might be time to start getting a little concerned about the veteran who has a great deal of mileage on him.
Defensive Line
The starters need to be much more impactful than they were last week. Fletcher Cox, Isaac Sopoaga, and Cedric Thronton were all dominated by the powerful New England offensive line. The Patriots ran the ball at will, and had no problem protecting Tom Brady.
Vinny Curry was the team's most active defensive lineman last week, and he could make a push for a starting job with another strong effort.
Damian Square and Bennie Logan both performed pretty well against New England, but did it against the second and third teams of the Patriots. I'd like to see both of these guys get some looks with the starters.
Is Antonio Dixon going to make this roster? He was invisible against New England, and with guys like Square and Logan emerging I'm not sure that Dixon is going to fit here.
Linebackers
With the exception of Connor Barwin, the starters we're all brutal last week. DeMeco Ryans needs to have a better game and provide us with some optimism that he can succeed in a 3-4.
I want to see some evidence that Trent Cole can at least look passable in coverage.
I don't want to see these guys overpursuing plays or missing tackles like Ryans and second-year man Mychal Kendricks did last week.
Rookie Jake Knott was the team's most impressive linebacker a week ago, will he continue to play well?
I want to see more of Phillip Hunt. I thought Hunt had some nice moments last week, and I hope he gets more of an opportunity to show what he can do in this scheme.
Jamar Chaney was awful last week, and he's going to be out of here soon if he doesn't shape up.
Cornerbacks/Safeties
Bradley Fletcher can't get abused like he was a week ago. The Eagles are in trouble if he can't be one of their starters.
Someone needs to step up and take the starting job away from Nate Allen. I don't see any evidence that suggests Allen is going to be anything better than what he's been throughout his career. The guy just can't tackle, and he's a serious liability.
If we don't start seeing some strong play from Kenny Phillips soon, we may never see it at all. His knee still hasn't been right, and he could very well turn out to be this year's version of O.J. Atogwe, a former playmaking safety with a bad injury history who the Eagles similarly gave a one-year deal to a year ago only to release him before the regular season.
Earl Wolff got some first-team reps in practice this week, and he may have the best shot to sit Allen down.
Patrick Chung was the one guy in the secondary that I was actually impressed with. Chung was around the ball, and hit hard. I need to see more positives from him though.
Final Thoughts
Defensively, the Eagles are going to have their hands full.
Cam Newton tore this defense to shreds in 2012, picking up over 300 yards through the air and 50 on the ground, scoring four total touchdowns in last year's Week 12 matchup. After getting absolutely embarrassed by the New England Patriot starters, defensive coordinator Billy Davis needs to make some adjustments fast. The starters are set to play for the entire first half, and considering the Patriots torched this unit for over 160 yards and two touchdowns in less than a quarter, we could be in for a great deal of defensive ineptitude tonight.
I want to see some kind of improvement from this group; at the very least I want to see that this group has a little heart. Even if Carolina scores on every possession, I want this defense to at least make them fight for every yard.