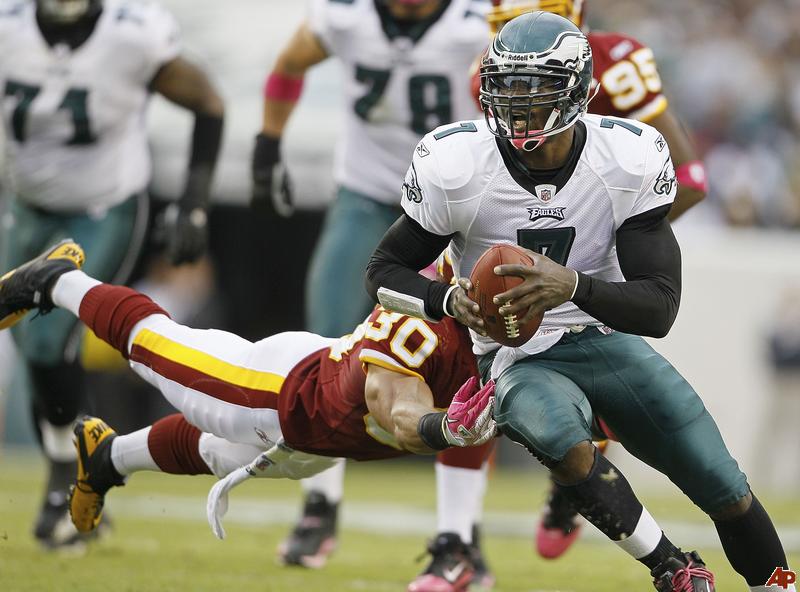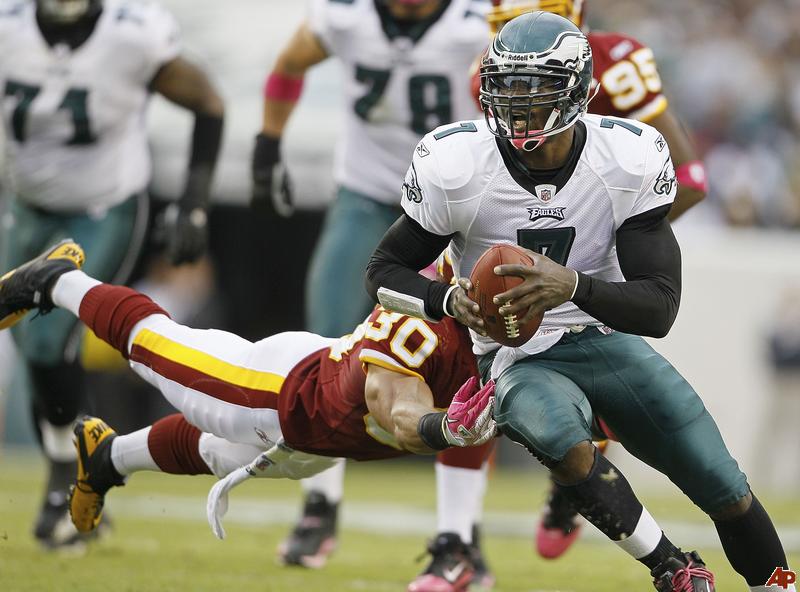 It's that time of year.
The dawn of the NFL regular season is upon us, and its time to go on the record with final predictions and projections before the season. Last year I made four predictions about the 2012 Eagles, correctly projecting that the Eagles (who at the time many were expecting to win the division at 10-6) would not make the playoffs. That being said, I also missed on another prediction where I believed that King Dunlap would be fine as the team's left tackle.
So what good are my projections? About as good as yours or anyone else's. It's all just for fun, so read on, agree or disagree, and throw out some predictions of your own in the comments below!
Michael Vick Will Not Flourish Under Chip Kelly
The Eagles have committed to Michael Vick as their starter for at least one more season.
When Chip Kelly decided to bring the veteran back, the idea was that the new head coach could make Vick flourish in his offense.
Vick's physical potential has always been off of the charts, but he's always been his own worst enemy. Vick's mentality is to be as aggressive as possible, and never give up on a play. That means that instead of throwing the ball away, or protecting himself from unnecessary contact, he's going to make a aggressive (and often reckless) decisions that will provide opposing defenses with turnover opportunities, and leave himself open to crushing hits.
Vick will benefit from a rebuilt and stable offensive line, but he's also going to suffer from the Eagles' lack of depth at wide receiver. Jeremy Maclin has already gone down for the season, DeSean Jackson isn't a true number-one receiver, and Jason Avant/Riley Cooper are just role players.
I expect more of the same from Vick in 2013. He's going to have his moments. There's always going to be times where he looks great and he may even have an exceptional moment or two like he against Baltimore last year where he led the team on a game-winning drive in the fourth quarter.
However, the flaws are always going to be there. He's going to turn the ball over. He's going to lean too heavily on his legs to try to do too much on his own instead of going through his progressions. His injury history strongly suggests that he's going to miss a handful of games.
Dan Reeves couldn't get the best out of Michael Vick. Jim Mora couldn't either. Andy Reid gave the league a brief taste of what Vick could have been during the 2010 season, but ultimately was unable to get the former Falcon to sustain that level of success. The odds are against a first-year head coach succeeding where others have failed over the last 11 years.
Eagles Will Be One Of The Best Running Teams In The League
If there's one thing that I expect to go exceptionally well for the Eagles in 2013, its the running game.
The offensive line gets their most powerful run blocker back with Jason Peters' return to health, and they'll also benefit from the addition of first-round pick Lane Johnson along with the healthy returns of Todd Herremans and Jason Kelce. That's a massive upgrade from last year's line which featured the likes of Demetress Bell, King Dunlap, Dallas Reynolds, and Danny Watkins, all four of which are no longer on the roster.
The rejuvenated line combined with a head coach that seems much more likely to commit to a running attack could set the stage for a top year from LeSean McCoy. McCoy was regarded as one of the top three running backs in all of football just two years ago, but his numbers dipped dramatically last season thanks in part to the absence of some of his best blockers along with a pass-happy coach that didn't deem it necessary to put the ball in the hands of his best weapon regularly.
This is the year that McCoy could truly be unleashed on the league, and even backups Chris Polk and Bryce Brown have a chance to get some nice looks in the process as well.
The Eagles Defense Will Finish Ranked In The Bottom Five
I'm not all optimistic about where the Eagles defense is going to be headed in 2013.
I'm not at all a fan of the Billy Davis hire. His history as a defensive coordinator has not been good at all, and I don't expect that to change in Philadelphia, especially not this season. But that being said, I'm going to give Davis his shot before I write him off completely. This is a season that I'll give him a pass for. The talent and depth on this defense is so bad, and he's trying to make a switch over to a full 3-4 scheme, and that process is going to take time. I'm not confident in his ability to succeed long term, but we'll see what happens.
Davis only has so much to work with right now. He's got absolutely no secondary whatsoever, and the Eagles are going to get torched against the pass this year. The fact that Nate Allen is going to be on the field for Opening Day is alarming, and I don't expect much from Bradley Fletcher, Patrick Chung, or even Cary Williams either. The linebacker situation is also a concern. I don't think DeMeco Ryans is a fit in a 3-4 scheme, and Trent Cole is going to have fits attempting to cover anyone.
The best that I can say about this defense is that there are a handful of players that I think could have some really nice years and give the team some hope for 2014 and beyond. Mychal Kendricks could potentially be this team's best defender. Connor Barwin looks like he's going to be a solid addition. I like what I've seen out of Cedric Thornton. Young guys like Vinny Curry and Bennie Logan will hopefully take on larger roles before the year ends.
But even the players that I like on this defense may be nothing more than complimentary pieces. There isn't a single guy on this unit that I view as a game changer, and with major question marks looming at nearly all of the starting positions, that easily translates into one of the worst defenses in the NFL.
The Eagles Will Have Another Top-10 Draft Pick Next Year
I think when all is said and done, the Eagles are looking at another rough year.
This team is going to have enough trouble strictly from a talent standpoint, but they're also going to be going through growing pains while they attempt to master new offensive and defensive systems. And what a lot of people don't realize is just how grueling and demanding this schedule is going to be for this team.
The season begins with three games in 10 days. Opening up on the road in Washington is no easy task. Coming back home for a game with the Chargers is certainly a winnable game against a mediocre west coast team playing a very early game, but I could just as easily see it being a trap game with former head coach Andy Reid's return to Philadelphia looming just a couple of days later.
The Eagles must then go on a three-game road trip, beginning with a visit to Peyton Manning and the Denver Broncos out west. Then the team will go through a stretch where they play three division games in four weeks, starting with a visit to the New York Giants. Breaking up the slew of division games is a road trip to Tampa Bay, which I expect to be a tough young team.
Kelly's group finally gets a couple of home games, with Dallas and New York coming to town in consecutive weeks, but then its right back on the road for two weeks for games against Oakland and Green Bay. Oakland promises to be one of the worst teams in the league, but even that is a game that you can't expect the Eagles to win. West coast trips are always difficult, and the last time the Eagles visited Oakland (2009) they had a pretty good team, but lost to a Raider squad quarterbacked by the likes of JaMarcus Russell.
The Eagles then have one home game before the bye-week against Washington.
I don't see a single game in the first 11 weeks that I can confidently say that I expect the Eagles to win. That being said, I certainly don't expect them to go 0-11 either, but the fact is that these games are difficult matchups for a team like the Eagles that is in a rebuilding phase. If they win more than three games in the first 11 weeks, I'll be shocked.
The schedule finally softens up a bit over the final five weeks. The Eagles play three of five games at home against the likes of Arizona, Detroit, and Chicago, and have road trips to Minnesota and Dallas. If the Eagles had these games scheduled early in the year, I think there's a chance that they could win two or three of them, but who knows what state this team will be in after their first 11 weeks. Record wise, if things go as poorly as I foresee, then this is the part of the year where the Eagles will be playing a lot of younger players (such as quarterbacks Nick Foles or Matt Barkley) to try and see what they've got for next year. When you reach that point, it normally doesn't translate into competitive football.
Given the challenges that lie ahead of this team in 2013, I see a 5-11 finish with the silver lining of another top-10, potentially even top-5 pick in next year's draft.
Denny Basens is the editor of GCobb.com. Email him at dbasens@ycp.edu, or follow him on Twitter.