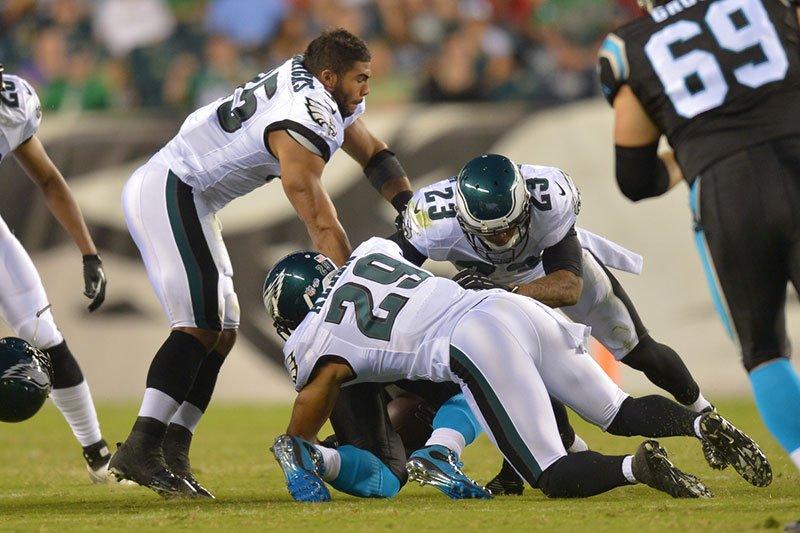 DeMeco Ryans On Eagles D [media id=327 width=480 height=360] Eagles defensive coordinator BillyDavis has been looking at tape of the 2012 Washington Redskins.  He knows that they ran the ball as well as anybody a year ago with rookie running back Alfred Morris running for over 1600 yards.
Davis also knows that Robert Griffin III is one of the most accurate passers in the NFL, and Washington is probably the best play action offense in the league.  Grffin sells the play fake very well, so the Birds safeties must be slow to come up on running plays.  If you haven't heard the Eagles don't have the best safeties in the league.
The Eagles have a defense which is trying to transition from a 4-3 to a 3-4 in one offseason.  Usually that means mistakes, such as guys keeping the wrong arm free or defending the wrong running lane, which equals holes for the runners to run through.  It means safeties coming up to help out, when they should have been going back. I'm sure Davis didn't sleep well last night, because he was probably thinking about his safeties trying to decipher whether it's run or pass.
"I'm very anxious for the Redskins to show us who we are and where we are," the Eagles' defensive coordinator said. "The truth will be, at the end of that game, we'll know defensively how far along we are. We're coming up against the top rushing offense in the NFL last year, fifth in scoring, one of the top offenses out there. They're very talented across the board. They played all 16 games together last season," which can't be said of Davis' defense.
We will see if Davis does something new to stop the Redskins running game.  Again remember that the Birds are still in the process of learning the defense, so he wants to keep things simple to avoid mistakes.  They'll be really learning the defense for most of the season.  Book knowledge and practice work is good to an extent, but you can't beat actual game experience.
Will the Birds defense play assignment football?  Playing assignment football means doing your job first before you do anything else.  It means keeping the correct hand free, so that you can come off the block and make the tackle.  It also means getting as deep as you need to be, when you're playing safety rather cheating up to try to help out against the run.
"This season has got to be about this defense getting to where everybody wants it to be . . . the Washington game is our starting point, and I don't know where along the scale we are, but wherever that is, that's the ground level, and we have got to take it a lot higher, even if that's a great game against Washington," Davis said. "We are at Stage 1 as a coaching staff of a scheme and of a major overhaul of a defense."
It means an inside linebacker getting up so close on the running back that he can smell his breath, if he's their coverage, so he won't leave enough room in between himself and the back, so that they can set up a screen.  Once those offensive linemen get in between you and the back, you're done.
The Skins offensive line led by left tackle Trent Williams are outstanding in that zone blocking scheme.  They do an excellent job of getting defensive linemen moving with that stretch look on each running play.   Morris does a great job running laterally for a few steps, then finding the hole and making that one cut to get through the hole and downfield.
Once they get the running game going, Grffin will take the snap then turn his back to the line, as if he's going to hand the ball off to Morris, but he hides it on his hip before turning around and looking downfield for a big play.  If the Eagles safeties start creeping up on run plays, the Skins will start running those play action fakes.
Somebody tell Patrick Chung, Nate Allen and rookie Eric Wolff to stay deep because I don't want to see them on Sportscenter for the rest of the week.
I would like to see Davis emphasize forcing turnovers.  This could be the only answer for this defense this year. The Eagles defense is going to give up yardage and touchdowns as they get more comfortable with the defensive scheme, but they can play hard and attack the ball to force turnovers.  You can tackle the football like Dallas was doing last night.  Forcing turnovers could turn a suspect defense into a winner.
G. Cobb Radio and TV Schedule
Monday Sept. 9
FOX29-7:20am…….
94-WIP-1:45pm…….
Comcast Sportsnet – 5pm…….
94-WIP – Post Game……..
Tuesday – Sept.10………
94-WIP-7:20am…….
Chickies & Pete's-Drexel Hill Radio Show-7pm…….
Chickies & Pete's-South Philly TV Show-8:30pm
Facebook – GCobb.com
Twitter@Garry Cobb