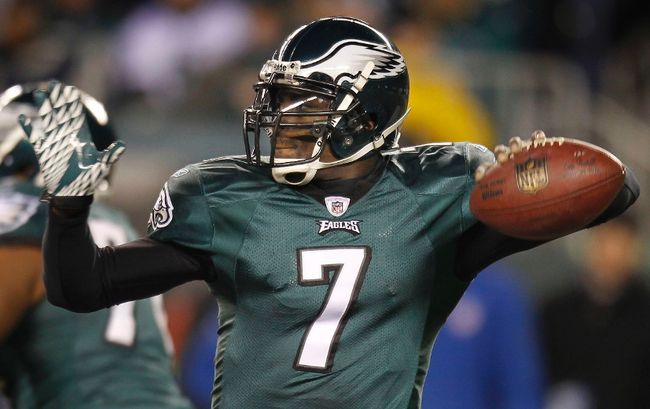 MICHAEL VICK ON STAYING COMPOSED FOR GAME ONE [media id=320 width=480 height=360]How The Eagles Can Beat The Redskins
Robert Griffin is going to see his first real game action since injuring his knee in last year's playoff loss to Seattle, and the Eagles' defense needs to take advantage of that early in the game. It's highly unlikely that Griffin is going to be sharp right away. He's been working for months to get himself ready to play in this game, and once he finally arrives on the field he's going to experience some intense emotion. To Griffin, the game is going to feel like its going by way too fast early on. The former top draft pick may need a quarter or two to calm himself down and shake off the rest before he really begins to play at a high level.
The Eagles need to test Griffin early and often. They need to take some chances and send some strong blitzes at him and try to force him to make mistakes. The defense has to make some kind of positive contribution, whether it comes from a stop, a couple of sacks, or a timely turnover. It won't matter how well the Eagles' offense plays if the defense is horrible.
Its going to be very important for the Eagles to start fast. An early touchdown followed by defensive stop and a another score would go a long way towards helping this team pull of an upset. The Eagles need some strong early momentum to build off of and give them the confidence that they need to keep up with Washington.
Why The Redskins Will Win
Although there are some legitimate questions about how ready he'll be to play, you can never underestimate the talent of a guy like Griffin.
Griffin is a guy who just doesn't make many mistakes. He threw only five interceptions last season, and he hasn't had a multi-interception game since he was in high school. Last year he completed 30 of 39 passes and threw six touchdowns in his two starts against the Eagles. He'll face a Philadelphia secondary that looks only marginally improved from what it was a year ago, and he's got a chance to put up some very strong numbers again.
The Washington pass rush is going be a problem for the Eagles. Top pass rushers Brian Orakpo, Ryan Kerrigan, and Adam Carriker are all healthy, and will present a strong challenge for the offensive line.
Final Thoughts
I think Billy Davis' quote from late last week says a lot about the state of this Eagles' defense. "I am very anxious for the Redskins to show us who we are and where we are," Davis said. "I don't know what's coming. The truth will be at the end of that game we'll know defensively how far along we are."
That's not an attitude that inspires a lot of confidence. If the defensive coordinator of this team is expecting the Redskins to come in and educate him about how good his defense is and where they're at, then I don't know how I can expect the unit to be competitive at all against the Washington offense, regardless of the state of Griffin.
The Eagles' offense may put up some points, but I expect them to also go through some rough patches, with some three and outs and turnovers. I think the defensive problems are going to be the Eagles' undoing on Monday night.
Pick: Washington 31, Philadelphia 20
Denny Basens is the editor of GCobb.com. Email him at dbasens@ycp.edu, or follow him on Twitter.