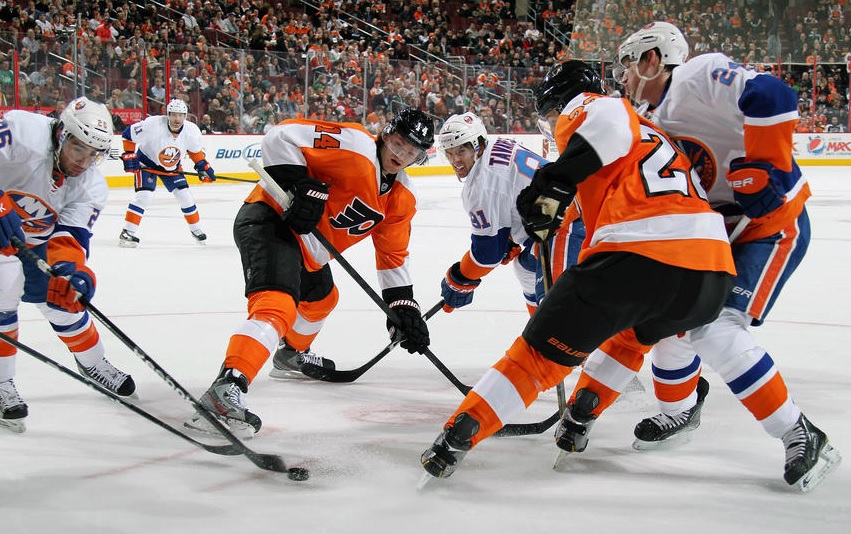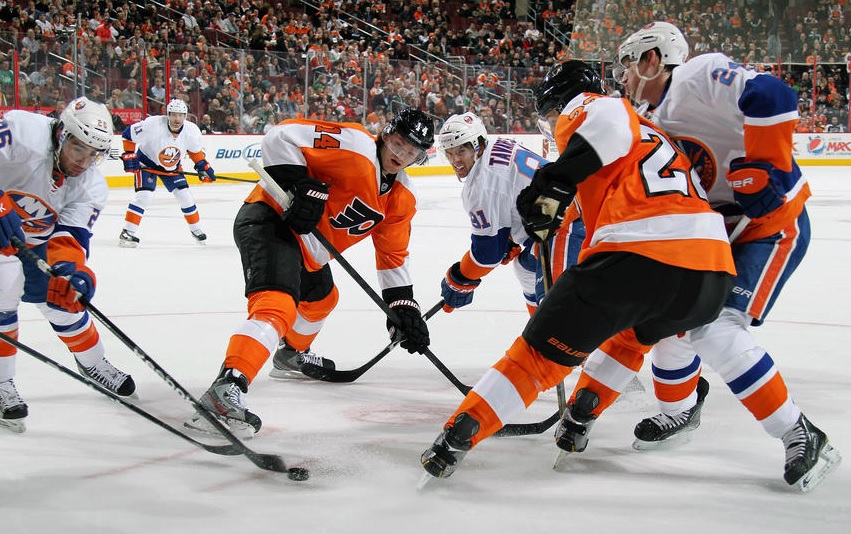 When Winnipeg Jets owner Mark Chipman announced at the 2011 NHL Entry Draft that the Jets were taking centerman Mark Scheifele as the 7th overall selection for their first draft selection in fifteen years, Jets fans were noticeably short of breath.
Scheifele had been ranked by the NHL's central scouting services as the 16th best North American skater, and the general consensus among many other professional (and fan) prospect draft rankings pegged Scheifele as a mid-to-late first round pick.
Needless to say, Scheifele was probably not on Jets fans' radar.
As is the case every year, the scouting departments for each of the thirty NHL clubs develop their own ranking systems for the hundreds of available junior and European players. These rankings may follow similar trends, but there is rarely any one consensus on the "best player available," even when it comes to the top ten.
Scheifele's selection at #7 followed by centerman Sean Couturier's selection at #8 by the Philadelphia Flyers has led the two young forwards to be compared every year since then by concerned Jets fans.
1) "Scheifele vs. Couturier Redux" ­– Arctic Ice Hockey, July 2011
"I know that people have come up with all kinds of reasons why Scheifele isn't really a 4-1 longshot to be better than Couturier, but I'm skeptical – this isn't too far away from hitting on 18 at the blackjack table on a hunch."
2) "Mark Scheifele vs. Sean Couturier – Year 1 of 20-Years of Second Guessing – Arctic Ice Hockey, May 2012

"So what's the verdict so far? Not much has changed since a year ago. Scheifele looked lost on a team that missed the playoffs by a wide margin, while Couturier has a real role on one of the best teams in the league; scoring a hat trick in the playoffs doesn't hurt his cause either. The Jets may have had great reasons for not picking the consensus best player remaining at the #7 spot, but the person who came up with those reasons has not yet been vindicated."
It hasn't really been a fair comparison, though. The Flyers rushed Couturier into the NHL immediately while the Jets preferred to let Scheifele mature at his own pace.
There has been much speculation this offseason that Scheifele and another top Jets prospect, defenseman Jacob Trouba, could make the opening night rosters for the Jets. For the first time in their pro careers, both Scheifele and Couturier could be playing in the NHL at the same time.
This presents an interesting case study- is it better to keep elite young hockey players in juniors (or the AHL) for two seasons or is it better to introduce them to the NHL immediately?
At the time that he was drafted, Scheifele had one junior season under his belt with the Barrie Colts. He posted 22 goals and 75 points in 66 games played. By comparison, Couturier had already finished three seasons with the Drummondville Voltigeurs of the QMJHL, posting back-to-back 96 point seasons.
For the 2011-12 season, Scheifele returned to the Colts and posted comparable (albeit lesser) production. Couturier was shuffled onto the Flyers as the team's fourth line center, finishing with a modest 13 goals and 27 points in 77 games.
The most impressive aspect of Couturier's rookie season was the 2:41 per game of shorthanded time that head coach Peter Laviolette entrusted to him. Couturier ranked 52nd in the NHL in shorthanded time on ice per game our of 894 players.
The biggest risk of bringing up players too early is that, from a management perspective, teams are utilizing inexpensive contract years on players that haven't reached their full physical maturity yet. In Couturier's case, the risk has been diminished a little by the fact that the team has already signed him to a cost-effective two-year extension; there won't be any dramatic camp holdouts in 2014 like Toronto and St. Louis are currently dealing with.
Scheifele appears to have needed the extra time in juniors. For his third season with the Colts, the 6'-2" winger nearly doubled his goal total during the regular season from the previous year and finished the postseason with 15 goals and 41 points in 21 games played. Had the London Knights not scored with 0.1 seconds remaining in Game 7 (and Scheifele not suffered a "slight concussion" as he tells it), the Colts would have headed to the Memorial Cup last season.
There is a perception that Couturier "stalled" last season between his time in the AHL during the lockout and during the shortened NHL season. Just google "Sean Couturier sophomore slump" if your memory needs jogging.
Although he did not have a breakout season in either league, there are any number of intangible excuses as to why he may not have continued to grow as well as statistical-based arguments that he actually wasn't that bad.
In May, the blog Broad Street Hockey looked at his possession numbers and it turns out that, hey, he actually plays decently when he's on a line with skilled hockey players instead of enforcers.
The news that has circulated over the weekend from various beat writers is that Couturier spent this past summer adding noticeable muscle to his lanky frame. No photos of this hulkish, brooding figure with a vampire smile have emerged from the Flyers Skate Zone yet, but adding muscle was a priority for Couturier if he were expected to continue developing at the NHL level.
If and when Scheifele makes it to the NHL full-time, he will have the added advantage that the Jets desperately need top six forward talent. He can be penciled in as the second line center over Olli Jokinen with wingers Andrew Ladd and Devin Setoguchi almost immediately this October.
Couturier, on the other hand, will be stuck in a third line centerman role until Vincent Lecavalier accepts a winger position or inevitably incurs an age-related injury (knowing the Flyers' luck, in about three weeks). Facing the Metropolitan Division's top talent with bottom six linemates and predominantly defensive end zone starts, Couturier probably isn't going to be posting thirty-goal seasons any time soon.
Comparing Mark Scheifele and Sean Couturier may not be a simple or even reliable "x" vs. "y" scenario, but their draft positioning and respective career paths do present an interesting case study. As much as I wish Scheifele the best of luck as he begins his NHL career, I'll be crossing my fingers that the Flyers "win" this study over the course of #14's career.