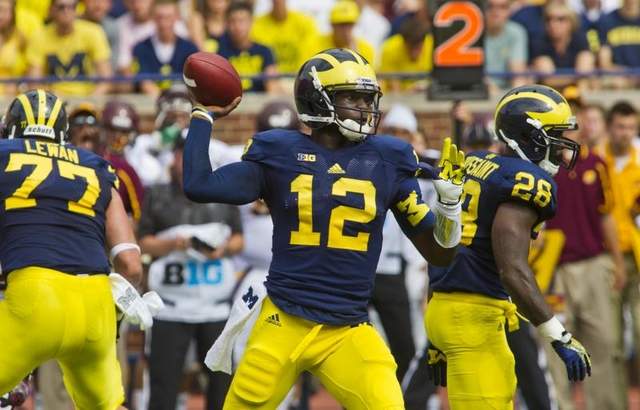 The new college football polls are out and I understand that ranking a one loss team over a team with no losses (at least in the beginning of the year) doesn't happen much in the top 10. To me that makes these polls both thoughtless and useless. When I think of my top 10 teams, I say to myself if these two teams lined up, who would win? Insane right I know. It seems like these polls somehow correct themselves come November so the question begs; Why can't there be any consistency? I'm sorry, but I just can't reconcile Louisville being ranked higher then Georgia or even Florida State. If these teams played I would say Louisville comes out the loser in both contest. We all know it's a flawed system which hopefully the playoff will correct in 2015. My top 10 will be posted at the bottom of the page, and more importantly why.  
What a weekend.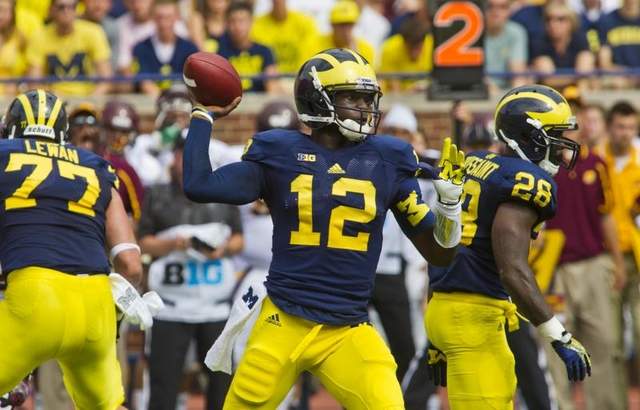 As expected, Georgia stepped up and got back into both the SEC and BCS title picture. I think there is little doubt that the Bulldogs have the best running back and best backfield in the nation. Todd Gurley is my front runner for the Heisman. His combination of power, size and speed are unmatched. Gurley rushed for almost 1400 yards and 17 touchdowns last year as a freshman. Keith Marshall rushed for almost 800 yards and 8 touchdowns while only starting one game. I know I give this team a lot of praise. But even though they suffered an early season setback to Clemson, I still believe come November this team is playing in the SEC Championship for the right to play for the BCS title. The Bulldogs lost 8 starters from last year's defense  and are young, but are extremely talented. I knew the Clemson game may be a tough spot  early but bank on the fact when this team gets a few games under its belt they are one of the best  in the nation.
Michigan continues to impress. The Notre Dame defense had no answer for Devin Gardner and Jeremy Gallon. Gardner threw for 294 yards and 4 touchdowns while running for another while Gallon had 184 yards and 3 scores. Michigan averaged 6.4 yards per play and posted the most points on the Irish since Stanford, who lit up the leprechauns for 45 in 2009. It will only continue to get better for the Wolverines as they have added yet another top 10 recruiting class for 2014. A stat that goes unknown is Brady Hoke has not lost a game at home since taking over the head coaching duties last year. I wonder if Urban Meyer knows this as the road for his Buckeye's to a BCS Championship game goes through Ann Arbor. In fact they may have to beat the Wolverines twice as the two teams could square off in the Big 10 Championship game. This is the last year this can happen as the two will be placed in the same division going forward after the 2013 season.
Oregon as predicted rolled over Virginia. Take this for with a grain of salt but Virginia shut down BYU a week ago.  BYU handled a beat down Texas team that was more than a touchdown favorite yesterday . Oregon visits Tennessee next week. The Vols have been impressive so far. Aside from the Obvious November 7th game at Stanford circle October 19th on your calendar. The Ducks visit Washington. I think that game could be interesting.
Another good call by yours truly was the Hurricanes getting the better of the Gators in Miami. Goes to show you how stats are misleading sometimes as Gator quarterback Jeff Driskel was 22 for 33 for a career best 291 yards and a touchdown. If you read just the stat page Driskel played well.. Unless you count the two interceptions that killed Florida drives and ultimately cost them the game. Miami's defense stopped the run holding the Gator's ground attack to 2.8 yards per carry. Have never been a fan of Wil Muschamp and definitely do not think Driskel can get it done in the clutch. I predicted Florida would have as many as three losses and nothing Saturday made me feel any different. Miami's stock is on the rise. Florida State will be a true measuring stick for the Canes come November.
LSU did what they had to do. Beat up on a team they should have. Cam Cameron has me believing this is not such a rebuilding year as many predicted it would be. Things get a little tougher for the Tigers Auburn awaits followed by a clash with Georgia.
Ohio State, Clemson, Stanford, Oklahoma State all beat up on lousy teams as did Johnny Football and the Aggies.
Which leads me to this coming week.
Yes there are many other games. But there might as well only be  one. Alabama visits Texas A&M Saturday at 3:30 eastern which up to this point by far is the game of the year. No matter which side you are on, this is an epic clash. Alabama has come out a gaudy 9.5 point favorite at Texas A&M. I understand all of the hype will be focused on Manziel and the Texas A&M offense. But watching the tape back and looking at the Aggie defense is where the story is. The Aggies allowed 240 yards rushing to Sam Houston State on Saturday. Sam Houston averaged 5.7 yards per rush. The week before Rice put up over 500 total yards on the defense. Texas A&M let up an average of 30 points per game against these two offenses. There is no denying Manziel's elusiveness and ability to make something out of nothing. And even though Alabama will be ready I still see the Aggies getting their share of points. But A&M will not be able to stop Alabama. I have made it no secret my distain for the character of Johnny Football. There isn't a shred of doubt he has been paid for his play. He got away with it but instead of understanding how lucky he Is to be playing he continues to be incredibly cocky and literally impossible to like. I am sure Nick Saban has had the date circled since the final gun of last year's loss. And I always say give Saban time to prepare for anyone, he'll get the better of you. Ask Notre Dame. I just cannot wait until Saturday afternoon to see it all unfold.
If you read last week's article you'll see I was perfect on my predictions as it pertains to Vegas' point spreads. That cant last forever so buyer beware.
My top 10:
1)       Alabama – No words need to be said. My prediction they hang 45 points + on Texas A&M and just maybe Manziel will learn the meaning of the word humility. They will run all over this Aggie defense . Also look for McCarron, Cooper and company to have better days. Aside from the obvious need for the offensive line to play much better, I think the running backs need to improve on their pass blocking as well.
2)       Clemson—A more impressive resume to this point over Oregon. Clemson has NC State September 19th. If you remember Wolf Pack can be tough at home. They ruined Florida State's BCS title dreams last year. Not this year Clemson will smack the Wolf pack
3)       Oregon — Traveling back cross country may start to wear on the Ducks a bit this week. But I think we realize after Saturday Tennessee had a nice start to the season but still has a long way to go.
4)       Georgia—Yes Georgia. It's that eye test. And to be honest I'd have them at three but I didn't want to hear it from all the  Duck fans.. Trust me folks end of the year it will all make sense why I have this team ranked so high
5)       Stanford – Seemed a bit disinterested against San Jose State but this defense is good. Washington in three weeks will be a slight test. Cant see them tripping up against Arizona State or Washington State before
6)       LSU –  They may even be ok with the Mad Hatters at 5.. Love how the offense looks and love the offensive coordinator. How great is that Georgia LSU game going to be in three weeks ? Answer ::: Wait for it… Pretty Great
7)       Florida State—yes it was only one game. But Jameis Winston is real good. If it was a gymnastics competition in the coming weeks the Seminoles would be docked for non difficulty in their routine. Nevada, Bethune Cookman next two weeks ?  Really ? Did the Saint Charles Seminary already have a game scheduled? October 19th we'll find out two things. Are Florida State and Clemson for real as the two face off
8)       Michigan—for all of the reasons above when I discussed them plus the resume. Notre Dame a bit tougher then Buffalo and San Diego State. Hear that paper champion Ohio State ?
9)       Miami – Stock is on the rise.. Great Coach, Stephen Morris is a solid signal caller who is learning to play well in big games . Duke Johnson is the best Duke since Bo and Luke and Randolph and Mortimer
10)   Tie Ohio state, Texas A&M  and Louisville – As I said in the beginning of the year I actually have Louisville in the final. Not because they are the 2nd or even 15th best team. It's because they play absolutely nobody. If the Cardinal get to the Championship game the result will make last year's Alabama Notre Dame game look competitive. Ohio State has no test until Wisconsin and Michigan later in the year. They replaced a Miami with San Diego state and Buffalo this year; Part of Urban Meyer's get to the final at all costs strategy. Don't like this team. Don't like their offense. I think it can be stopped. Texas A&M by this time next week will be yearning for Sam Houston State and Rice. Hear that Johnny Football
It all starts Thursday with TCU at Texas Tech. Here's to a great week
 Please remember to donate to your local animal shelters. What is the cost of filling your gas tank can literally change an animal's life forever. Be their voice. Make a difference. Be the change you want in the world.