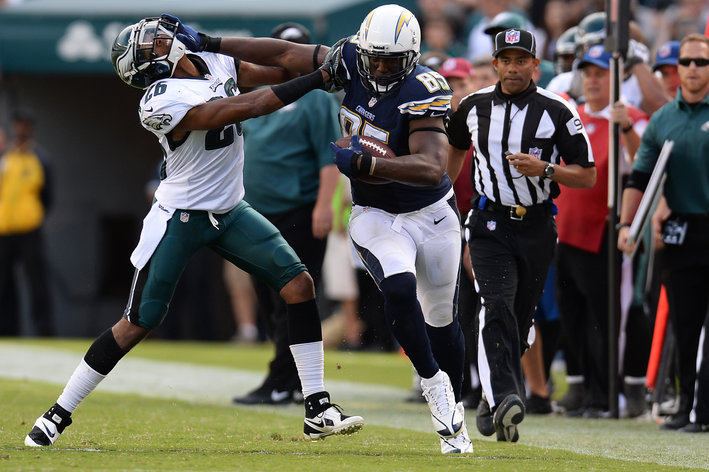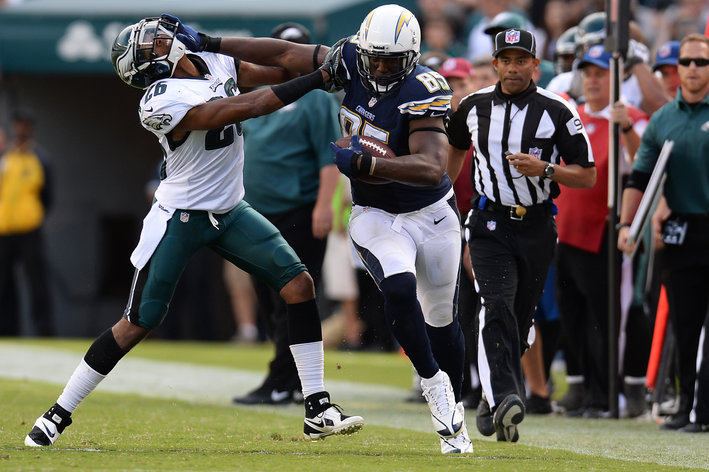 Eagles defensive coordinator Billy Davis is definitely playing with a weak hand.  His secondary especially the safety position leaves some things to be desired, but he's got to get the most of his players.  The cornerbacks aren't the best man-to-man coverage guys.  The linebackers are somewhat limited in their coverage ability
On Sunday he was searching all over for an answer to Phillip Rivers and the Chargers passing game.  First it was wide receiver Malcolm Floyd running trail routes against Eagles cornerback Cary Williams.  All that ended when Birds middle linebacker DeMeco Ryans pounded Floyd in the head and neck after he had caught another pass against Williams.
Rivers decided to start going to "Old Reliable", Antonio Gates.  Gates was matched up against second-year linebacker Mychal Kendricks.  Gates was working on Kendricks like he was a big man trying to get the ball in the post.  He would run into the smaller Kendricks, bump him then head the opposite way and catch the football.  Kendricks was at his mercy.  The matchup was a no contest situation.
Gates is a former basketball player and future Hall of Famer, who is 6'4″ 260 pounds and in his 11th NFL season.   He has made eight Pro Bowl teams and been selected All-Pro five times.  Kendricks is as quick as a cat, but he only in his second year and he stands 5'11" and weighs 238 pounds.
Rivers and Gates started playing catch as the game continued.  Every time Rivers got himself in a key third down situation, he was looking for the matchup of Gates and Kendricks.
Davis should have changed the matchup when he saw that it was so one-sided.  He had nothing to lose by making the adjustment.  Kendricks was no matchup for Gates.  He was too small and too inexperienced to be able to deal with the future Hall of Famer.
He should have put veteran linebacker Connor Barwin on Gates.  Barwin is bigger at 6'4″ 260 pounds with more experience and a very good coverage skills.  If that didn't work he should have double-teamed Gates and made Rivers throw the ball to somebody else.
He tried to blitz Rivers and he changed the coverages, but he didn't change that matchup.  You don't have a long time to make adjustments in a NFL game and Davis should have gone into the game with his eye on that Gates-Kendricks matchup.  It wasn't a good one.