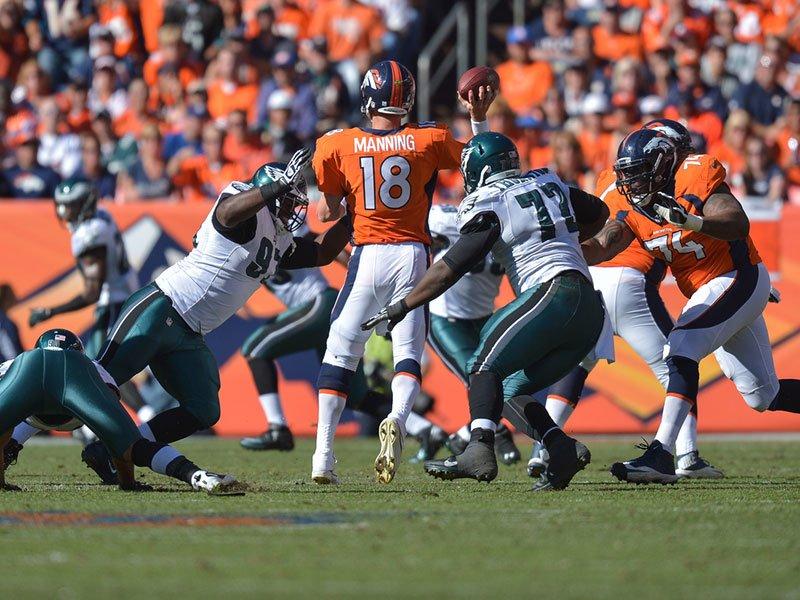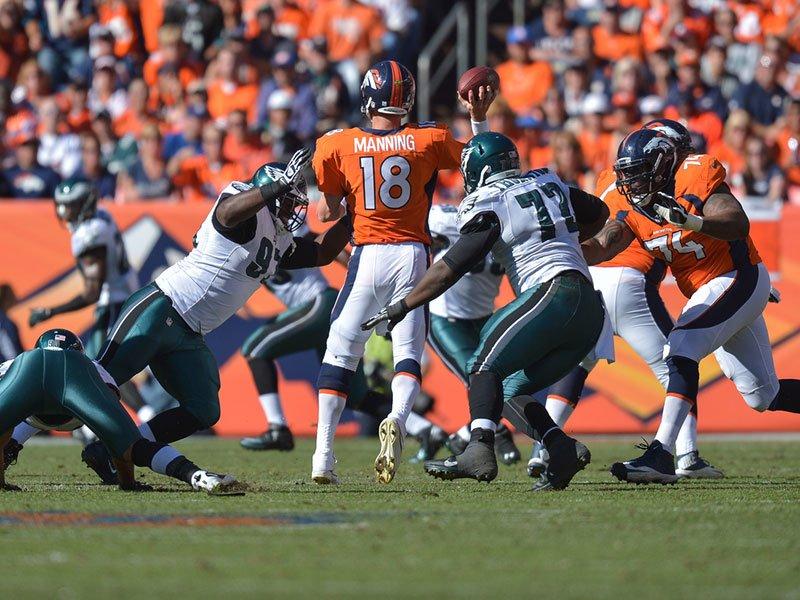 Everybody is talking about how great Peyton Manning is, but he didn't need to be great against the Eagles defense, yesterday.  The Birds defense doesn't know how to play a solid zone coverage and they're also suspect in man-to-man.  The Eagles pass defense isn't very sound and Manning came into the game knowing that.   The Eagles pass rush isn't very good and they weren't able to do much all afternoon.
This defense can't play solid zone coverages because the players don't seem to have a clear understanding of what they're supposed to do in the coverages.  On a zone coverage, you have to drop into your zone, see the quarterback release the ball and break on the pass instantly when it leaves his hand.   You have to use your peripheral vision to see the receivers, but you focus on the quarterback and break up when that left hand comes off the ball and he lets it go from his right hand.
If you don't see him throw the ball and are slow to rally to the pass receiver, it will allow a quarterback to pick you apart without throwing the ball downfield.  If I were Billy Davis I would go over putting in the zone defense again.
The Birds played a lot of nickel defense against the Broncos and stopped them from connecting on many big plays, but they gave up too much easy junk.  They were able to keep the Broncos running game in check with an extra pass defender on the field, but the fundamentals of the defense were off.
Many times the Eagles linebackers and safeties got too much depth when they're playing in the underneath zones or they didn't see the ball when it is released.  These bad habits allowed Manning to simply check the ball down to his running backs for 8 or 9 yards a play.  If you can get 8 or 9 yards on a check down, then you don't need to take the chance of throwing the ball deeper downfield.  A good defense will keep those check downs to 3 or 4 yards.
In man-to-man coverages, they should have taken away the check downs by going up and covering the running back, so Manning had to hang onto the football.  Forcing Manning to hang onto the football should have been part of the game plan.  If you don't make life uncomfortable for Manning, he's going to find the opening in the coverage.
Manning and the Broncos do a good job spreading out the defense with their formations and he doesn't even need to take too man chances throwing the ball downfield to move the football if the defense isn't sound.  Manning hasn't thrown an interception this season because he throws so many short passes that are no risk of being picked off, such as bubble screens to Damaryius Thomas, short in and out routes to Wes Welker and slants to Eric Decker.  All the other times, he's check the ball down to his running backs.
Manning was 28 of 34 for 327 with 4 touchdowns and zero interceptions.  He connected on only two passes for over 15 yards.  The one deep pass he connected on was to Eric Decker for 52 yards on a post route, but for the most part he threw short and checked the ball down after letting the Eagles drop deep and give him yardage.
Decker caught five passes for 88 yards.  Demaryius Thomas, the wide receiver caught nine passes for 86 yards and two touchdowns.  He averaged less than 10 yards a catch.
Wes Welker caught seven passes for 76 yards and also caught two touchdowns. He averaged about 10 yards a catch.  Welker caught Manning's first pass for 33 yards as he got lost against zone coverage.
Julius Thomas, the tight end, caught four passes for 43 yards, which is about 10 yards a catch.
Manning checked the ball down to running back Ronnie Hillman a couple of times for 21 yards.  Knowshon Moreno caught one pass for 13 yards.  Backup wide receiver Andre Caldwell caught one pass for five yards and Virgil Green caught one pass for five yards.
The Eagles pass rush didn't do much on Sunday afternoon.  Defensive end Cedric Thornton was able to sack Manning once.  The pass rush hit him twice and that's not good enough.  Thornton also made a couple of run stops in or near the backfield.
"They were hitting on all cylinders today," Eagles defensive coordinator Billy Davis said after the game.
I don't think the Broncos were hitting on all cylinders.  They didn't need to be against the Eagles,who were giving them plenty of yardage on short throws.  Manning missed a couple of deep throws to open receivers, which would have been for touchdowns.
We're not hearing anything from former number one pick defensive end Fletcher Cox. Davis has got to start putting Cox in position to make some plays.
Trent Cole did nothing with Broncos inexperienced left tackle Chris Carter.  Cole got no where near Manning, finishing the game with two tackles and two assists.
Middle linebacker DeMeco Ryans was making tackles all over the field and he finished with 10 solo tackles and two assists, but most of the times those stops were made downfield after the Broncos had gained yardage.  Fellow inside linebacker was very quiet as he made four stops.
Eagles rookie safety Earl Wolff played okay in his first start.  He made six tackles and had one assist. He did give up a big play through.  Wolff let Decker get behind him on a three-deep coverage and that shouldn't happen in the NFL.  He's supposed to be deeper than anybody on a three deep coverage, where he is in the middle of the field.  Decker isn't that fast and a safety should be able to get deep enough to stop that throw in cover three.
I did like the way he attacked the play on a number of short throws.  He limited the amount of yardage they gave up on those plays.  The Eagles need more defensive players to attack the throw in order to limit yardage on check downs.
Eagles cornerback Cary Williams isn't fast enough to cover many of the wide receivers in the NFL because he had to back off Decker, who isn't very fast.  Williams plays with too much of a cushion because he's afraid of getting beaten deep.  If you have to back off of Decker, you can't cover most of the wide receivers in this league man-to-man.
Brandon Boykin didn't try to get physical with Wes Welker and the veteran took him to school.  Welker lined up in the backfield on his final touchdown and ran a running back arrow route by coming  out of the backfield, running into Boykin to get him moving backward, then pushing off to go outside and leaving the nickel back standing in place.
Boykin must learn to attack the receiver and not let him push off like that.  On the goal line, you can't let a guy score so easy.  It would be better to get a pass interference penalty, than to let the guy back you into the end zone, push off, get wide open then catch an easy touchdown pass.
You have to go into the game with your own game plan and it didn't seem like Boykin had his own game plan.
I thought Bradley Fletcher did a good job for the most part in his coverage on Sunday.  The pass interference they called on him was a bad call, then on the next play there wasn't much he could do on the perfect pass by Manning to Thomas for a touchdown.
Safety Nate Allen did a good job tackling in the open field yesterday.  He had eight tackles and one assist, but I want to see him and the rest of the linebackers and safeties limit check downs to three and four yards.  I do see improvement in his tackling.