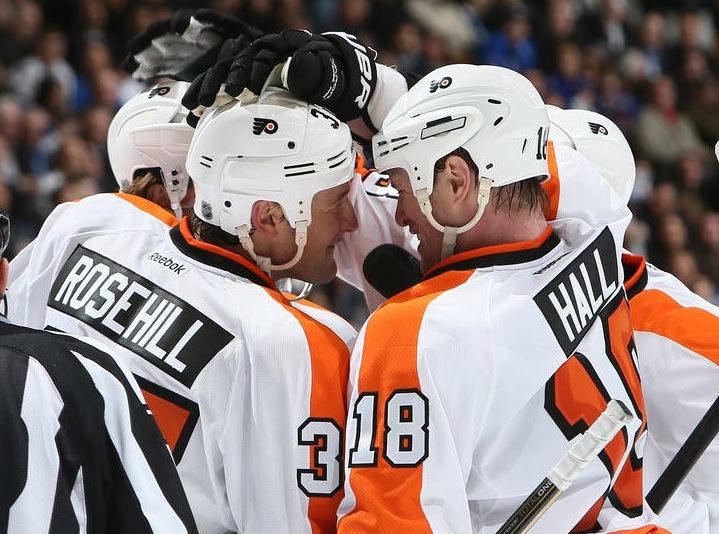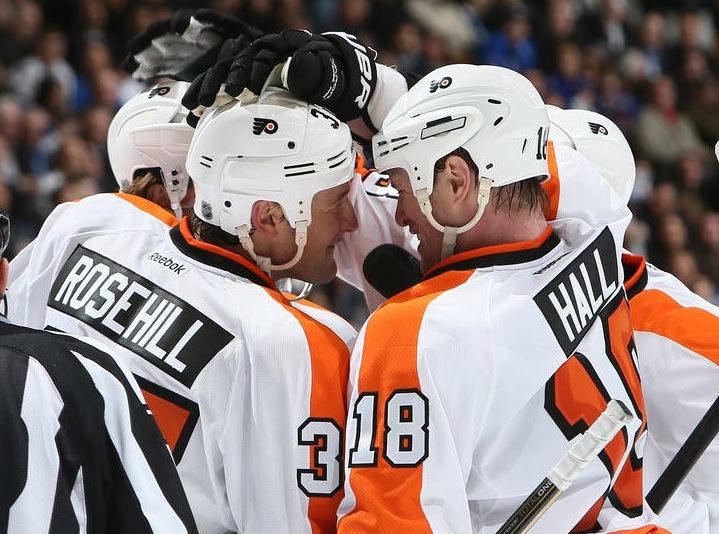 It seems that all that talk about young forward Scott Laughton making the Philadelphia Flyers' line-up was a bit premature.
Laughton was a healthy scratch for the Flyers' season opener against the Toronto Maple Leafs on Wednesday, replaced with veteran centerman Adam Hall. While the Flyers had made it clear on multiple occasions that they did not want to start Laughton as anything but a centerman, the decision to dress both Jay Rosehill and Zac Rinaldo as the fourth line wingers seemed redundant and disadvantageous.
The Flyers announced this afternoon that in lieu of keeping Laughton in the press box, they have decided to return him to his OHL team, the Oshawa Generals.
The decision to keep him up for just a single game didn't seem to make much sense at first, but John Saquella of The Hockey Guys appears to have uncovered the mystery.
Per Saquella, via twitter: "The Flyers had to be cap compliant by 9-30 to maximize Pronger's LTIR benefits, and they also needed to be as close as possible to the cap. Laughton got them closer to the cap than Hall did."
Laughton makes $1.107 million against the salary cap compared to Hall's $600K, which is likely why the latter was placed on waivers over the weekend.
No one seems to know why Hall was placed on waivers in lieu of Rosehill, considering the former has much more value as a special teams fourth liner, but Flyers something something goons.
Replacing Laughton on the roster is forward Kris Newbury, who was acquired in a trade over the summer for defenseman Danny Syvret.
Newbury, 31, has proven over his ten-year professional career that he is a top line-producing forward at the AHL level. In 72 NHL games, though, he has tallied just 4 goals and 9 points.
Newbury's game in the big leagues is that of an energy, bang-and-crash fourth liner. Over the same number of NHL games, Newbury has amassed 132 penalty minutes. Those who followed the Flyers during the shortened 2013 season may recall his bout with rookie Tye McGinn (which didn't go so well for Newbury).
Newbury also has experience as a penalty killer, giving the Flyers another alternative to tiring out top six forwards like Claude Giroux, Matt Read and Jake Voracek.
The Flyers play twice over the weekend- on the road in Montreal on Saturday and in Raleigh on Sunday. If Newbury is inserted into the line-up, he will likely replace Rosehill on the fourth line.