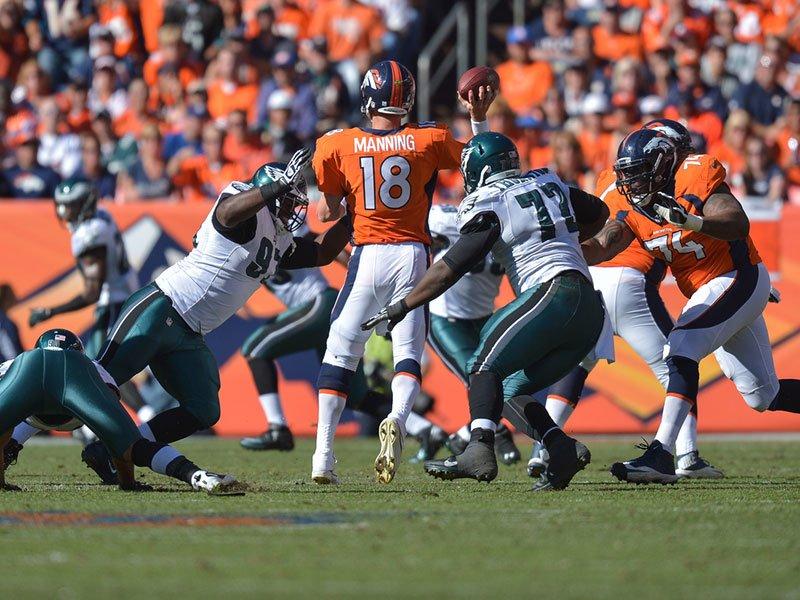 I do a radio show each week at the Chickies and Petes in Drexel Hill or the one in Audobon, Pennsylvania and this week my guest was Eagles defensive tackle Cedric Thornton.  More than any other defensive player on the Eagles roster, Thornton has impressed me with the way he has played.
First of all, I didn't give him much chance of making the team when they changed to a 3-4 defense.  I was sure he had no chance of starting.  Not only has he made the team, but he's starting and he's also outplaying his buddy Fletcher Cox, who was drafted by the Birds in the first round.   Thornton was signed by Eagles as a free agent out of tiny Southern Arkansas.
This past week he made four tackles and a sack against the Broncos.  Birds head coach Chip Kelly singled out number 72,Thornton, for praise earlier in the week.
"I think the one thing you have to realize is Cedric Thornton is playing our best defensive football right now," Kelly said.
"He's playing with great effort. I think he's got a real, real high motor. He's a real technician. He's really taken to Azz [D line coach Jerry Azzinaro] and the system that we're teaching over there on the defensive line. Very rarely is he out of position. …He's really a byproduct of putting it all together. And that's what he's doing."
The amazing thing about Thornton is his versatility.  He was able to play both defensive end and defensive tackle for former Eagles defensive line coach Jim Washburn in his wide-9 alignment.  That required each defensive lineman to come flying out of his stance and across the line of scrimmage.  That's the same system he had played in during his collegiate career at
Now that he's playing for Azzinaro in the 3-4 defense, where he has to stand up the offensive lineman in front of him and be able to make tackles to either side of him.  Two-gaping requires size, strength and technique.
Thornton stands 6'2″ and weighs about 315 pounds, which is small in terms of 3-4 defensive linemen.  Compare for instance with Clifton Geathers, who backs up Thornton.  Gaithers is 6'8″ and weighs 340 with long arms.  Most 3-4 defensive linemen are big with long arms.  That isn't the case with Thornton, but right now he's the team's best defensive player despite being undersized for the defense and not having had any experience playing the defense.
"I just focus on beating the man in front of me because if I don't beat him, then it doesn't matter what else I do", Thornton told me.  "I try to beat him him then get to the football."
"I'm not great in the weightroom, but I'm strong in my lower body and the key is my leverage.  I use my legs to get under the blockers."
According to the Eagles, he leads the team's defensive linemen in tackle with 25.  He got his first sack of the season on Sunday against Denver and what's most amazing about it is the fact that he did it at nose guard where sacks are very rare..  He made four tackles playing at the nose position.
For the season's first four game, he's got one sack, one tackle for a loss, two hurries and one blocked pass.   I know those stats don't seem like much, but defensive linemen don't get many stats in the 3-4 defense.  Most of time they're keeping blockers off the linebackers, who are supposed to be running all over the place wreaking havoc on the offense.
Thornton says he's capable of playing better and I'm eager to see what he can do.
Don't be surprised if Thornton starts playing the nose tackle more often.  I hear that nose tackle Isaac Sopoaga is being phased out, unless he starts playing much better.  The veteran nose tackle from San Francisco doesn't seem to have much left in the engine.