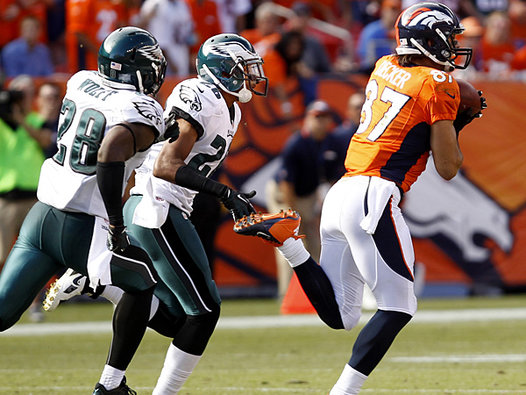 [media id=363 width=480 height=360]Last week the Eagles secondary was playing like the Broncos had a team full of fast receivers who were going to beat them on deep passes.  The defensive backs were lined with a ten-yard cushions against the Denver receivers, who don't have a reputation of getting deep with go routes.   Demeryius Thomas has good speed but he's not a 4.4 or 4.3 sprinter.  You can't be scared and play good NFL football.
The defensive backs treated Wes Welker like he was a deep threat and they kept a big cushion between themselves and the receiver. One time Nate Allen was lined up ten yards off of Welker with the ball on the sixteen yard line.  Welker wasn't going to get deep, since there was no deep when the ball is so close to the goalline.
The Birds secondary was psyched out by all that Peyton Manning talk.  Of course on the play I was talking about, Welker ran a crossing route and Manning found him for an easy completion to the Eagles eight-yard line.  Allen made the tackle, but Manning and Welker could complete that same pass 99 times out of hundred in a snow blizzard.  They made it too easy for Manning and his receivers.
Right cornerback Cary Williams, who should be called Scary Williams for the way he was playing Demeryius Thomas on Sunday.  Williams was playing Thomas man-to-man on one play and Manning just threw the ball out to Thomas because he saw Williams playing so deep (ten yards off of him).   Thomas was able to gain 14 yards without a blocker because Williams was playing so far off of him.  Williams needs to get himself a guard dog for the next game, if he's still so scared.
In this upcoming game, the Eagles are going to face Victor Cruz and he is a legitimate deep threat.  He and Eli have already connected on four touchdowns and four passes of more than 20 yards.  Cruz is fourth in the league in receiving with 26 catches for 425 yards.  He plays outside on first and second down, then he moves to the slot on third down.  He's the guy Manning believes in most.
Hakeem Nicks is the other starter.  He hasn't been healthy in all four games, but he still has caught 12 passes for 230 yards and has the ability to get deep for big plays.  Their third receiver Rueben Randle has caught 24 passes for 162 yards.
It looks like Eagles nickel back Brandon Boykin will be able to play this weekend against the Giants.  He had missed a couple of practices because of a shoulder injury.  The Eagles had better not put rookie cornerback Jordan Poyer on Giants slot receiver Victor Cruz, if Boykin can't play for some reason.  Poyer has been taking Boykin's snap while he was out of practice this week. This kid lacks NFL quickness and I think he's too slow to cover good NFL wide receivers.   He will be no match for Cruz.  The New York wideout will dominate the kid.
If Boykin goes against Cruz I would like to see him play more aggressively than he did Welker.  The one time, Boykin got up there and jammed Welker, the veteran receiver was knocked off balance and slipped coming out of his break.  Manning's throw went sailing over his head as Welker fell to the ground.  The Birds stopped the Broncos offense on that third down play and got off the field.  For most of the day, Boykin gave Welker too much respect.  He was playing far too tentative against the veteran wide out and letting him do whatever he wanted him to do.  It's like playing defense in basketball, you take away what the guy likes to do most.
I want to see the Birds coaches demand that every Eagles defensive back get up in the face of the New York receivers and compete against them, especially when they have safeties playing behind them in case they get beat deep.  Eli Manning will be looking for Cruz this week and I want to see the Birds defensive backs get up in his face and compete.
Unlike Welker, who wasn't a deep threat, Cruz is capable of getting deep and making the big catch out of the slot receiver position.  They need to keep a safety over the top of Cruz because he does a great job of connecting with Manning on the deep routes.  You can bet Manning is going to make some deep throws to Cruz and the Birds had better be ready for it.
Cruz is very strong for his size with great leaping ability.   The Eagles defensive backs must go up aggressively against Cruz and battle for the football at its highest point.  If they don't attack the football in the air, they will be watch Cruz go up and come down with the pass.
Of course Nicks is on the other side.  He's a little bigger than Cruz, but he's got longer arms and huge hands.   Like Cruz, Manning has confidence in him and has no problem throwing the ball up and letting Nicks go up to get it.
That does concern because we know rookie Earl Wolff will be a starter at safety and the other guy is Nate Allen.  Patrick Chung is still battling that shoulder injury and doesn't appear to available again this week.
I like Wolff's aggressiveness, but like most rookies, he has too many mistakes in him.  The youngster doesn't recognize formations and situations yet.  He should have been smelling a pick play on the goalline when Welker lined up out there in the bunch formation.  He should have been smelling quick screen when he was aligned up outside against a bunch formation with Demeryius Thomas not on the line.  I remembered that play that Thomas took for nearly 80 yards against the Ravens in the first game of the season.  He should have remembered it as well.  Same formation, same side of the field, this should start triggering something in his head.
Allen is tackling much better now, than he did earlier in the season, but he still must play with more confidence.  He still is hesitating a split-second when he sees a play developing and that is preventing him from making big plays.  If he hadn't hesitated on that pass to Welker near the goalline which I had pointed out, he would have broken up the play or maybe picked the pass off.  You have to play the game with confidence and believe what you see.  His coaches must continue to build his confidence and encourage him to attack a play the first split-second he sees it developing.
It's extremely important that the Eagles secondary force Manning to hang onto the football for a couple of seconds at least, so that the pass rush can get to him.  it shouldn't be difficult since he likes to throw deep to Cruz.  The Giants offensive line has been playing horribly.  That must continue if the Birds want to win.
The Birds defensive line needs to have a big sack total when this game is over.  They've got to focus on getting off on the snap of the football and getting to Manning.
Somebody needs to tell second-year defensive end Fletcher Cox that the Birds drafted him in the first round, so that he could make a difference in games like the one on Sunday.  He's got to step it up and start playing like he's capable of doing.  They need to get his attention in some way  because they'll win this game if they get decent defensive line play.
The Giants starting offensive line are playing together for the first time and the Eagles defensive line should make them pay for it.  I would like to see the Birds move around a little to confuse them.
Outside linebackers Connor Barwin and Trent Cole need to get to Manning and contribute a few sacks to the cause.  Barwin has two sacks already and he's doing a good job in pass coverage.  On the other hand, if Cole doesn't start getting some sacks, the Birds need to start bringing guys off the bench like Brandon Graham.  Cole has zero sacks in four games and that's not good enough.
Defensive tackle Cedric Thornton, who is playing better than everybody on the defensive side of the ball, needs to have a big game as well against the Giants.  He'll probably start playing more nose tackle as they phase out Isaac Sopoaga, who hasn't been doing anything.
If the Birds aren't getting to Manning and putting some hits on him, he's going to have a good day against the Birds.  They've got to stop the Giants poor running game, then start pressuring and pounding Manning the moment the game starts.