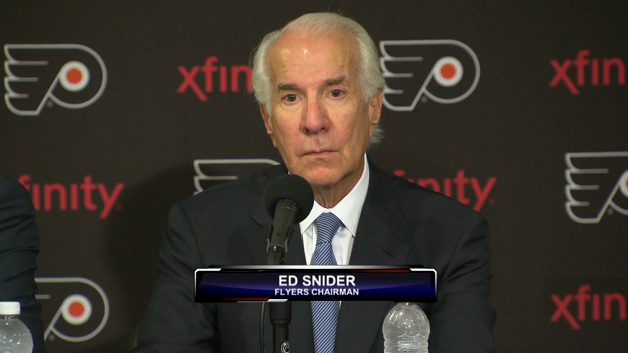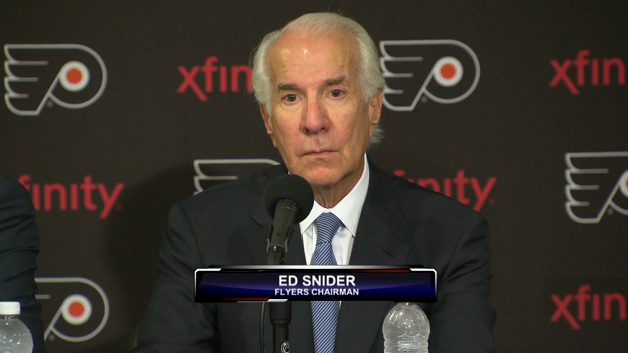 Defending Ed Snider after the events of this afternoon is kind of like saying "the United States government is filled with capable, responsible politicians." There's just no way to follow that statement without asking, "How did we get into this mess?"
There has been a lot of criticism, both here and around the ever volatile sounding board that is the internet, placed against Snider for the situation that the Philadelphia Flyers organization now finds itself in three games into the 2013-14 NHL season.
Snider didn't do himself any favors when becoming defensive this afternoon after a reporter asked if the team needed a "fresh perspective."
"Given the fact that you guys haven't won a Cup in 38 years, why bring in somebody who is steeped in that sort of culture?"

"What's that culture?"

"A culture that hasn't won a Championship."

"We've been in the Stanley Cup Finals a lot of times and we've been in the playoffs a lot of times and the culture is to win. Thirty teams are trying to win the Cup and we're doing our damndest to do it. That's our culture."

"But-"

"THAT'S OUR CULTURE… We don't need a fresh perspective."
That last statement has been spun into an image by critics that the organization can't succeed because it refuses to acknowledge where it has made mistakes. It's not an entirely inaccurate image, as many of the big, sweeping decisions that have been made over the last few years (*cough* Bryzgalov *cough*) have clearly been influenced by his reactions to how the team performed at the previous season's exit.
In May of 2012, following the Flyers' 2nd round loss to the New Jersey Devils in the Stanley Cup Semifinals, I penned this:
"The best thing that general manager Paul Holmgren can do as he develops his strategy for the offseason is stand back, take a deep breath, and ignore Mr. Snider.  It's not that, as the only owner of the franchise throughout its 45-year existence, he doesn't deserve to be a part of the process.

The problem is that he's a fan too.

Ed Snider wants the team to 'win now' probably more than anyone in Philadelphia, but when he gives Holmgren directions, it's most likely based on emotional decisions. He's not the type of guy that's going to review the list of available free agents and evaluate them based on age, health, offensive zone starts, CORSI rating, etc. He's the type to say, 'I want Shea Weber by any means necessary.' "
Snider absolutely deserves criticism for the direction that the team is headed, but the amount of resentment frothing from the fanbase and media isn't completely justified.
The kill floor that is the Philadelphia mainstream media "press conference" isn't the right place to be having this kind of conversation. As much as Snider's tone during that exchange has been written about, the reporter came in with a loaded question following a very obviously difficult decision.
Peter Laviolette never played for the Philadelphia Flyers. He was never drafted by the Flyers. When the team became complacent under John Stevens at the beginning of the 2009-10 NHL season, the Flyers went with someone completely outside of their "inner circle" who had an excellent coaching pedigree and a Stanley Cup under his belt.
The casual observer may have looked at that team and their 13-11-1 record and figured, "Well, obviously they're the suckiest bunch of sucks that ever sucked." But lo and behold, that team came within two games of winning the Stanley Cup.
Laviolette's canning this afternoon also marked the 25th coaching change in the NHL in the last three seasons. Suffice it to say, every coach has a shelf life and while Laviolette was given an opportunity to fix the situation that began almost two seasons ago, the team has looked terrible from the beginning of camp.
So let's circle back to this reporter's question. "Given the fact that you guys haven't won a Cup in 38 years, why bring in somebody who is steeped in that sort of culture?"
What kind of loaded question is that? How would anyone else react in that situation?
I have no idea if Craig Berube is going to lead the Flyers to a Stanley Cup victory in June. I also don't know if any of the other coaching changes made in the last year- Alain Vigneault in New York, John Tortorella in Vancouver, Dallas Eakins in Edmonton, Lindy Ruff in Dallas, Ron Rolston in Buffalo, Peter Laviolette in wherever the next NHL coach is fired from- are going to amount to success either. Nobody knows, and certainly they can't all win, so at least five of these gentlemen will be fostering a culture of "failure" this year by not winning the Stanley Cup.
Berube, though, is very well respected among the players and has been in charge of the Flyers' penalty killing for years. He has been learning the coaching ropes within the organization since 2004. If the front office was looking to find someone that could very quickly earn the player's trust but kick them out of their complacency, is Berube really that bad of a selection?
This reporter implied that Berube can't possibly succeed because that involvement with the organization means he's going to stink, as opposed to bringing in an outsider like they did with Laviolette. Snider reacted poorly to it, but it was a question for which there was no fair answer to give.
Many comparisons have been made today to former head coach Ken Hitchcock's firing in 2006 after the team fell to an early 1-6-1 record. Snider's reactions at that that time might sound pretty familiar.
Per Chuck Gormley's Orange, Black & Blue: The Greatest Philadelphia Flyers Stories Never Told:
"We had an opening game and we weren't ready for it," Snider said, his blood beginning to percolate. "How can you not be ready for a season opener?"

"And did you see last night's game?" Snider continued, now in a raging boil. "A performance like that will not be tolerated. More important, when a team is playing as bad as we are, how do you evaluate new talent when you can't evaluate old talent?"

"The whole damn stinks."
That last statement was as much of an indictment of former general manager Bobby Clarke as it was of Hitchcock. Clarke, if you recall, brought in the likes of Kyle Calder, Geoff Sanderson, Boyd Kane and Nolan Baumgartner during the offseason.
By comparison, Paul Holmgren brought in this past offseason Ray Emery, Mark Streit and Vinny Lecavalier.
Retaining Laviolette after last year's team failed to make the playoffs may have been a mistake, but Holmgren's decision was justifiable given the lockout shortened season. With the team looking as bad as it has this early on, though, it also makes sense why they chose to make a change before it was too late.
There's never anything wrong with a fresh perspective. Realistically, the Flyers' organization needs to try something different beyond throwing bags of money at random, talented free agents. Perhaps developing a plan with a series of steps to achieve that plan would be a nice change of pace, instead of the emotional roller coaster that is "What crazy thing will the Flyers do next?"
Arguing with Ed Snider that "you have a culture of not winning the Stanley Cup," though, is stupid.