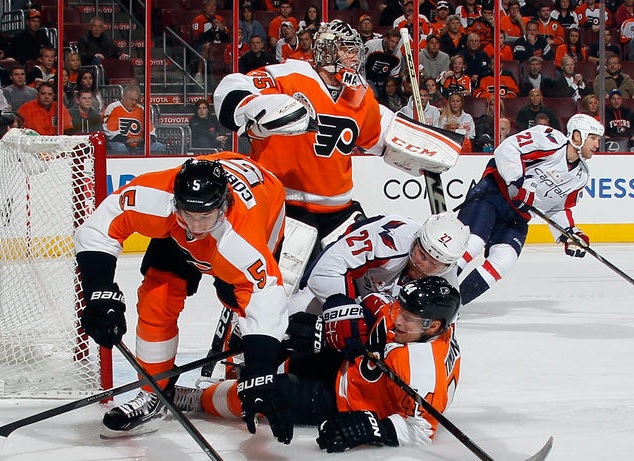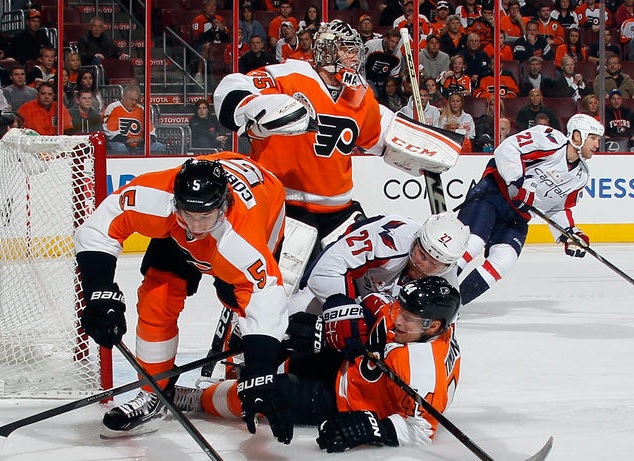 Following Friday night's black hole of a performance against the Washington Capitals, Philadelphia Inquirer reporter Sam Carchidi asked Philadelphia Flyers head coach Craig Berube, "Where do you go from here?"
"What do you mean, 'Where do we go from here'? We go play a game tomorrow."
You can't fault Berube entirely for the terse response. His team wilted at the first sign of adversity and he has to somehow get this group to lace up and do it again in less than 24 hours.
It's also a broad question with no clear answer, but that hasn't stopped many fans and media members alike from pointing the blame at a nebulous, indefinable scapegoat.
Culture.
If you press a bit further, the arguments scatter like ants under a microscope. "They believe too much in the 1970's, Broad Street Bullies' style." "They can't foster a winning culture in the locker room." "It's an insular old boys culture that promotes former Flyers over good ideas."
Is it one of these things? All of it? None of it? What does "culture" mean when it can be used indiscriminately in virtually any context?
The best NHL organizations are often able to shed declining veterans on expiring contracts for talented youth on a regular, cyclical basis. Sometimes the process is bumpy and plans have to be adjusted on the fly, as youthful players don't perform to the level expected or a vital player becomes seriously injured.
You build with a plan in place, though. That hasn't really happened in Philadelphia since the beginning of the "new look" Flyers in 2011.
Last season, the San Jose Sharks followed up a stellar opening month, earning 14 of a possible 14 points, with just two wins in twelve games. They cast off some depth players- center Michael Handzus, forward Ryane Clowe and defenseman Douglas Murray- in exchange for two second round draft picks, one third and one fourth round draft pick. The team still managed to finish 6th in the Western Conference.
The Flyers made just two trades- Harry Zolnierczyk for Jay Rosehill and Michael Leighton for Steve Mason- before finishing 23-22-3 and 10th in the Eastern Conference.
The Sharks are now tied for first place in the NHL with a 10-2-1 record. They promoted their 2012 first round pick, winger Tomas Hertl, to the team and he has responded with eight goals and eleven points in thirteen games. When defenseman Dan Boyle eventually leaves the team, he will be replaced by 2013 first round pick Mirco Mueller.
Lather, rinse, repeat.
What has been general manager Paul Holmgren's plan since blowing up the team in 2011? You can point to that first year as being about moving two of their larger franchise pieces for cheaper, younger talent.
Offensively, it worked too. The team finished 2nd in the NHL in goals per game that season, right behind the Pittsburgh Penguins.
The defense, unfortunately, was never addressed by management. The organization never properly evaluated the talent they had after their Stanley Cup semifinals exit against the New Jersey Devils beyond signing a bunch of a cheap right shooting defensemen and trading for one that was struggling on the bottom pairing in Toronto.
Holmgren's approach to the defense for two offseasons in a row has been to try and sign the biggest marquis free agents he could and fill in the gaps with also-rans. He finally landed Mark Streit this past summer and signed him to a lengthy, expensive contract, but did anyone really believe that a 35-year old was the young, competitive franchise defenseman they needed?
As good of players as Scott Laughton and Nick Cousins appear to be, the Flyers whiffed on the opportunity to re-stock their defensive depth in order to add more young centers to a system overflowing with them.
For what it's worth, the Flyers organization seems to have acknowledged the importance of the draft starting back in 2011. They haven't traded any first round picks away since then and have quietly added some talented young players in a number of positions.
It's just too little, too late for Holmgren. These players aren't going to be ready for another two to four years and can't help the team crawl their way out of the pit they've dug for themselves.
It's not really a "culture" problem, then, is it? It's just roster mismanagement, and when you fail to address a major component of the roster for three years in a row, you tend to lose more games 7-0 than you win.
Many fans are anxious to see assistant general manager Ron Hextall take over for Holmgren, and they will likely get their wish before the end of the year. The irony is that, being a former player, would a Hextall promotion fit the "insular old boys club culture" that keeps getting brought up?
You can't have it both ways.
Just because a man has been associated with the Flyers organization doesn't mean that they are necessarily a bad fit for the position, or that a roster move is inherently bad.
Let's look at some of the last few "former player transactions" that have been brought up as critical "culture problem" examples in the last 24 hours.
January 13, 2013 – Acquired Brian Boucher and defensive prospect Mark Alt from Carolina Hurricanes in exchange for ECHLer Luke Pither. Boucher was signed as a third string goalie because the only one in the system was a rookie, but was used just once (along with Michael Leighton) by Peter Laviolette for reasons only he knows. Alt is now a respectable defensive prospect in the system who could possibly see time with the Flyers late this season or next. Pither is playing overseas.
January 24, 2013 – Scott Hartnell is injured in the third game of the season, and the Flyers sign Mike Knuble to a pro-rated one year, $750K contract to temporarily replace his playing style in the meantime. Low-risk signing, costs no assets.
February 26, 2013 – Matt Read is injured and the Flyers look to temporarily replace his two-way play with fan favorite Simon Gagne, acquired from the Los Angeles Kings for the marginal price of a fourth round draft pick. Gagne looks decent in the line-up, but is not re-signed. Low risk signing, minimal assets expended.
July 5, 2013 – Ray Emery, fresh off a Stanley Cup victory and a 17-1-0 record with the Chicago Blackhawks, is signed to a one-year, $1.5 million contract to split duties with Steve Mason.  Low risk signing, costs no assets.
Accepting that there is a pattern of the organization showing preference for players they are comfortable with based on previous experiences doesn't mean that the pattern is a failure or a success. They could have acquired Jose Theodore instead of Boucher or Emery, or signed Jeff Halpern instead of Ruslan Fedotenko.
Individually, these moves were of the depth variety. None of them reflected the larger issue here- that the defense has not been properly addressed for three seasons. Until that problem is resolved, these transactions are virtually irrelevant to the big picture of team management.
So where do we go from here?
The team doesn't need to trade for any household names. Keith Yandle and Dustin Byfuglien are suggestions that will likely be thrown around, but they're expensive pieces that will only address superficial changes similar to the Streit signing.
The organization needs to target teams with on-the-cusp, young defensemen.
Winnipeg Jets lacking in center depth?  Move a young centerman for Jacob Trouba.
Minnesota Wild can't stay out of the penalty box and are also struggling with scoring? Move Matt Read or Sean Couturier for defenseman Jonas Brodin (currently out of the line-up after taking a puck to the face) or Matt Dumba.
The Phoenix Coyotes are benching a former first round pick in David Rundblad on a nightly basis because they simply don't have roster space? Dangle whatever carrots you have to take him off their hands.
In the absence of players moved for draft picks or prospects not quite ready for the NHL, call up Adirondack Phantoms players that have something to prove at this level. Consider it a lengthy tryout period for current pieces in the minors like Tye McGinn, Jason Akeson and Oliver Lauridsen.
It's unlikely to be a particularly exciting season following this approach, but franchise rebuilds in the modern NHL, if done properly, don't necessarily need that much time to bounce back.
It also goes without saying that Holmgren needs to be removed from his position sooner rather than later. His resume over the course of his tenure has not been all doom and gloom, but the organization needs a clean slate.
Where we go from here is up to Ed Snider, but labeling the issues facing the Philadelphia Flyers a "culture" problem instead of a "management" problem doesn't address reality as much as it covers it with a fresh application of derivative narrative.