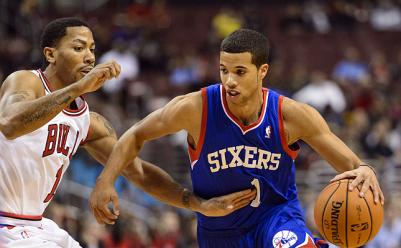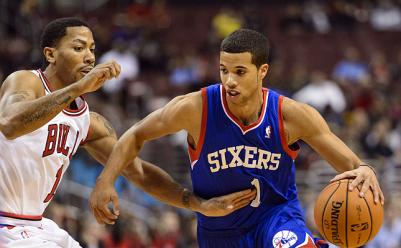 The Philadelphia 76ers won their third straight game on Saturday night, taking down the Bulls 107-104 in Philadelphia. Their record improves to 3-0.
Michael Carter-Williams once again played a huge role in the team's win. The rookie dropped 26 points, had 10 assists with three steals and four rebounds. 

Spencer Hawes registered a solid double-double, collecting 11 rebounds and scoring 18 points while shooting a tidy 8-11 from the floor.
Thaddeus Young scored 13 points and added seven rebounds. Young hit three three-point shots on four attempts.
Evan Turner scored 20 points, but missed a critical free-throw late in the fourth quarter. Turner has scored 20 points in every game this season.
Starting shooting guard James Anderson played 29 minutes, but scored just one point.
Tony Wroten led all bench scoreres once again with seven points.
The Sixers were outrebounded 51-39.
Final Thoughts
Michael Carter-Williams has brought a great deal of energy to the Sixers lineup.
He's got the physical tools to do a lot of great things in this league. He's got great size and speed, he looks like a solid defender,  he can thread the needle with his passes, and if he can develop more consistency with his shot in the future, then he's got an extremely promising future in front of him.
But what I like most about MCW so far is that he has not been intimidated by the big stage that is the NBA. So far, he's embraced the challenge of taking the reins of this young team that wasn't expected to do much, and he's helped make them competitive. He's dealt with LeBron James and gone toe to toe with Derrick Rose in his first three games, and he's led his squad to three straight wins.
Did anyone think this team would rip off three straight at any point this year?
Give the players and coaches tremendous credit, they deserve it.
I don't know how long the Sixers will keep this up, but its a sight for sore eyes to see a young, exciting, competitive team in town that is actually headed in the right direction.