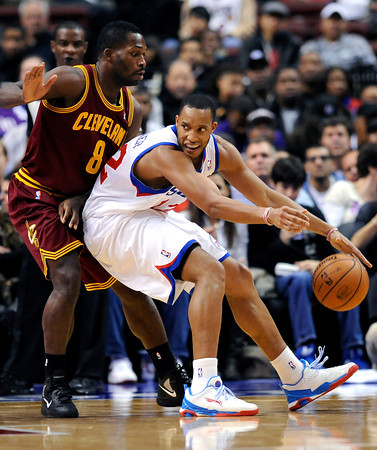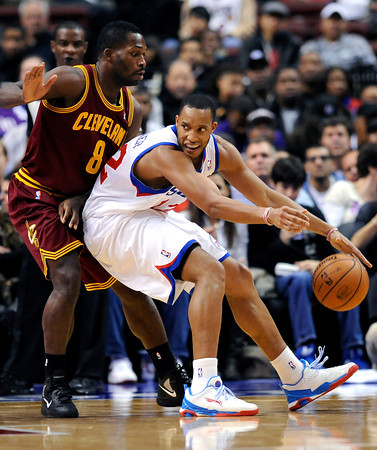 The Philadelphia 76ers snapped their two-game losing streak on Friday night, taking down the Cavaliers 94-79. Their record improves to 4-2.
Sixers fans waited over a year for Andrew Bynum to make an appearance on the Wells Fargo Center court. Unfortunately, he never made one in a Sixer uniform. Bynum was received an earful of boos from the Sixer fans who let him hear their frustration with how last season played out.
The Sixers doubled Bynum just about every time he touched the ball, and the big man scored just four points and collected five rebounds in about 17 minutes of action.
The Sixers played a strong defensive game tonight. After allowing the Cavs to score 28 in the first quarter, Brett Brown's group held Cleveland scoreless through the first five minutes of the second quarter, and only gave up 51 total points in the final three quarters.
Cleveland star Kyrie Irving shot the ball poorly, hitting only four of 17 attempts.
Evan Turner led the way for the Sixers offensively, having himself yet another 20-point night. Turner finished with 22 on 10-18 shooting, and also collected 10 rebounds.
Thaddeus Young bounced back from a rough outing on Wednesday with 13 points and eight rebounds. Young made a couple of sensational defensive plays, including a steal on Tristan Thompson that he took to the other end for a dunk.
Tony Wroten was great off of the bench, pouring in 18 points with four rebounds and four assists.
Michael Carter-Williams had another rough night shooting the ball, but still contributed 11 points with nine rebounds and six assists.
Final Thoughts
I don't know that an athlete has disappointed Philadelphia more than Andrew Bynum in the last 10 years.
What I found most maddening about Bynum wasn't so much the fact that he never played for the team, but just how little he seemed to care about letting the organization down.
While the Sixers struggled last season, Bynum was nowhere to be found. He could be seen at bowling alleys, Dave & Busters, or Flamenco Dancing in Spain while sporting a new and progressively more ridiculous hairstyle every week, and not once did he ever make any effort to reach out and connect with the fans that so desperately wanted to believe in him and embrace him.
"I want to be out there, I want to help this franchise, but I want to make sure I'm 100% right so I can play this game for a long time."
If Bynum had just showed a little bit of class, and said those words or something similar several times throughout the season, there wouldn't be such bitterness towards him.
But Bynum instead gave the Sixers and their fans nothing but apathy. It was almost as though the franchise and the city were beneath him.
"I think they'll probably boo, but that's their choice," Bynum said before the game. "It wasn't my choice to get rid of me. I don't feel bad at all."
And that is why Andrew Bynum is now and forever more a villain in this town.