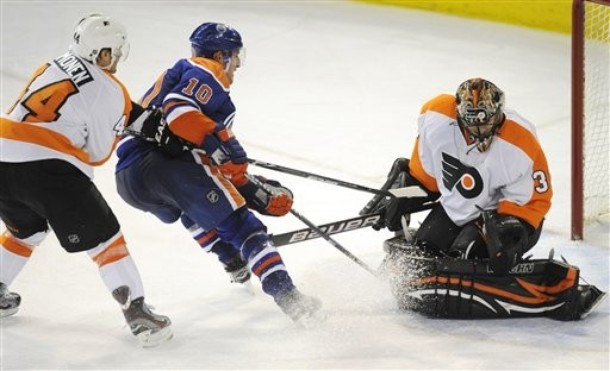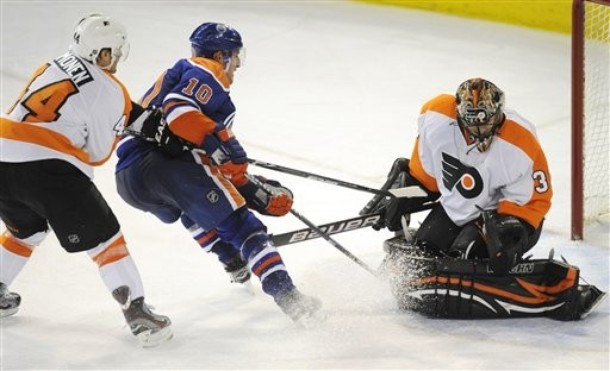 The Edmonton Oilers are one of the few teams in the Western Conference that has not been dominating the NHL over the first month of the season. Unlike Philadelphia, where everyone but the goaltender have played at an amateur level, the Oilers' biggest disappointment this season has been 6′-5″ netminder Devan Dubnyk.
Dubnyk has a 3.80 goals-against-average and 0.877 save percentage following eleven games played this season. Unsurprisingly, the Oilers also rank dead last in goals-against-per-game, with 3.82 goals allowed (compared to the Flyers at 19th, with 2.80 goals allowed per game).
There had been rumors since the preseason that the Oilers could consider signing former Flyers goaltender Ilya Bryzgalov as an unrestricted free agent, but his reputation around the league following his buyout from Philadelphia has not exactly been stellar.
The timing of the Oilers playing the Flyers on Saturday along with their 4-11-2 record was apparently enough for the organization to bite the bullet and sign Bryzgalov to a one-year contract, announced Friday evening.
The only playing time that Bryzgalov has seen since the 2013-14 NHL season began were some tryout games with the Las Vegas Wranglers of the ECHL. Bryzgalov did not sign abroad because hockey players that begin their seasons in Europe must pass through waivers if they are to join an NHL team mid-season.
It has not been announced yet who the starting goaltender will be on Saturday for either team, but it would not be unheard of for Bryzgalov to make his debut against the Flyers.
UPDATED 9:20 P.M. : "Bryz will likely play a game or two in OKC on conditioning assignment before making Oilers debut" per the Edmonton Journal.
When you think about it, it would be a wasted opportunity for Edmonton not to troll Philadelphia fans considering the situation. What's the worst that could happen… they lose again?
Edmonton will also be without the services of defenseman Ladislav Smid, who was traded shortly before the Bryzgalov announcement in order to make room for his impending salary.
That's right- the Oilers had to move one of their top four defenseman (who, granted, was more of a 4th/5th defenseman) because Bryzgalov and his agent Rich Winters held out for more money.
The more things change…