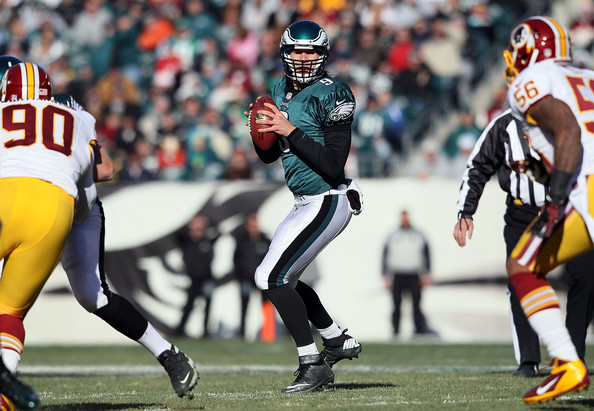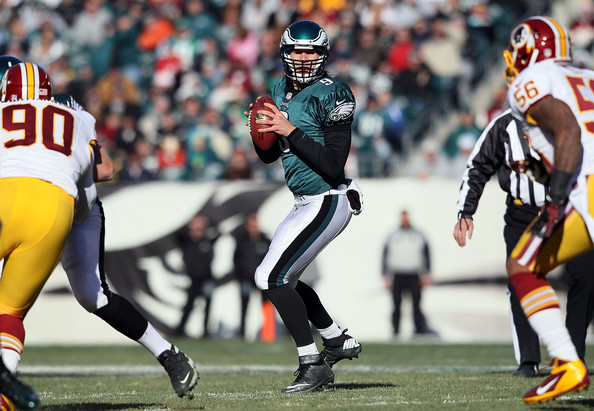 Eagles Hang On For Home Win
First they made it look easy. Then, not so much.
Through three quarters, the Eagles dominated the Redskins. They built up a 24-0 lead, their offense was moving the ball efficiently, and the defense was doing a beautiful job holding the Washington offense in check.
Then in the fourth quarter, the wheels began to fall off. The Redskins scored two touchdowns on a couple of busted coverages, and and followed them up with a pair of two-point conversions to make it a one-score game.
The Eagles offense was unable to close out the game, and gave the Redskins one final opportunity to tie the game. Washington got into Eagle territory, but ultimately were unable to get it done, with a terrible pass from Robert Griffin III picked off by Brandon Boykin in the endzone.
It might not have finished pretty, but the Eagles have finally proven that they can win a home game.
Defense Makes Clutch Plays
Billy Davis' defense put out another great effort this afternoon.
The defense kept Washington scoreless in the first half. They held Robert Griffin to just 26 passing yards through two quarters.
Even though the group gave up 16 points in the fourth quarter, they were able to tighten up in the final moments of the game, and Brandon Boykin's interception sealed another victory.
This is another explosive offense that Davis and his defense have held in check. And they did it on a day where they were missing three starters, and were forced to go with Najee Goode, Roc Carmichael,  a combination of Patrick Chung/Kurt Coleman to make up for the absences of Bradley Fletcher, Mychal Kendricks, and Earl Wolff.
The unit is playing some great ball right now, and they're improving and growing more confident with every game.
Evaluating Foles
Nick Foles had another pretty good start.
Foles finished with 298 yards, and also added 47 rushing yards on nine carries and a touchdown.
It was a nifty move by Foles on a touchdown run in the redzone. Foles ran a read-option play, kept the ball himself, spun through a defender and into the endzone.
Foles put great touch on a pass to LeSean McCoy that went for 49-yards. He made some great throws, and connected with seven different wideouts. He had seven passes that went for 19 yards or more.
I thought Foles tried to run a little too much today. Foles isn't a quarterback that needs to be taking nine carries a game. We saw the best and worst of his running abilities today.
In order for him to be effective as a runner, he's got to use his legs sparingly. If he does it too much, you're going to see situations like today where his lack of explosive speed is going to cause him to come up a yard or two short of what he needs for the first down.
All in all, another good showing for the young passer.
Barwin Dominates
I have to single out Connor Barwin for an absolutely outstanding defensive performance today.
Barwin was a one-man wrecking crew today. He made a number of impact plays in the first half alone.
Barwin had another batted ball today, knocking a pass down on third down on the first Washington drive. Barwin has done a great job getting his hands up and knocking own passes at the line this year. As a rusher, if you can't always get to the quarterback, you can still make an impact by knowing when to get your hands up and bat down a ball. Barwin has been doing that all year.
Barwin was stout against the run as well. He helped make several stops in the running game, and the former Texan later had a nice open-field tackle on Leonard Hankerson.
Barwin's biggest play of the game came when he forced a fumble from Griffin the redzone in the second quarter, which was recovered by Fletcher Cox. It was a game-changing turnover for the veteran linebacker.
Quick Thoughts
Offense
The Eagles utilized the screen game a great deal today. The team hit on screen plays to Brent Celek and Bryce Brown in the first half.
LeSean McCoy had his biggest game of the season, picking up 150 total yards and scoring two touchdowns. McCoy injured his hamstring before the half, but was able to return.
Evan Mathis, Jason Kelce, and Jason Peters all did a great job blocking on LeSean McCoy's second-quarter touchdown run.
Lane Johnson was flagged for holding in the first quarter.
DeSean Jackson finished with four grabs for 82 yards.
Riley Cooper cooled off a bit this week, with only three catches for 37 yards. Cooper nearly scored on a pass at the goalline in the third quarter, and was targeted frequently by Foles once again.
Zach Ertz had two catches for 31 yards.
Defense
The defense played without three starters today, with Bradley Fletcher, Earl Wolff, and Mychal Kendricks all inactive.
Patrick Chung got the start, but was injured on the second defensive series.
Fletcher Cox called for a roughing the passer penalty on Washington's first play from scrimmage.
Cox came down with a fumble recovery in the second-quarter, stopping a Washington redzone opportunity.
Brandon Graham sighting in the first quarter. Graham stuffed Alfred Morris for a loss of three.
Najee Goode got the start for Kendricks, and picked up a sack on Griffin in the first. Goode had a chance to bring Roy Helu down in the second quarter, but missed a tackle, allowing the runner to pick up 29 yards. The young linebacker missed a tackle on Jordan Reed one play later, allowing the tight end to pick up a first down.
Bennie Logan showed great speed for a nose tackle, running across the field to help Connor Barwin bring Morris down for a short loss.
Trent Cole picked up just his second sack of the season towards the end of the first half. Cole picked up a second sack in the third quarter.
Special Teams
Brandon Boykin made a great play to keep a Donnie Jones punt from going into the endzone. Boykin dove after the ball, and made it possible for the Eagles to pin the Redskins inside their own five-yard line for their second drive.
Final Thoughts
It was a banner day for the Eagles.
They put the 10-game home losing streak to rest. They got their record above .500 for the first time since they were 1-0. They moved into sole possession of first place in the NFC East. They completed a season-sweep of the Washington Redskins, and at 3-7, they've effectively buried a division rival in the standings.
The Eagles are in the driver's seat. With two more home games on the horizon, they've got a chance to really pick up some momentum and separate themselves from the rest of the division in the coming weeks.
Denny Basens is the editor of GCobb.com. Email him at dbasens@ycp.edu