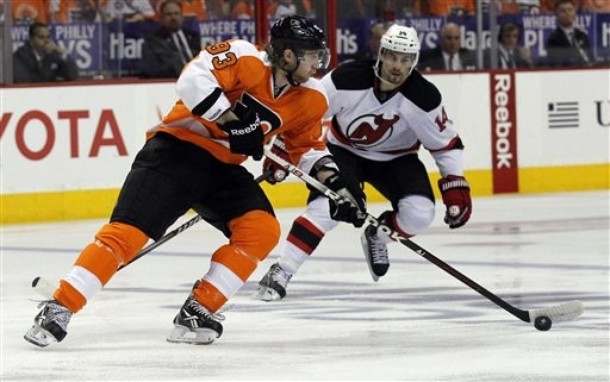 The Philadelphia Flyers managed to collect an invaluable two points on Saturday evening against the Nashville Predators as their closest competitors in the Metropolitan division- the New Jersey Devils and the New York Rangers- won their respective tilts.
The continued dominance of Steve Mason between the pipes is perhaps the most prominent storyline from that game, but the win overshadowed the ongoing inconsistent play from a number of Flyers, including Jake Voracek.
Voracek has tallied 3 goals and 12 points in 26 games played this season. This production puts him on pace to finish the season with 9 goals and 46 points, the same total he produced in just 48 games last season.
What's going on with the "Scoracek" that broke out after the lockout?
Voracek previously told reporters, "I don't want to make excuses that I got hurt in the preseason, because someone could say [that's why] I don't have a goal yet. Obviously, I can be way better… Everybody would have higher expectations. I'm trying to get to that level where I was in the preseason. I think these [practice] days will help me."
The second goal for the Preds- a backhander through Mason's legs before he had a chance to prepare for a shot- developed only because forward Colin Wilson out-hustled Voracek for the puck.
Two games earlier, Voracek- along with captain Claude Giroux- failed to backcheck competitively after a turnover on the powerplay. The turnover quickly turned into an easy tap-in shorthanded goal for Tampa Bay Lightning forward Ondrej Palat.
When the Flyers elected not to re-sign Jaromir Jagr in the 2012 offseason, it was in part so that Voracek, then 22, could have an opportunity to play with Claude Giroux and gain additional ice time. His average time on ice saw an increase of nearly a minute and is actually higher this season than last.
The good news is that Voracek has been shooting much more in recent games than at the beginning of the season. He has no goals to show for it, but his 17 shots in the last 5 games is certainly an improvement over his 6 shots in his first 5 games.
Voracek averaged 2.69 shots per game last season (good enough for 13 shots in a 5 game stretch).
To some extent, the bounces are likely to start coming #93's way sooner than later. He's facing other teams' shutdown lines and defensive pairings, but getting the advantage of favorable offensive zone starts.
It just comes down to commitment. Winning battles along the boards, back-checking, not trying to skate through four players on the powerplay. Getting back to the basics of good hockey, something that head coach Craig Berube has been preaching in his early tenure.
It's difficult to break bad habits and push players past their comfort zones on long road trips. Thirteen of the next seventeen games will take place on the road, and staying healthy is nearly as difficult a challenge as staying sharp.
If Voracek's inconsistent play continues (much like the Flyers' record), though, it may be in the team's best interest to sit him in the press box for a game. Accountability in the top nine rotation has been paid more lip service than actual practice this season, and the margin for error is only going to get thinner.