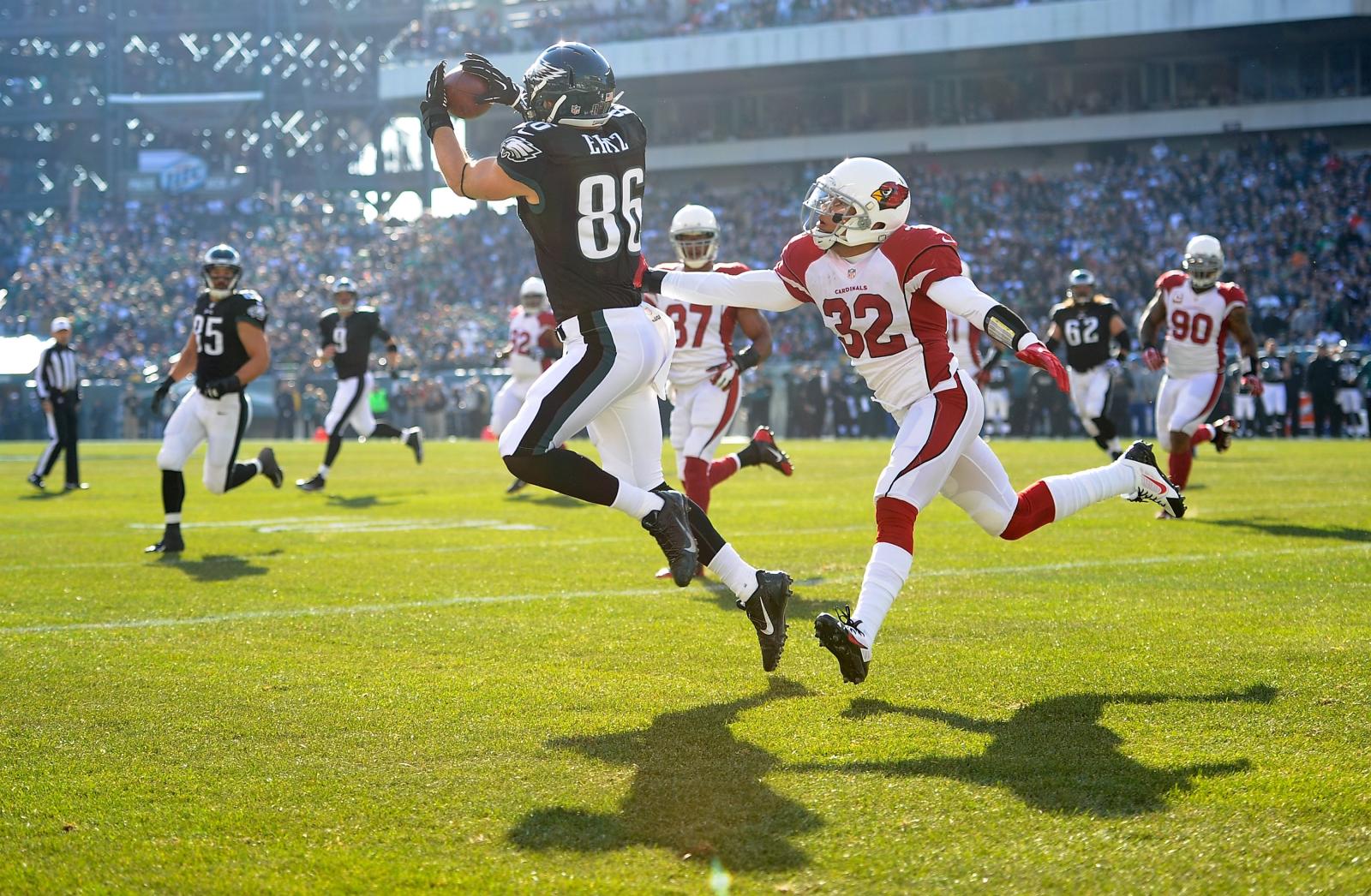 With the great year that DeSean Jackson is having and the emergence of Riley Cooper, I think Birds rookie tight Zach Ertz is headed for a big finish down the stretch.  He's getting a feel for the NFL game that he had in college and when you add that to the confidence that Nick Foles has in him, I see big numbers ahead.
Ertz caught two touchdown passes on Sunday and he led the Birds in receiving.  I see more of that ahead.
Teams are starting to play some double-zone coverages and two-man coverages to stop both Jackson and Cooper from getting deep.  Two-man and double-zone keeps both safeties deep and stops the wide receivers from catching the deep ball, but it makes a secondary vulnerable to big games from tight ends.  Many times offenses will send both wide receivers deep to occupy the safeties, then send the tight end down the deep middle against two-man or double-zone.
They basically ask their linebacker to take care of the tight ends.  In these situations, Ertz would matched with a linebacker in the coverage and he's shown he can consistently beat a linebacker trying to cover him.  I think that's where we're headed with Ertz being put in position to finish strong.
Number 86 says he's getting used to running routes versus the zone coverages in the NFL.   The former Stanford tight end feels he's also growing accustomed to running routes from the regular tight end position now that he's in the NFL.   While in college they had him split outside most of the time, so
He lined up in the wide receiver position so much in college that he didn't have to block inside for the running game.  Now that he's in the NFL, Ertz is being asked to line up at a regular tight end position and block defensive linemen and linebackers.  It's something he's getting used to, but he knows the number reason he was brought here was to catch footballs.
The youngster is getting into a good habit of staying after practice everyday and catching football from the jugs machine with veteran slot receiver, Jason Avant.  Ertz started working on  catching more footballs following practice, after he dropped a couple of passes early in the season.  He's been sure handed since then.