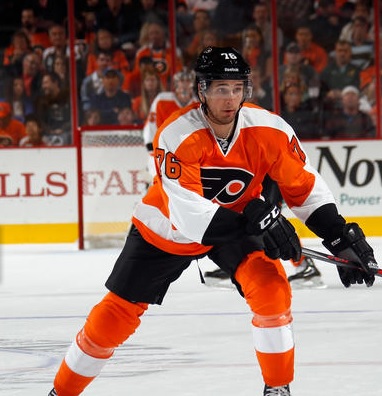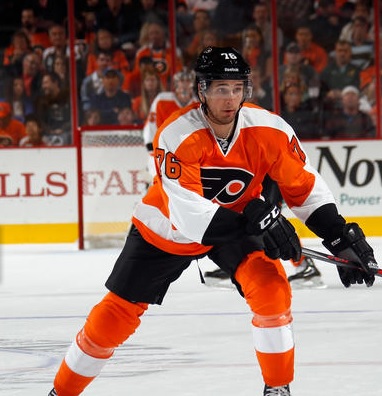 The Philadelphia Flyers ended their recent road trip in spectacular fashion with a 7-2 blowout loss against the most recent Stanley Cup champions, the Chicago Blackhawks. The trip concluded with a 2-3-1 record and 5 of a possible 12 points.
The team has been stumbling in their recent outings, following steady play with exasperating mental gaffes that seem to find their way in the back of the net. The bottom four defenders have largely been to blame, although the top six forwards haven't been providing much goal support still either.
The Flyers recalled forward Tye McGinn earlier in the week, but did not play him because he was sick with the flu. McGinn would have been an excellent choice to at least temporarily supplant Scott Hartnell on the top line, as Hartnell is in dire need of taking a seat in the press box for a game and collecting his thoughts.
McGinn's stay has been cut short, however, as the Flyers announced they have returned him to the Adirondack Phantoms and signed forward Chris VandeVelde to an NHL contract.
VandeVelde attended the Flyers' training camp in October with the intent of competing for the Flyers' third line winger position. He was in competition with McGinn and Michael Raffl, but none of the three players impressed the organization and coaching staff enough to make the opening night roster. VandeVelde ultimately signed an AHL contract and has been with the Phantoms ever since.
Raffl was called up as a result of injuries beginning on October 12. In 19 games, he has produced one goal and four points.
VandeVelde currently ranks first in goals (7) and second in points (13) in 23 games played on the Phantoms (behind forward Jason Akeson). McGinn, by comparison, has 5 goals and 7 points in 18 games played (he technically leads in goals if you count the three scored at the NHL level in his early season stint).
With VandeVelde on the books, the Flyers now have 49 of a possible 50 contracts signed (excluding four that apply under the slide rule).
As long as one of Zac Rinaldo or Jay Rosehill takes a seat against the Canadiens, replacing either of them with a more competent hockey player is an improvement. It is unlikely to resolve any of the more glaring concerns that still permeate this roster, though, and reduces the Flyers' flexibility with player movement for a guy who couldn't crack the Edmonton Oilers' line-up in years past.
In other words, when it comes to having high expectations, tread lightly.