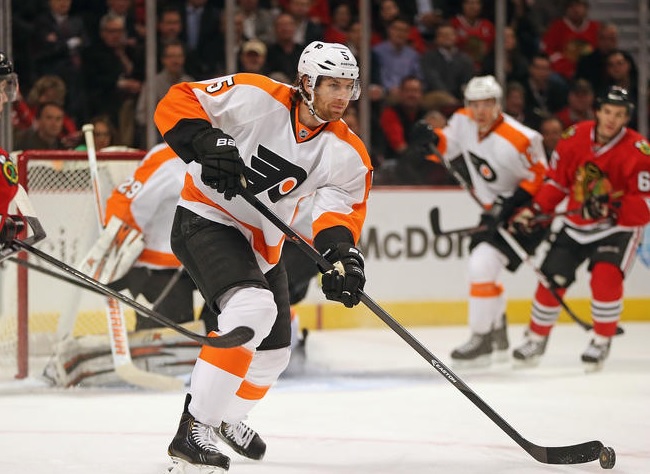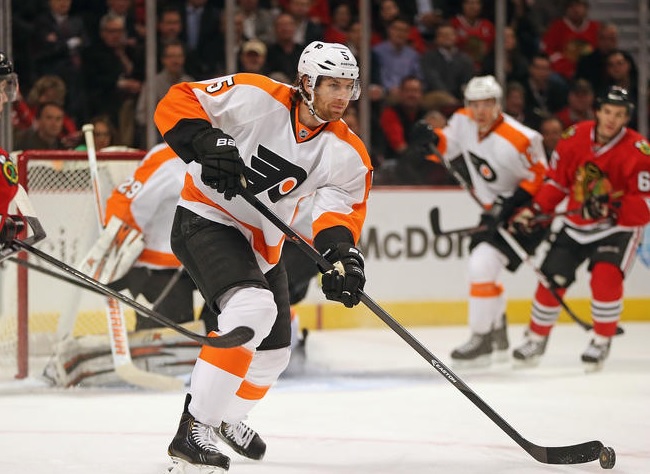 Braydon Coburn has not received much praise over the last season and a half among Philadelphia Flyers fans (the nickname "Slowburn" comes to mind). I've been somewhat critical myself of the 28 year-old defenseman, suggesting in May that he had "fallen a bit on the depth chart behind [Nicklas] Grossmann and [Luke] Schenn."
When Darren Dreger of TSN revealed in November via twitter that the trade offer from the Edmonton Oilers during the 2013 NHL Entry Draft for Coburn was three 2nd round draft picks (no years or positions listed), I was somewhat taken aback that the Flyers didn't pounce on this.
The 2013 NHL draft was considered one of the deepest in talent in recent memory and the Oilers could have potentially been offering the 37th and 56th overall picks. In addition to defenseman Robert Hägg, the Flyers could have upgraded their prospect pool with very talented prospects along the likes of Valentin Zykov (LA), Steve Santini (NJ) or Nicolas Petan (WPG).
That's not to say that Coburn needed to be shipped out without a back-up plan on defense. As I wrote in June:
"Coburn did not look particularly good this past season, but he is still a valuable, experienced defenseman that can eat 20+ minutes a night. Frankly, I am not fond of the idea of moving Coburn unless the organization can restock their farm system (through his trade or another) with a young, valuable up-and-coming defenseman simultaneously."
Thirty-two games into the 2013-14 NHL season, it's difficult to imagine how much worse this Flyers team would look if Coburn was playing a continent away for the Oilers.
It's not that he has dramatically improved his puck-moving abilities or ramped up his physical play. He's simply making less mental mistakes than he has in the last two seasons, and it's been a relief for a team prone to three or four defensive gaffes per game.
On the puck-moving side of the game, Coburn's two goals and three points in 32 games played is on pace with his production from last season, albeit still down from his modest totals in the three seasons prior to the lockout. Undoubtedly, the offensive struggles that have plagued the team as a whole can be traced back to the defense being built with size and physicality in mind over skating and puck-handling ability, but Coburn can hardly be blamed for this as a member of the Flyers since 2007.
In spite of the dearth in points, Coburn has steadily improved from recent seasons when it comes to shutting down the opposition. Per Behind the Net, Coburn has been handling the toughest competition while still managing to be on the ice for more shorts for than against. He's not "destroying" his competition, of course, but containing them still makes him a valuable asset and a key reason why the Flyers rank 14th in the NHL in goals-against-per-game.
Coburn is also still consuming valuable minutes for the Flyers, leading the defense with 22:51 time-on-ice-per-game. Coburn ranks 40th in the NHL in TOI/G among defensemen, with übermensch Ryan Suter skating 29:26 per game (!).
It's arguable that some of his improvement from last season comes with being paired with Kimmo Timonen once again. Luke Schenn appeared similarly steady last season when paired with #44, but has looked out of step on the third pairing this season when teamed with fellow liabilities Andrej Meszaros and Erik Gustafsson.
There are some players for whom a spot on a highlight reel is a rare occasion. They are the "set it and forget it" rotisserie defensemen, reliable for performing the job they've been tasked to do and nothing more.
Expectations for Braydon Coburn may not be as high as they used to be, but as one of the Flyers' few dependable defensemen in the Metropolitan Division's battle to avoid mediocrity, he deserves credit for keeping the team afloat amidst the Eastern Conference flotsam.