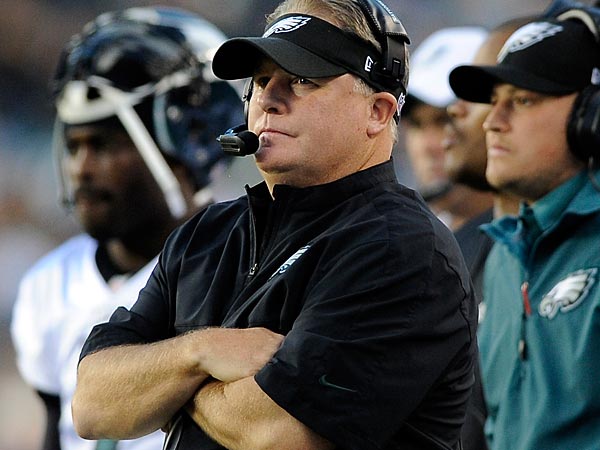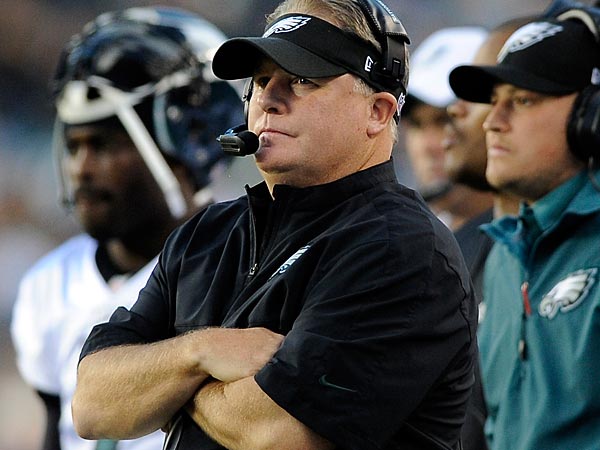 A day after one of the most disappointing losses of the season, it's gut-check time.
The Philadelphia Eagles are now 8-6, a game ahead of the Dallas Cowboys with two games remaining on the schedule.
While the Eagles currently hold the third seed, a playoff appearance is anything but a guarantee. The two opponents remaining on the schedule are not going to be a simple challenge.
The Cowboys and Chicago Bears are fighting for their playoff lives as well. Neither group can be described as a great team, but both squads have explosive talent on their side and are very capable of putting on great performances.
To Eagles fans, how confident do you feel about this team's chances of making the playoffs?
An absolutely wretched defensive performance is just cause to put a lot of doubt in the minds of some. The defense looked like it regressed badly against the Vikings, allowing themselves to get lit up by the likes of Matt Cassel and an offense that was missing their heart and soul, running back Adrian Peterson.
If they couldn't handle Greg Jennings, how are they going to contain the deadly combo of Brandon Marshall and Alshon Jeffrey? Or Matt Forte, who is a dual-threat as a runner and receiver? What about in Dallas the week after, when they'll face Dez Bryant and DeMarco Murray?
The defense couldn't get a stop to save their lives last week, and now will deal with a couple of very potent offenses.
So do you buy or sell the Eagles making the playoffs?
I'm buying.
Going into the season, I was very skeptical about almost every aspect of this team. Through the first half of the season, I didn't buy-in to Chip Kelly. I didn't like the Billy Davis hire. I wanted to see Nick Foles play, but I didn't really believe that he was going to prove to be anything more than a servicable backup. I thought the defense was years away from being even somewhat competent.
Looking back, I think a lot of my skepticism was a result of the bitter taste left in my mouth from the last few years of the Reid era. Over the last few years, I watched the team make painful errors that set the franchise back years. I remember getting excited on draft day in 2010 when the Eagles traded up in the first-round, only to be shocked when they passed on Earl Thomas for Brandon Graham. Things didn't get much better the following year when they took 26-year old Danny Watkins with their next first-round pick. Then I watched as the organization tried to sell Jim Washburn and his Wide-Nine scheme as a legitimate base defense while Howie Roseman went a spending spree to create the ill-fated Dream Team with a bunch of mercenary players who were content simply with cashing their hefty paychecks.
The countless errors and arrogance over the last three years caused me to lose faith in the organization. And when Howie Roseman was left in place to have another crack at shaping this team's future, there was no way that I could bring myself to trust the organization's vision.
But the 2013 season has played out, and Chip Kelly has made me a believer again.
While Kelly hasn't been perfect and has certainly had his issues with game management, I see a coach who seems to be willing to make adjustments and make sure that mistakes from previous weeks don't happen again. The offense isn't comprised of the same stale plays and formations week after week like it was with the Reid era. There's a lot of creative design to Chip's plays, and each week we see a lot of new formations and wrinkles.
As for the defense, while there is very legitimate reason for concern about how the unit, particularly the secondary, will fare in recent weeks, I'm going to trust Billy Davis to get things cleaned up and corrected. For eight straight weeks, this defense held opponents to 20 points or less. They made plays, created turnvoers, and were responsible for a great deal of this team's wins. They may not keep Chicago or Dallas under 20 points, but I do expect a clear improvement from last week's disaster.
As for the remaining opponents…while both squads can potentially be offensive powerhouses, both teams also have their warts. Neither the Cowboys or Bears play any defense. The opportunity is going to be there for Kelly's offense to light both teams up. And both Jay Cutler and Tony Romo are a pair of living turnover machines.
This season is likely going to come down to the final week in Dallas, but I believe that the Eagles are infact going to get into the postseason and give us one final exciting chapter to put a cap on what has truly been a refreshing season.
With Week 17′s match against the Dallas Cowboys shaping up to be a showdown for the division, Denny Basens and Jeff Kolsky are planning to get a group together to watch the game at XFINITY Live, and we would like to extend invitations to any and all readers of GCobb.com to come out and join us. We sincerely appreciate all who read, comment, and make this website great, and we'd love the opportunity to meet some of the readers and experience a great game together.