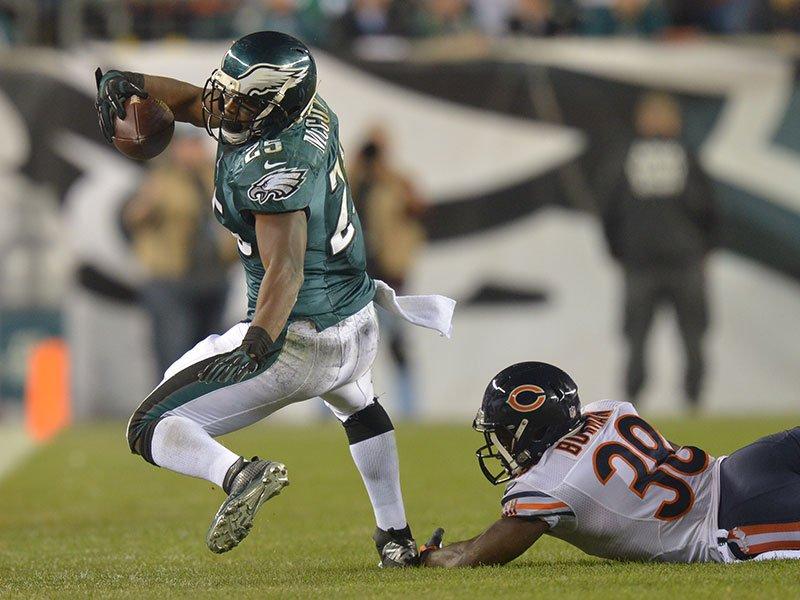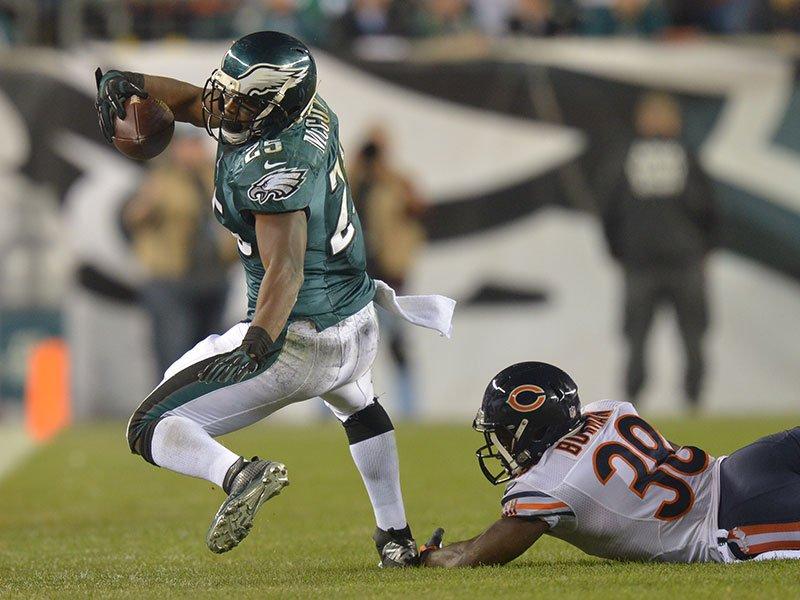 Yesterday, Eagles running back LeSean McCoy had some fun while talking about refusing to receive the NFL Offensive Player of the Week award because he felt he should have gotten it a couple of weeks ago for his play in the Snow Bowl against the Detroit Lions.  In that game he ran for an Eagles single game rushing record, but didn't get the conference offensive player of the week award because they gave it to McNown of the Bears.
"They could have it back", McCoy said. "I should have had it two weeks ago."
He won the award for his amazing performance this past Sunday against the Bears, when he ran for 133 yards on only 18 carries as the Birds completed annihilated Chicago 54-11.   I would give him the award for his spin move on his second one-yard touchdown run.  He did a complete spin on Bears Julius Peppers and broke both of the defensive end's ankles on the play.
The Eagles Pro Bowl running back isn't really willing to give back the award, he appreciates it, but right now he's focused on bigger and better things ahead for this ball club, when they  get the chance to qualify for the playoffs this weekend.
"It's an honor, it's something nice to have, I appreciate any award I get," McCoy said. "But at this point, all I'm set on is this week. Everything rides on this game. All the big stats, big games we had, the losses, the wins. That stuff doesn't matter. What matters is this week."
This is a huge game this Sunday for McCoy and his Eagles teammates.  They could secure a spot in the playoffs and getting the ball to McCoy will be one of the keys to the game. Chip Kelly will take what the Cowboys give him meaning if Dallas stacks the box with defenders, Kelly is going to throw the ball.  If they play the Eagles honestly, Kelly will run and throw it, but Kelly believes in taking what the defense gives him.
I would like to see Kelly amend his strategy bait by making sure he doesn't let defenses dictate to him what he's going to do.  I think you should give the ball to McCoy, even when teams stack the box.  Taking McCoy out of the game is something every team wants to do, so getting away from him is a mistake in a way because you are letting the defense dictate what you're going to do.
McCoy could finish the season as the league's leading rusher.  All he has to do is hang onto a 189-yard lead over the guy in second place, Kansas City's Jamaal Charles   On top of that, he can pass former Eagles great Wilbert Montgomery by rushing for at least 37 yards to become the top single-season rushing leader in franchise history.
"I'm getting them both," McCoy said when asked about the accomplishments.  I happen to agree that he's going to get both, but to him the franchise record is more valuable.
"I'll say the franchise [record]," McCoy said. "They're the team I play for that drafted me. I signed my contract to be here for a while. Keeping it here in the franchise is something special."
They've got to get McCoy turned loose on Sunday night.
I feel confident that Chip Kelly is going to find ways to get McCoy out in the open field to do his thing and I see a big night for him.  He's going for at least 120 yards against the Cowboys, which will mean winning the rushing record and being the team's all-time single season rushing leader.