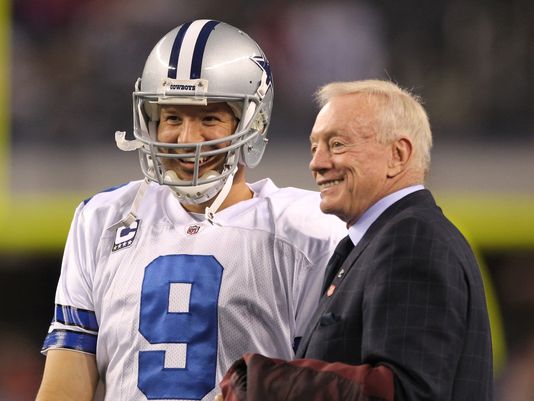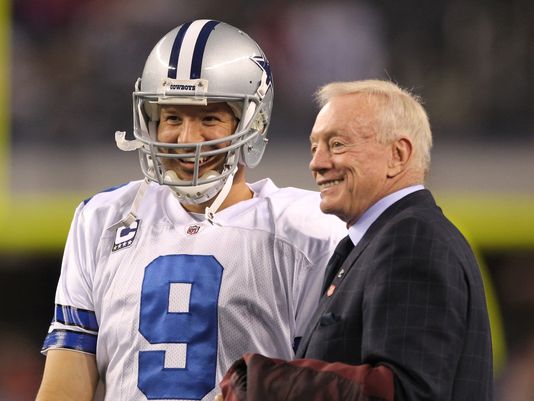 ESPN's Adam Schefter reported earlier in the week that Dallas Cowboys quarterback Tony Romo is through for the season, but Cowboys head coach Jason Garrett came back and disagreed with that report by saying there was still a chance that Romo could play this Sunday night against the Philadelphia Eagles.
There's been speculation that Romo has a herniated disc in his back and that he was given an epidoral for the pain.
Now the Cowboys owner Jerry Jones has stepped into the situation and talked about a conversation he had with Romo.
"If you know Tony, you can't imagine what a competitor he is, and he doesn't want to miss a snap," Jones said. "He was very disappointed, particularly disappointed for his team, repeated over and over again, `Jerry, I can't tell you how badly I feel relative to you and relative to my teammates.'"
It seems that as of right now, Romo has not been given the thumbs up by the Cowboys medical staff to play on playing this Sunday night,  but there is still a chance that could happen.
"Tony will play with all the pain," Jones said. "But his doctor has to clear him."
So as of right now, Kyle Orton will be the starting quarterback for the Cowboys this Sunday.  Jones tried to make it seem like they're just happy to be going with Orton as they were with Romo.
"The main thing is that it's not like Kyle Orton just gets here this morning or gets here tomorrow morning," Jones said. "Kyle Orton has been here and he knows this system frankly as well as Romo does. And has practiced it. He just doesn't have the game time that he would have had as the starter, and he doesn't get the reps."
Jone says he feels good about either quarterback being behind center when the ball is kicked off on Sunday night.
"If you don't realize that you're going to be dealing with injury information, sudden change in plans, then you're in the wrong area," Jones said. "We're in as good a shape under these circumstances as you could possibly be in. We have planned on this very event."