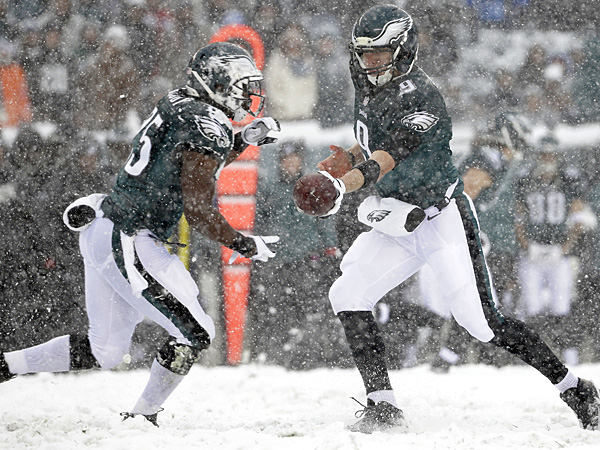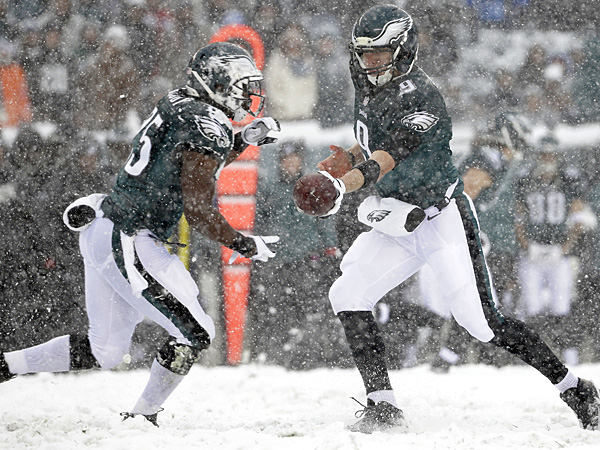 Turnovers are the most important statistic in the NFL next to numbers on the scoreboard.   For the most part, if you win the turnover battle you will win the game.  Turnovers are likely to play a major role in the game on Saturday night.
That's why ball security is a focus of the coaches.  Ball security is important at all times, but it's even more important in cold weather.
When asked about the key to having success moving the football in cold weather, Eagles offensive coordinator Pat Shurmur talked immediately about the importance of ball security.   The Birds emphasize ball handling all the time and they do drills which enhance their ball handling each and every day.
The football gets slicker when it gets cold.  If you add any moisture, it gets even worse.  It will make a different tomorrow night and that's one of the reasons I give the Eagles a good chance of winning this football game.
Taking care of the football in bad weather is one of the reasons the Birds beat the Detriot Lions in that snow storm.  The Lions seemed to be fumbling the football every other snap. The Eagles on the other hand had only one fumble.
The centers and the quarterbacks touch the football more than anybody else, so their ability to handle the football without errors is going to play a huge role in this game.  I think it helps the Eagles that center Jason Kelce already snapped the ball in a snow storm.
Nick Foles is six-foot-six with big hands.  He fumbled last weekend after being hit in the back, but Foles does a great job of making sure to take his time and take care of the football.  He rarely turns the football over.
New Orleans quarterback Drew Brees is a small guy and I'm not sure how big his hands are, but they can't be as big as Foles.  In the bad weather, I think big hands help you to keep the football secure.
Each handoff will be very important during this game which will probably be played with the temperature in the teens.  Every Eagles and Saints ball carrier will need to secure the football before throwing it, handing it off, catching it or trying to run with it.
You can't take it for granted that the ball is secure when the weather is so cold.  You must make sure it's secure, even if it means doing everything with both hands on the football.
"It's definitely different than throwing in hot weather, humidity, inside", Foles said when asked about playing in the cold. "It's just a different feel.  Y'all feel it as much as I do.  It's different feel in the air there.  The ball sometimes requires a little different grip.  Sometimes balls that feel good when it's humid are very, very slick in this weather, climate. The big thing is you just try to play the game.  The ball is in your hand and you've got make a play, so however you adjust to it.  So me, I'm going to do everything I can.  If it's putting a little extra on the ball or stress flicking my wrist I'm going to do that.  You just adjust to the climate when you're playing in it."
Foles said he will treat the weather like he does the noise, the distractions and the pain after a hit.
"It's like anything else", Foles said.  "You try to zone out the weather.  When you're out there playing, zone it out.  Execute the plays.  Whatever it takes to get the job done, you've got do it.  So the big adjustments are when you're on the sidelines trying to get your body warm.  Keeping your legs warm, whatever that may be."
Brees tried to make it seem like the cold weather doesn't matter, even though the Saints don't seem to be the same team on the cold and Brees doesn't seem to be the same quarterback in it.
"Obviously we don't get a chance to practice in it", Brees said when quizzed by Philly reporters. "It's like in the 50's and 60's here, not in the 20's.  We've all played in that kind of weather before", Brees said.  "Not on a consistent basis, but  you make the preparations. You try to prepare for it as best you can, mentally.  Once you're there, it's football.  It's about execution.  It's about knowing your assignments and just executing it. Whatever the conditions are you manage that, whether it's  wind, rain, or snow.  I wouldn't say we're going up there into a situation that we haven't been there before."
"I think you always take into consideration the elements", Brees continued.  "Is there wind?  Is there moisture?  How cold is it?   Am I wearing sleeves or am I not wearing sleeves?  There's really not a whole lot that goes into it other than you try to keep your hands warm and get a good grip on the ball.  That's pretty much what it comes down to."
I don't think the Saints are going to respond very well in the elements especially if it's windy.  They're used to playing the dome, so it's going to take a major adjustment for them to ignore the weather and perfect like it's 72 degrees in the dome.
Still the Birds defense must play well to slow down Brees and his potent offense.  The Eagles defensive line has to get their hands up to obstruct Brees' vision and to knock down some of his passes.  You also have to disrupt the timing of his receivers by jamming them so they can't run their routes with the same rhythm that they're used to.
I don't think New Orleans will be able to run the football effectively, so all the weight is going to be on Brees to move their offense. Foles on the other hand, will be getting some help from LeSean McCoy, so he won't need to force throws through the air.
Everybody knows by now that Eagles quarterback Nick Foles and Saints future Hall of Fame quarterback Drew Brees both went to Westlake High School in Austin, Texas.  In 1996, Brees led Westlake to their only state championship and ten years later Foles took them to the championship game but came up a little short.
That's great news for that high school and that area of Austin, Texas but it means nothing to what is going to happen on the field tomorrow night.