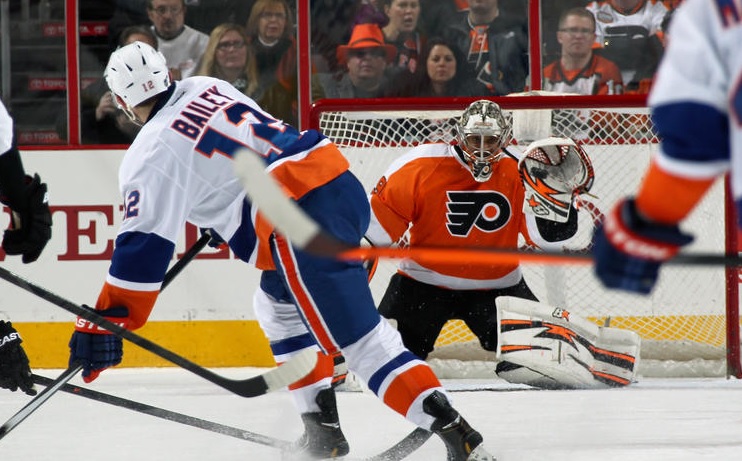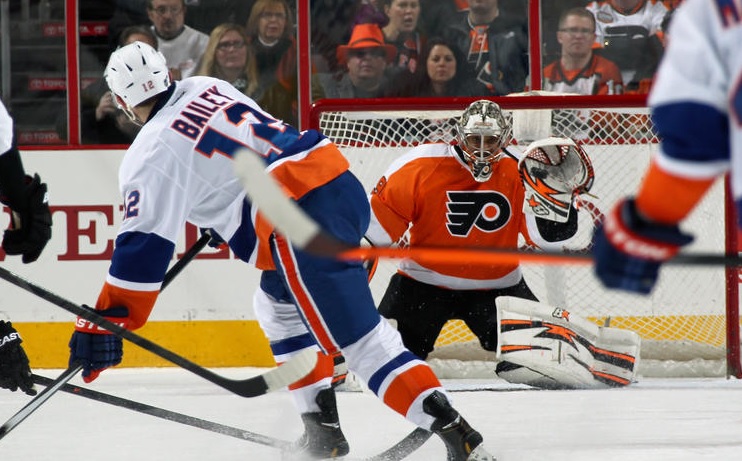 The talk of the weekend for Philadelphia Flyers fans has been the contract extension to goaltender Steve Mason, and just what that means for the Flyers moving forward.
What about "Razor Ray" Emery?
Emery signed with the Flyers in July 2013 with the understanding that the starter position was open for grabs. He would earn his opportunities just as Mason would.
Per CSNPhilly, back in the offseason:
"Corey [Crawford] has one year left [in Chicago]," Emery said. "He's probably gonna end up making $5 million or $6 million for the next little while. I feel like the writing was on the wall in Chicago, as far as myself.

"In Philadelphia, it would be a new situation for both me and Steve. Going forward it's a chance to play more games than I would have in Chicago. It's a great time and a situation I knew, from the last time I was there, I was comfortable in."
Emery was on pace for 34 starts in Chicago last season, had the NHL been able to schedule 82 games in lieu of the lockout-shortened 48 games. He is on pace to start in just 21 games this season, in contrast to his July expectations.
In 17 appearances this season, the 31-year-old netminder has earned a 0.897 save percentage and 2.86 goals-against-average. The numbers aren't particularly promising, though it's also worth noting that he's received a miniscule 2.07 goals-per-game of support from his teammates in games he's started.
However you frame the numbers, Emery hasn't played well enough to be more than a back-up for Mason. The team can certainly play better in front of him, but Emery hasn't made the bail-out saves that Mason has exhibited whenever the Flyers produce more turnovers than Oteri's Italian Bakery.
Emery's current contract, set to expire in July, is worth $1.65 million. The organization likely won't be looking to allocate this many dollars to a back-up position with Mason pegged as the starter for the foreseeable future, so Emery would have to accept a modest discount if he wanted to stay.
Would he even want to?
Obviously, that depends on the amount of interest in him from other teams. The Chicago Blackhawks wanted to keep him after he supported Crawford in their eventual Stanley Cup victory, and have not had much success relying on the now-injured Nikolai Khabibulin in the back-up position.
Rookie Antti Raanta has taken on the back-up responsibility and performed admirably, but the Blackhawks could certainly send him back to the AHL to hone his game if they had a reliable veteran to replace him. Based on recent remarks from Jonathan Toews in the Chicago Tribune, Emery would seemingly be welcome back:
"I don't know if anyone expected [Raanta] to be this good and this poised early on in his career," captain Jonathan Toews said."I remember watching him at the World Championships and some of the guys were saying how good of a goaltender he was and we ended up signing him. Look at last year with the way Ray Emery played behind Corey. When Corey has that support it pushes him to be better and as a team it helps so much more when we can have two solid goaltenders who are playing well and with such confidence."
Would the Flyers want to re-sign Emery?
The Flyers organization is one that often relies on veterans before it relies on non-first-round-pick prospects.
In the farm system, goaltender Cal Heeter has been stellar for the Adirondack Phantoms in his second professional season. Heeter, 25, ranks 5th in the AHL in save percentage and is tied for the most shutouts with four. He boasts an average 13-13-0 record, but like his NHL counterparts, he has not been receiving much goal support from the team in front.
I would be surprised if the Flyers promoted Heeter to an NHL back-up position next season. It is more likely that they would keep a veteran back-up in the NHL and rely on Heeter as the third-string goaltender in case of injury. In the last two seasons, they traded for Brian Boucher from the Carolina Hurricanes and signed free agent Yann Danis to serve in this capacity while Heeter developed.
This would also open up a back-up position in the AHL for 2012 second-round draft pick Anthony Stolarz, who will be eligible to leave the OHL by then (he turns 20 years old tomorrow).
There are 33 games left in the regular season. Much can happen between now and the off-season to re-frame this discussion, but if I had to guess, Emery will probably be back with the "orange and black" next season should that ultimately be his wish and if the salary cap numbers work out.