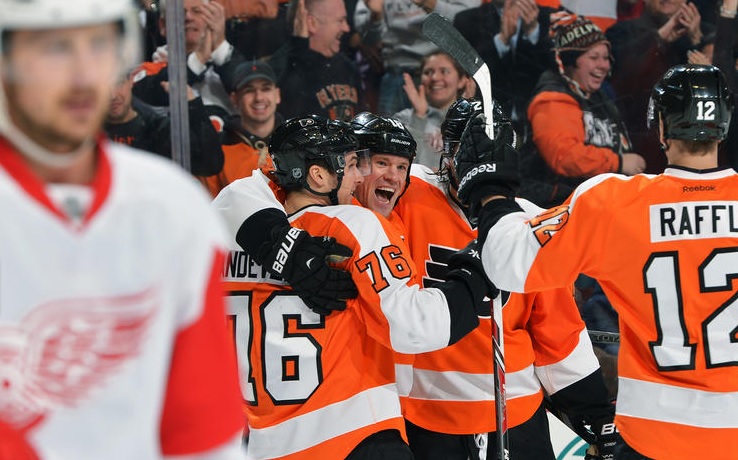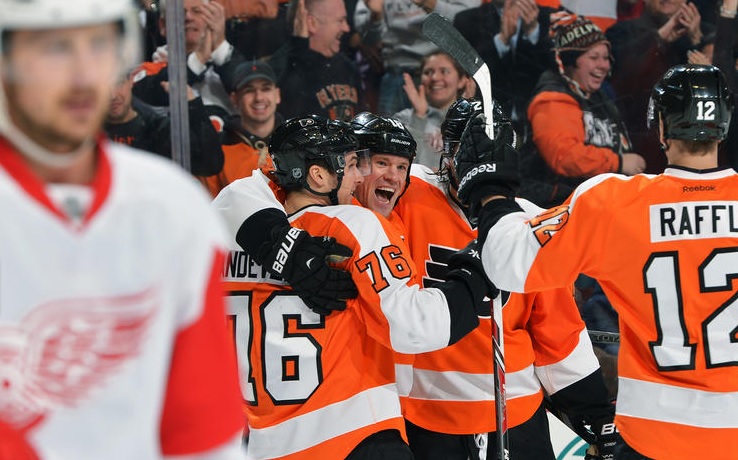 The fourth line doesn't typically receive all that much attention during the regular season, regardless of the standings. Aside from the Boston Bruins' "Merlot line" (named for the color of their practice jerseys), it's rare that any one group of players sticks together that long between injuries and demotions for anyone to pay special attention.
Tuesday night's victory over the Detroit Red Wings featured the first combination all season of Michael Raffl, Adam Hall and Chris VandeVelde as the fourth line. It was a fairly effective line, generating four shots and one goal from Hall even while still losing the shot battle overall (as did the second and third lines).
Naturally, VandeVelde was placed on waivers on Wednesday to open a roster spot for Zac Rinaldo, set to return Thursday night against the Anaheim Ducks after suffering a high ankle sprain.
It seems that head coach Craig Berube will be set on this combination for the time being unless another round of injuries occur. Is this really the best combination they have, though?
An ideal fourth line in the modern NHL is one that can handle the other team's top lines defensively while being able to move the puck to the opponents' net. They aren't expected to carry the responsibility of producing goals, but every puck shot at the opposing goalie that results in an offensive zone face-off is another opportunity for the big guns to score.
Penalty-killing and face-off skills associated with the fourth line help ease the burden and minutes that the "goal scorers" are often relied on for. Hard-hitting, physical play from the trio at the same time is also advantageous, but the relative value of that aspect of the game is difficult to gauge.
With regards to the first point, most coaches try to organize their line match-ups such that their best players are out for the other team's worst players. Imagine Sidney Crosby up against Jay Rosehill in this scenario. Not ideal, right?
That's why the addition of Raffl is valuable to balancing the lines. He has proven over the last few weeks to be a competent player against tough competition while skating with Claude Giroux and Jake Voracek; he simply lacks the finishing skills ideal for that line.
Hall had inexplicably moved to wing with VandeVelde on the team, simply the latter was perceived to be better at that position. Hall is an elite face-off man, though, with a 59.8% success rate this season. With VandeVelde back in Glens Falls, Hall should be back at doing what he does best.
If Raffl and Hall anchor this line for the remainder of the season, the Flyers will be in a better position to fight for a playoff berth. It's the third man that's still a question mark.
Raffl, Hall and VandeVelde all kill penalties, but Rinaldo has been added to the mix this season with support from assistant coach Ian Laperriere. Between Rinaldo and VandeVelde, then- which is more reliable? Is there a third alternative?
Rinaldo, even after missing the last ten games, still leads the team with 135 hits in 44 games played (Raffl and Hall rank 5th and 7th on the team, respectively).
In that span, however, he has only taken 27 shots, or 0.61 shots per game. It's not surprising that he's losing the shot battle horrifically along with Rosehill.
VandeVelde is even worse. Through seventeen games, he's taken just eight shots (0.47 shots per game). His only advantages against Rinaldo there are that he doesn't allow as many against and that he takes slightly more defensive zone starts.
Well, that's not the only advantage. VandeVelde has drawn 0.6 more penalties per 60 minutes than taken. He's not a liability to his teammates, in that respect.
Rinaldo seemed to be making strides in this area last season, but has not earned any trust from the officials this season. He has taken 2.5 more penalties than drawn per 60 minutes. Although that isn't the worst differential in the NHL, he does lead the league in penalties taken per 60 minutes.
In the short term, VandeVelde was a serviceable "band-aid" that allowed management to keep its more talented long-term prospects in the AHL to continue playing with more ice time. He wasn't as physical as Rinaldo, but wasn't nearly as much of a liability as Rinaldo either, and neither were particularly good at offense.
A third alternative would be to stop hiding behind the "development" excuse and promote one of Ben Holmstrom, Tye McGinn, or Jason Akeson to the position. Each player has at least two-plus professional seasons under his belt and arguably provides an advantage to their other recent options, Rosehill and Kris Newbury.
McGinn fits the "Flyers mold" better than his Phantoms' teammates and has above-average scoring abilities. He doesn't take all that many shots, however, and his defensive play has been a criticism from the organization in his past demotions.
Akeson is the 11th highest scoring forward in the AHL at the moment and is a very good playmaker. If the Flyers want to improve their puck possession, he would be the ideal candidate. He's not know for being that physical of a player, though. His defensive abilities were also questioned in the past, though I believe he's killing penalties for the Phantoms.
Holmstrom is somewhere in-between the two, and perhaps the best suited for the fourth line. He takes a lot of shots at the AHL level, implying good puck possession abilities, but hasn't developed much in the way of goal scoring. He does kill penalties and plays a more physical game than Akeson.
Rinaldo is going to remain on the fourth line for the foreseeable future simply because the organization is emotionally invested in him and his style of play, results be damned. Every time that he begins to build good will about his effectiveness, though, he pulls a stunt like that against the Phoenix Coyotes or Dallas Stars earlier this season and puts his team behind the eight ball for no obvious reason.
At some point, if he doesn't resolve his penalty differential and start contributing as a more responsible player at both ends of the ice, that well of good will is going to run dry. The Flyers certainly have capable players in the system of handling the third opening on the fourth line and are on the verge of actually icing a competitive line.
Who knows- if the Flyers make the postseason, maybe the fourth line could earn some positive attention after all.