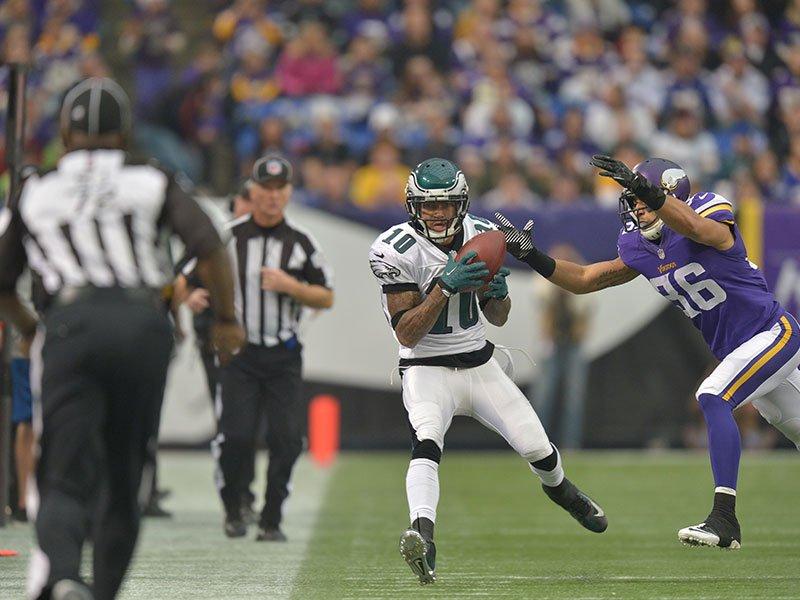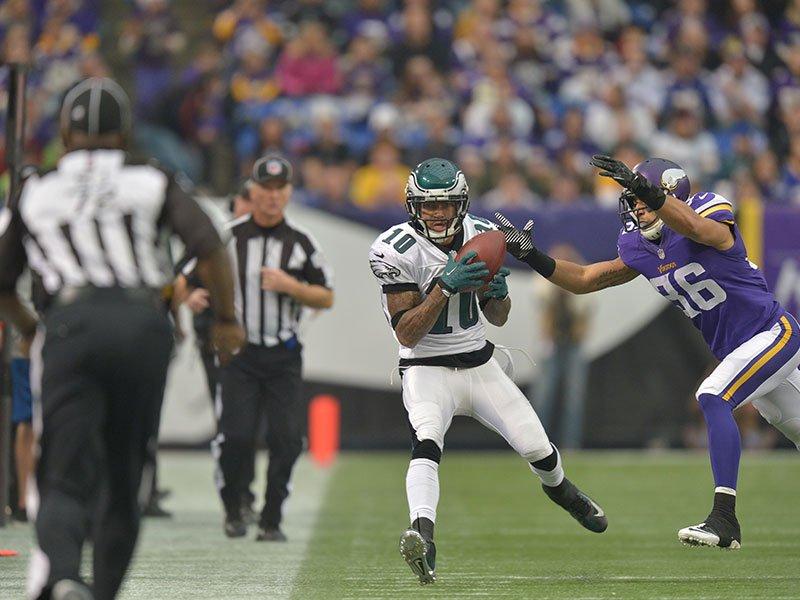 DeSean Jackson
Jackson enjoyed the best season of his career in 2014. No longer restricted by the predictable and stale playcalling of Andy Reid, Jackson flourished in Chip Kelly's offense, setting career-highs in receptions (82) and yardage (1,332) and tied his career-high in touchdowns (9).
Unlike previous seasons, Jackson didn't go through stretches where he would disappear. It was the first time that we've seen DeSean sustain a high level of play and production in almost every game of a regular season. We also saw him develop a little more mental toughness, and respond well even when things weren't going well for him on the field.
The best example of this occurred in the playoff game against the Saints. Jackson wasn't a factor until midway through the third quarter, but made a tremendous catch that really changed the flow of the game and helped spark the Eagles' comeback. The 40-yard reception set up the first touchdown, and on the next drive DeSean drew a critical pass interference penalty that gave the Eagles a first and goal on the one.
Chip Kelly did a great job utilizing Jackson, and found a number of different ways to move him around and get him the ball. For example, instead of just sending DeSean down the field, often times, we'd see Jackson run short routes out of the backfield that resulted in some effective plays.
However, Jackson's great 2013 ended on a sour note when it became known that the speedy wideout is looking for yet another new contract just two years after he redid his deal.
DeSean implied that a holdout could happen if a new deal isn't reached. "I definitely feel it's something deserving," Jackson said.  "We'll see how that plays out, and hopefully we can work things out smoothly and not have to worry about anything out of the ordinary."
Jackson clearly believes he should be given a new deal, and its a story to keep an eye on over the off-season. The last time DeSean got involved in a contract dispute with the front office, it got pretty ugly. The front office wouldn't meet the wideout's demands, and DeSean turned in a miserable, disinterested season in 2011. Jackson gave poor effort throughout the season, and came dangerously close to earning himself a ticket out of town.
What will the Eagles do this time around? When Jackson's head is together and focused on football, he brings a great deal to the table. His speed and big play ability bring a critical dimension to this offense, and with the statuses of Riley Cooper and Jeremy Maclin uncertain, the Eagles really need to keep in line. The best move for the front office would be just to pay the man and nip this problem before it grows into something else. Hopefully the absence of Joe Banner will prevent things from turning ugly this time.
Riley Cooper
Cooper was one of the team's strongest breakout players in 2013, filling the hole left by Jeremy Maclin admirably with 47 receptions for 835 yards and eight touchdowns.
Cooper finally learned to use his size to his advantage, and help create separation between himself and opposing defenders. The young wideout came down with some huge receptions that helped change the outcome of a number of games.
He caught a 47-yard touchdown against Tampa Bay. He hauled in a 63-yarder against the Raiders. He came down with a 44-yard score against Green Bay. In the snow bowl against Detroit, Cooper caught a critical 44-yard reception that helped break the offense out of their funk. These aren't hollow numbers that Cooper produced. These are big plays in big moments.
Most importantly, Cooper has developed an excellent rapport with Nick Foles. The chemistry between these two is strong, and Foles trusts Cooper to go up and come down with important passes.
Now Cooper is set to be a free agent, and after enjoying such a strong season, he's going to draw interest from plenty of other teams.
However, I don't think any team is going to give Cooper crazy money. He's shown he can be a competent role player, but nothing more. I don't think teams are going to get carried away with their interest in Riley, and I believe there's enough mutual interest from both parties to keep the big wideout in Philadelphia.
Jeremy Maclin
Another big decision for the Eagles to make.
Before going down for the season in August, there was a lot of optimism that Maclin could be the guy that would flourish more so than any other wideout in Chip Kelly's system. Now, the former first-round pick stands a great unknown heading into next season.
The Eagles have an advantage over other teams because of their familiarity with Maclin, and because Maclin himself has stated on several occasions that he'd love to show what he can do in Kelly's system. Its in the best interest of both parties for the wideout to return on a one-year "prove-it" deal.
Maclin is still young and talented enough that he'll get some looks in free agency. Andy Reid could certainly use another productive receiver in Kansas City. But similar to Riley Cooper, I think teams won't give Maclin crazy money and that ultimately he'll return to Philadelphia.
Jason Avant
Before Training Camp, it appeared that Avant faced long odds to make the team.
He wasn't viewed as an ideal fit for Kelly's system, and with a number of interesting young receivers in camp at the time (Greg Salas, Jeff Maehl, Damaris Johnson, Arrellious Benn, etc), it looked as though the end of Avant's Philadelphia tenure was near.
However, injuries to Maclin and Benn combined with further instability created from the Riley Cooper situation changed the team's plans and made it much more important for them to keep Avant around.
And Avant ended up making a really good impression on the new coaching staff. The 30-year old finished with 38 receptions for 447 yards and two touchdowns. But he really drew praise from Kelly for the other aspect that he brought to the table.
Avant is a guy that you want on your team. A solid role player who is willing to do anything to help the squad achieve victory. He's a solid blocker, he's willing to play special teams, and he's a respected presence in the locker room.
However, Avant still isn't a lock to return in 2014. His contract calls for him to make over $4 million in 2014, which is pretty pricey for a fourth receiver. But the Eagles won't be in any hurry to release him, especially with the uncertainty concerning Cooper and Maclin.
Jeff Maehl
The former Oregon Duck played sparingly, catching just four passes for 67 yards and one touchdown.
He may be given a chance to stick around next year as well, but he'll need to show some solid growth over the off-season.
His biggest contribution came in Oakland, where he made a 19-yard reception on a third and long to keep a drive alive that eventually led to a touchdown.
Brad Smith
Acquired halfway through the year, Smith primarily contributed as a special teamer.
He'll be in the mix for a spot in 2014, and his speed and versatility will be enough to hold Kelly's interest.
However, I didn't like that Kelly tried to force some Wild Cat plays into the offense for Smith several times during the year. The Wild Cat hasn't snuck up on anybody since 2008. It's been tried, and it proved to be nothing more than a gimmick that had a one-year shelf life in the NFL. It also seems to be counter intuitive to what Kelly wants to do with his offense…for a guy who runs a system based on speed, rhythm, and operating as quick and efficiently as possible, putting the fast-paced attack on hold in favor of slowing everything down to get this special package on the field just doesn't seem like its worth the time or effort in practice during the week.
Damaris Johnson
Back in the preseason, Johnson looked like he could potentially be one of the most improved Eagles.
He looked absolutely electric as a return man, but quickly fizzled out as the season began. He cost the Eagles in the Kansas City game by muffing a punt in the first quarter and setting the Chiefs up with an early redzone opportunity, and was slowly phased out of the lineup after that moment.
He spent the majority of the year as a healthy scratch, losing his gameday spot to guys like Jeff Maehl and Brad Smith.
Johnson has some interesting raw talent, but he quickly fell out of favor here and he'll have to catch on with a another team to try and harness that potential.
Final Thoughts/Possible Changes/Free Agent Additions
Wide Receiver is the only position on the offensive side of the ball that has serious questions going into the offseason, and the Eagles could address it in a number of ways.
I believe the best thing for the team to do is to keep things stable by redoing DeSean Jackson's deal, re-signing Riley Cooper and Jeremy Maclin, and maybe look to add some talent through the draft in the third round and on to phase out guys like Maehl, Smith, and Johnson.
There aren't a lot of great names available through free agency.
Eric Decker is probably the best name out there, but he's going to command a pretty significant deal and I think he's been helped tremendously by the presence of Peyton Manning along with playing alongside great wideouts like Demaryius Thomas and Wes Welker, and I wouldn't pay him like a top receiver.
Beyond Decker, there's nothing but a lot of mediocre talent (the Tedd Ginns, Darrius Heyward-Beys, and Robert Mecheams of the world) or aging veterans that don't have a lot left (Anquan Boldin, Plaxico Burress, Brandon Stokely, etc).