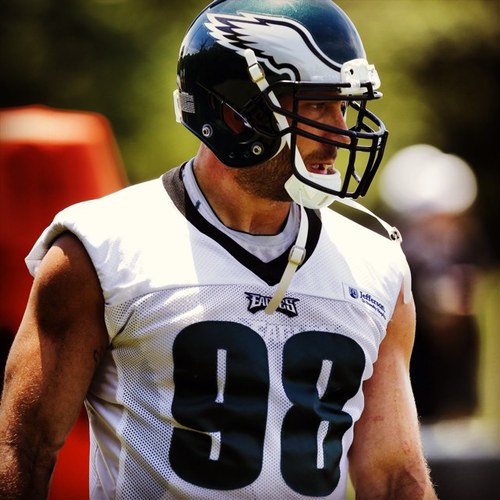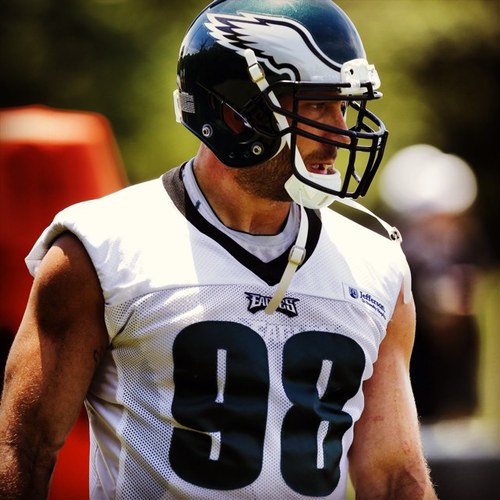 Current Status-Arguably the best unit of the three levels to the Eagles defense. For reflection purposes, how does better measure up to a secondary that was below average at times, and a front line who was inconsistent with their impact on the game?
Ryans and Barwin had experience playing in the 3-4 set, and both had solid seasons.
Ryans looked like the player we traded for, leading our team in tackles while also taking on a major leadership role.
Barwin provided versatility for the coaching staff, lined up all over the place and played with effort, passion and grit.
Kendricks came on strong throughout the second half of the season, making plays in the backfield, intercepting passes and recovering fumbles at big moments in the game. The kid has tremendous speed and takes intelligent angles with pursuit of the quarterback. Kendricks still has not demonstrated the ability to cover in the passing game, and will miss tackles when relying too much on his speed to track a player down.
Trent Cole did his best to convert himself into a linebacker. Cole was still able to collect his sacks, leading the team in that category, but is 8 sacks really a big number to lead your team? Cole can't cover anyone and at times was completely out of position with defending the run. His impact came in spurts, collecting sacks in chunks in a few "really good" games, so the numbers can be misleading over the course of an entire season.
Brandon Graham, another first round pick, another disappointment. He couldn't do a thing to earn additional playing time, he played limited snaps and his contribution was forgettable. He changed his jersey number, and come this offseason, he will be changing the actual jersey he wears as his failed tenure in Philadelphia is sure to come to an end.
Moving Forward– 13.5 million dollars will be earned between Cole and Ryans for the 2014 season. Will one or both of these players restructure their contract?
Ryans is a more natural fit, and the Eagles could benefit from having the leadership and stability of what Ryans does at the inside linebacker position, versus what Cole does to "best fit" playing the outside linebacker spot. I see both players returning for the 2014 season, their last as a member of the Eagles which leaves the need for upgrade at this position.
Barwin and Kendricks are going to be part of the line-backer picture for a minimum of the next three seasons. After them, there are no other players currently on this roster that I see as possible starters moving forward. I have looked at the free agent class both in 2014 and in 2015. The names like Orakpo (2014) and Von Miller (2015) are likely to stay with their current teams or get overpaid by another.
There are some other names with less "wow" factor, and Roseman has made it clear the big names will be looked at, but not sought after.
The Eagles are going to have to build this position in the draft, while also adding a mid-level free agent or two.
The emphasis at the line-backer position is far greater in a 3-4 schemed defense.
This is no longer a transition period; we are a 3-4 moving forward and need to add multiple pieces in the middle of our defense.