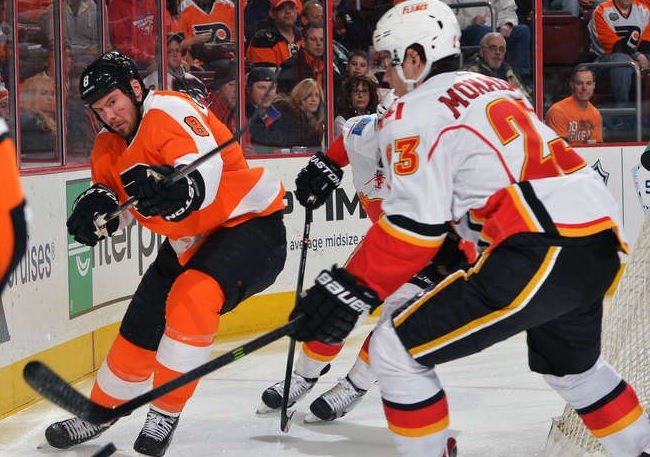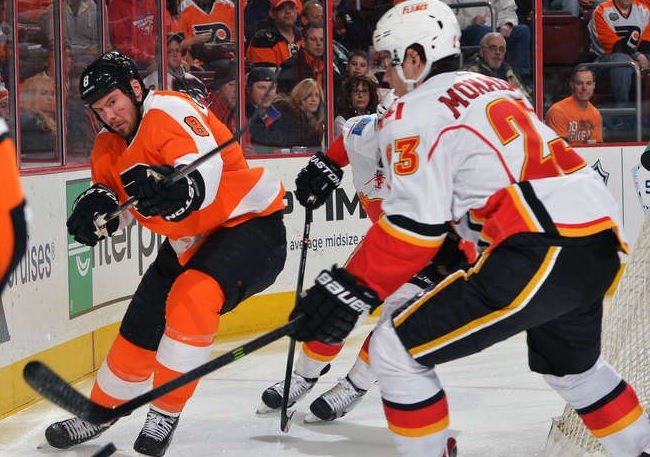 Philadelphia Flyers head coach Craig Berube decided to bench third pairing defenseman Erik Gustafsson in place of third pairing defenseman Andrej Meszaros on Saturday for the final game prior to the Olympic break.
Although it was a minor roster change, a number of Flyers fans wondered why "Gus" was sitting in lieu of defenseman Niklas Grossmann. Grossmann has been competent during the Flyers' recent 4-1-0 stretch, but struggled for the better part of January with penalties, defensive positioning and clearing the puck out of the defensive end.
This prompted Flyers inside reporter Anthony San Filippo to decry the idea of benching Grossmann because it ignored the "intangible" elements of his game. He challenged that some people who utilize advanced statistics are "missing the forest for the trees."
So, in defiance of San Filippo's argument, I thought I'd use "advanced statistics" to take a wider look at what Grossmann brings to the table relative to the league overall.
The discussion that cropped up around Grossmann on Saturday was not whether "blocking shots" is a useful trait. Of course it's useful. The larger question is just how important it is, and what it may (or may not) say about a player if they are especially good at it.
From NHL.com, I pulled the twenty defensemen with the largest amount of blocked shot totals through Saturday as well as the twenty defensemen with the fewest amount of blocked shots and with a minimum of 40 games played to date.
Of those players, I then pulled their respective "Corsi," "CorsiRel Quality of Competition" and offensive zone start percentages from Behind The Net.
For the uninitiated, "Corsi" is basically the same metric as +/- except that it includes shots along with goals. It's generally considered more reliable than +/- because there are many more shots taken than goals scored in a given game, providing more sample values.
Hockey Prospectus defines "CorsiRel Quality of Competition" as "a measure of competition quality using relative Corsi as its basis…The most statistically sound quality of competition metric currently used." In other words, the larger the positive value, the tougher the competition. The larger the negative value, the weaker the competition.
The purpose of looking at offensive zone starts is to see which players are being sheltered in the offensive zone and which are taking on tougher assignments in the defensive end.
Below is the plot of quality of competition compared to zone starts (click the image for a clearer picture). The magnitude of the bubble is a player's Corsi. A red bubble means it's positive (more shots taken at the opponent's net) and a white bubble mean's it's negative (more shots taken at the player's net).
So what, if anything, might be taken from the first graph?
All but three of the top twenty shot blockers are starting in the offensive zone more than the defensive zone.
Fourteen of the twenty players are facing competition above 0.500, which suggests first and second line competition.
In other words, the defensemen that are blocking the most shots in the NHL are often taking on tough assignments.
It would make logical sense that these players, stacking up against the best players in the NHL in their own zone, would be seeing a ton of shots directed at them.
For Grossmann, this is basically vindication that it's not uncommon for players given the same responsibilities to be seeing a ton of shots against with less shots going the other way.
This graph also tells us that Justin Braun of the San Jose Sharks (the biggest red circle) is having a fantastic season. This goes along with the "eye test" and reports from San Jose about Braun. From Curtis Pashelka of the Bay Area News:
Braun's offensive numbers remain modest, with three goals and 11 assists in 58 games this season. But his improved skating ability has allowed him to join the rush more often and still be aware of his responsibilities on the defensive end, where he usually matches up with the opposing team's top line.

"He's an elite skater, but he's brought it to another level this year," Sharks assistant coach Jim Johnson said. "He spent time this summer working on it, and you can see that the effort he's put in over the course of the last year has really benefited him. He's been a real bright spot for us on the back end."
Now, onto the second graph.
The level of competition varies across the board, but only three defensemen began more shifts in the defensive zone. Most of these players that are seeing fewer shots are being heavily sheltered. Again, this makes logical sense- players that are predominantly starting their shifts in their offensive zone are more likely to get shots off against opponents than in the other direction.
They're largely a young group too- the fewest blocked shots comes from rookie Eric Gelinas of the New Jersey Devils.  His teammate, Mark Fayne, is the lone defenseman taking on Grossmann-level assignments and performing positively while not blocking many shots (lower right red bubble).
What can we conclude from this? Well… not a whole lot. With advanced statistics, in general, there is no magic number that says "this player is better than that player." It's all about context.
Neither of these graphs gives a solid answer to "how important is shot blocking?" It doesn't tell you whether other defensemen taking on tough assignments are performing better or worse for not blocking as many shots. It doesn't factor age, ice time and defensive partners, among other factors.
What it suggests is simply that the defensemen that block the most shots are largely taking on very tough assignments and, ultimately, letting on many more shots on goal than go in the other direction. Thus, if you think Niklas Grossmann isn't a good defenseman because he's letting more shots face Flyers goalies than Meszaros or Gustafsson, you're not paying a large enough attention around the league to the role he is playing.
It should go without saying that while Grossmann's skillset is valuable to an NHL team, there are players like Braun, Dan Girardi of the New York Rangers and Ben Lovejoy of the Anaheim Ducks who play in similar roles without being as much of a liability. The Flyers have managed just fine if the entire team can commit to playing a defensively responsible game and if Grossmann's puckhandling is limited, but he may not be the ideal player for the top four rotation in the long-term.
In the short-term, as San Filippo alluded to, Meszaros isn't likely an ideal player to be eating his minutes either. It's tough to tell at this point because of how up-and-down Meszaros' season in Philadelphia has been of late. He has improved substantially from the previous two seasons, but is he really prepared to take on the tough defensive assignments that Grossmann is taking? Is Craig Berube ready to trust him?
With how close the standings are, don't expect any major shake-ups in the roster. Cross your fingers, hold on to your butts, and hope that Grossmann uses the Olympic break to regroup for the final stretch of the season.