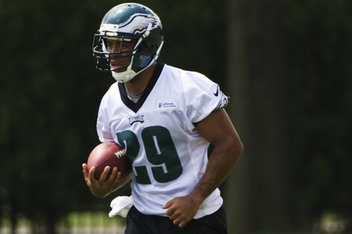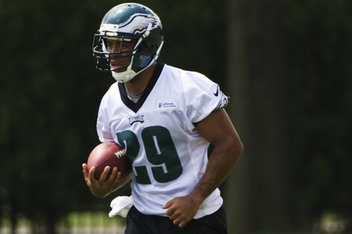 Current Status: The safety position has become a dark cloud for this franchise since they allowed Brian Dawkins to sign with Denver.  Last season was another disappointing and failing effort from such an important part of a team defense.
The Eagles signed two former starters in free agency with only Patrick Chung making the roster.  They drafted Earl Wolff in the fifth round and had returning veterans Nate Allen, Kurt Coleman and Colt Anderson.
The end result was one we know all too well.
Patrick Chung– The former Oregon Duck was supposed to provide some familiarity for his old coach and show the Patriots they let a good player walk.  When healthy Chung was a mess, out of position, missing tackles and looked slow.  His tenure in Philadelphia should be a one and done.
Nate Allen– The former "McNabb" pick was "better" and was less of a risk but provided little reward over the course of the season.  Allen is average across the board, his work ethic and personality is appreciated by the coaching staff, but his skill set only gets him so far.  He is a free agent, and is borderline "starter" worthy in this league.  Allen provides depth in schemes; can play special teams and is a hard worker.  If he signs elsewhere, it will be another wasted second round pick for the Eagles, but it is time to move on from "average" safeties.
Earl Wolff-When healthy, Wolff showed some nice skills on the football field.  He is a sound tackler and hits hard, not the biggest or the fastest but can hold his own.  The question of whether he can start at this level still remains to be seen.  His overall play in "comparison" to what our other 2013 safeties produced could very well overate what his talent was; but he will be given every opportunity to win a starting safety spot for the 2014 season.
Coleman & Anderson– Special teams players.  Both players provided no relief for the coaching staff as replacements to start at the safety position.  Their time in Philadelphia has to be over.
Moving Forward– It's been long enough, the Eagles have to get it right.  They need to draft a safety in the first two rounds and sign/trade for a minimum of two guys who have started in this league and have been successful at their job.
If they are looking at tier 2 and tier 3 players, there are names that can certainly come in and help.   There are the athletic type like Malcom Jenkins and guys who need a change of scenery in DeCoud and Clemons.
Two top safeties in Clinton-Dix and Pryor who may or may not be available for the Eagles to draft when they select at pick #22.  If they will not sign a Byrd, Ward or Whitner, will they consider making a trade to ensure they got Clinton-Dix?
The Eagles need to make what has been a distasteful topic to swallow in regards to the safety position one that commands respect, impacts the football game and strikes fear in opposing players coming over the middle of the football field.