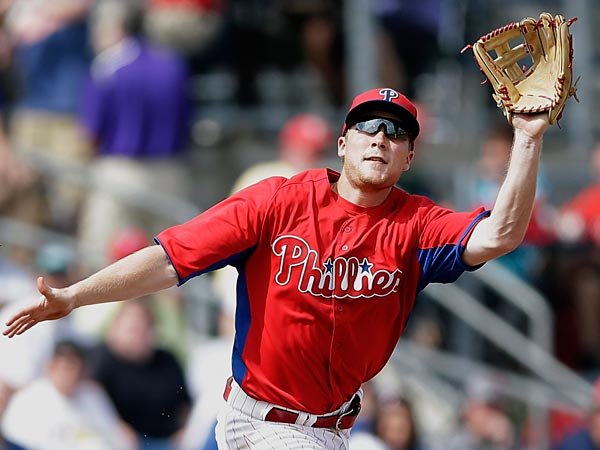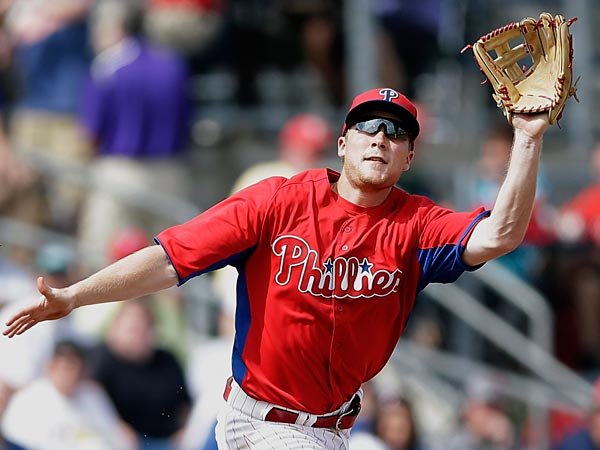 The Philadelphia Phillies won their Grapefruit League match against the Houston Astros on Saturday afternoon.
Roberto Hernandez got the start, and lasted 3.1 innings giving up one run on on two hits and four walks. Another solid outing for the veteran, but the high amount of walks are concerning. 

Hernandez got into a bases loaded jam in the third inning with two outs, and was able to work out of it with a strikeout.
Kevin Munson pitched 1.2 innings in relief of  Hernandez, and didn't allow a run. He did however walk four batters.
Jessie Biddle earned the win, but pitched poorly in his only frame of work. Biddle allowed two runs on two hits and a walk.
Antonio Bastardo pitched a scoreless inning and struck out two.
Jake Diekman worked a clean eighth inning, and Shawn Camp mopped up in the ninth.
Cody Asche hit out of the leadoff spot today, and went 2-4 with a three-run homer in the fifth inning.
Jimmy Rollins went 0-3, dropping his average to .167.
Chase Utley went 0-2 with a walk.
Ryan Howard went 1-4 with three strikeouts, but hit another double and drove in a run.
Marlon Byrd went 1-3 and scored a run.
John Mayberry went 1-3 with a three-run double.
Darin Ruf went 1-3 with an RBI.
Carlos Ruiz went 2-3 with a three-run homer.
Final Thoughts
Today's victory was only the Phillies' second win of the Spring.
Wins and losses may not matter in March, but what does matter is how the team is playing together, and up until today there weren't a lot of positives to talk about with this ballclub.
Saturday's game was the exception however, with the Phillies getting solid pitching from their starter, good relief efforts from a couple key young members of the bullpen, and an 11-run outburst from an offense that had been struggling to get on the board over the last week.
One thing to keep an eye on is the battle for the fourth and fifth outfielder positions. Darin Ruf, John Mayberry, and Bobby Abreu are all battling for two positions. Mayberry has the inside track on the other two right now because his contract is guaranteed, and he's got enough versatility that he can be plugged into any of the outfield positions.
I think if Ruben Amaro had his way, Bobby Abreu would make it over Darin Ruf. Abreu is a lefthanded bat that the bench desperately needs, but he's going to have to show a lot more in the coming weeks. He's shown that he can still work a count and draw walks, but he's got just two base hits thus far.
Amaro has never been a fan of Darin Ruf, and flat out refused to give him an opportunity last year until the team was out of contention, opting to bury the young power hitter in the minors in favor of the likes of Delmon Young and Laynce Nix. Ruf has played very well so far this Spring, but the Phillies still have options they can exercise on him, and that could work against him.