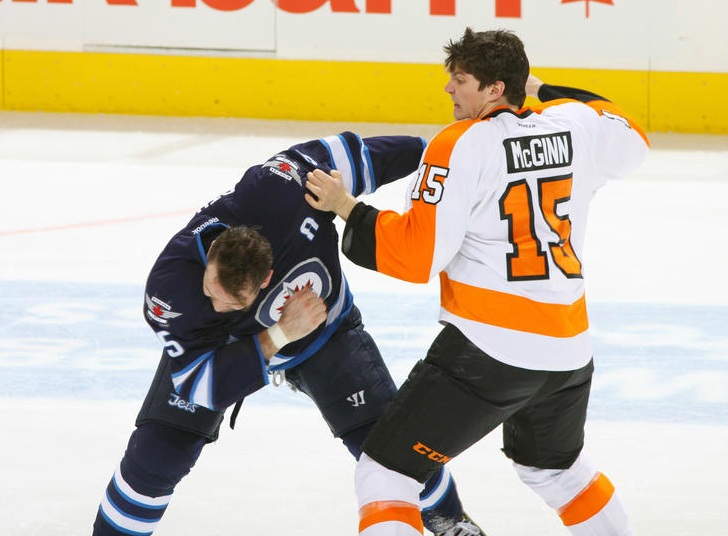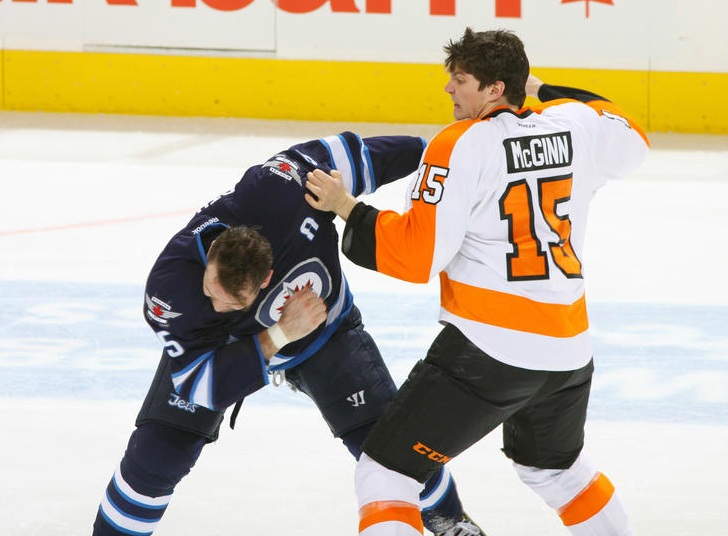 The Philadelphia Flyers announced Sunday afternoon that forward Tye McGinn has been recalled from the Adirondack Phantoms.
Third line winger Steve Downie left the first period after one shift on Saturday after an accidental high hit from St. Louis Blues forward Patrik Berglund. Downie is listed as day-to-day, though his history with concussions suggests that he could either be experiencing symptoms or will be held out as a precaution.
McGinn made his NHL debut with the Flyers during the 2013 NHL season, when he scored 3 goals and 5 points in 18 games played. McGinn has been recalled and then reassigned to the Phantoms on nine previous occasions; this recent transaction marks his tenth trip back.
Per Bob Rotruck, broadcaster for the Phantoms, McGinn is coming off a two-game scoring streak with the Phantoms. This has been the 6′-2″, 205 lb. winger's best season in terms of production at the AHL level, as he has set career highs in goals (20) and points (35) in 54 games played.
The knock against McGinn has been his defensive play, although he has seen time as a penalty killer while with the Phantoms. Plus/minus isn't the best statistic, but McGinn's -20 isn't particularly impressive. For what it's worth, linemate Jason Akeson, the Phantom's highest scoring forward for both the season and the team's history, is also at -18.
After scoring three goals in two games for the Flyers at the beginning of the season, McGinn generated just one shot in two NHL games since the beginning of the calendar year. If he wants to stick around longer in the NHL this time, he's going to have to take more chances in the offensive zone.
It's unknown which line head coach Craig Berube would utilize McGinn on, if he even plays. Enforcer Jay Rosehill is still an option for the fourth line if Michael Raffl slides up to the third line, but the Los Angeles Kings, the Flyers' opponent on Monday night, aren't a team known for "gooning it up."
There is no roster limit for NHL teams after the trade deadline, but they are only allowed four recalls until the postseason begins. This marks the second of four recalls for the Flyers, with the first occurring when Chris VandeVelde was brought up to replace Zac Rinaldo.