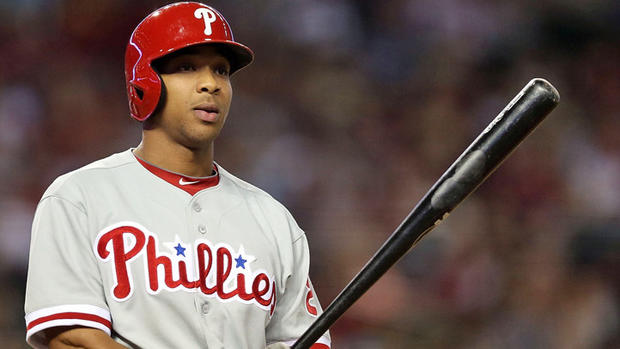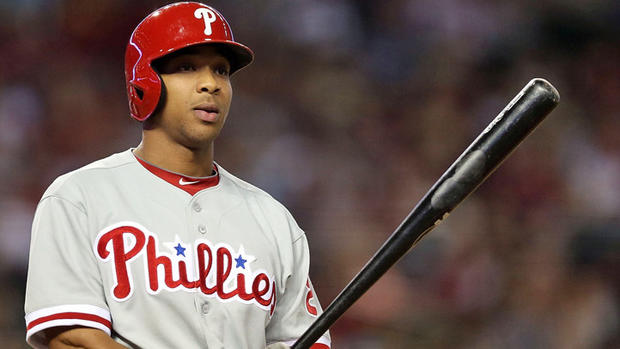 The Philadelphia Phillies opened their regular season with a 14-10 win over the Texas Rangers.
It was a really rocky outing for Cliff Lee, who struggled through just five innings while allowing eight runs on 11 hits and a walk. The ace was spotted a six-run lead early in the game, but the Rangers were able to tee off on him throughout the afternoon. 

Lee loaded the bases with one out in the second inning, and gave up an RBI single to Adrian Beltre and a three-run double to Josh Wilson. In the third inning, Cliff gave up a three-run homer to Alex Rios. He then allowed another run to score in the fifth inning on an RBI single to Leonys Martin.
Lee had only one clean inning, the bottom of the first.
Luckily for Lee, the Phillies' offense was in top form.
Patient at-bats helped pave the way for a six-run outburst in the second inning. Carlos Ruiz and Ryan Howard each drew walks to give the team two on with one out. Cody Asche then hit his first double of the season, scoring Howard. Tony Gwynn Jr. drew another walk to load to the bases for Ben Revere. Revere battled through seven pitches and worked the count full before delivering an RBI-single to make it 2-0. Jimmy Rollins then stepped to the plate, and came through with a grand-slam to blow the game open.
Revere had a strong game at the plate. In addition to his big hit in the second, he helped the Phillies score another run in the fourth by singling, and then stealing his first base of the year. Chase Utley was able to knock in Revere with a single two batters later. In the sixth inning, Revere came to the plate with two outs and the bases loaded, and drove in two more runs with another single.
With two runners on in the fifth inning, manager Ryne Sandberg made a move that got his club another two runs, pinch-hitting John Mayberry for Gwynn. Mayberry doubled home two runs to put the Phillies back on top.
Marlon Byrd continued his solid play from Spring Training by picking up a couple of hits, including a solo home run in the sixth.
Cody Asche was another guy who had a terrific game at the plate. In addition to his RBI double in the first, Asche drew a walk and scored a run in the fifth, and then helped the Phillies tack on another run in the sixth with an RBI-single with outs. The rookie capped his performance with a solo homer in the top of the eighth.
Jake Diekman was the first pitcher to take over for Lee, and got through the six inning without allowing a run. Diekman struck out two. Sandberg tried to get him through the seventh inning as well, but the young lefty began the inning with a walk and a hit. The lefty was charged with two earned runs.
B.J. Rosenberg took over for Diekman, and allowed a single, but then forced a double-play with the bases loaded and none out. He then gave up a walk and an RBI-single before being replaced by Antonio Bastardo.
Bastardo entered the game with runners at first and second with two outs and immediately walked Shin Soo Choo. Bastardo was able to get the final out, but was bailed out by a nice defensive play by Chase Utley. The veteran lefty was able to work a clean eighth inning.
Jonathan Papelbon pitched a scoreless ninth.
Final Thoughts
Remember a year ago when Phillies' illustrious village idiot General Manager Ruben Amaro Jr. stated that he didn't care about walks?
Today's game was a tremendous example of how important walks can be.
The Phils worked out six walks today. Five of them came around to score runs.
Walks help extend innings, and wear down opposing pitchers, making them much more likely to make a mistake.
Look at the second inning alone from today's game. Ryan Howard, Carlos Ruiz, and Tony Gwynn all work out walks to help set up Jimmy Rollins' grand slam and pave the way for an early six-run lead.
In the sixth inning, with two outs and one on, Carlos Ruiz works a walk to set up Cody Asche for another big hit, and John Mayberry follows Asche with a walk to set up Ben Revere for another two-run single.
On a day where the team's ace was way off of his game, walks and patient at-bats helped this mediocre lineup drop 13 runs in the first six innings, and force the Rangers to run through three pitchers during that stretch.
Walks matter, Ruben.