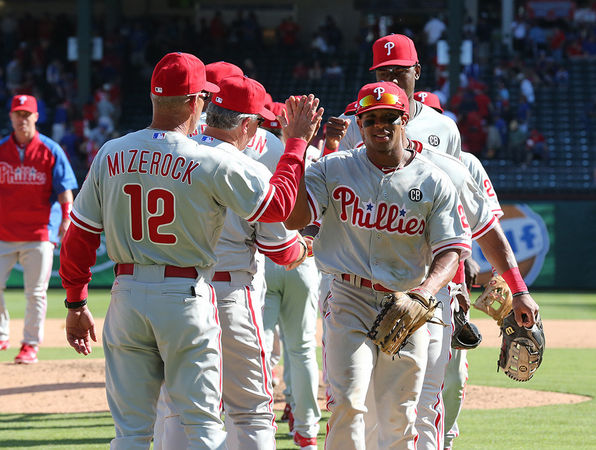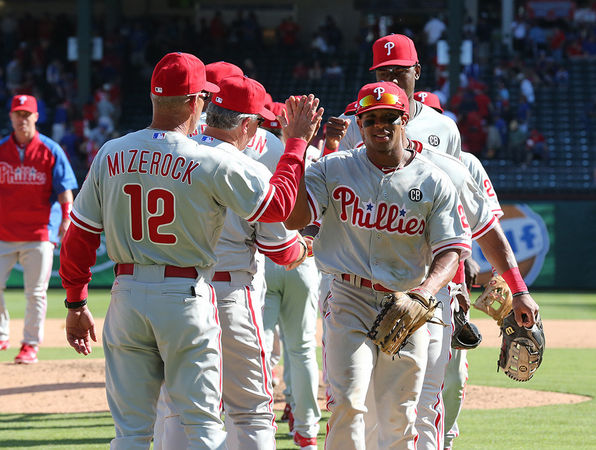 The Philadelphia Phillies lost their first game of the season, falling 3-2 to the Texas Rangers. Their record drops to 1-1.
A.J. Burnett turned in a pretty good start in his Phillies debut, allowing one run on seven hits and two walks over six innings.
Burnett dealt with a tough spot in the third inning. He began the inning by hitting Shin Soo-Choo with a pitch, and then gave up a single to put two on with none out. The veteran forced a pop up, a ground out, and a line out to escape unscathed.
In the fifth, Burnett gave up a two-out double to Prince Fielder, but stranded Fielder at second by forcing Adrian Beltre to fly out to center.
Burnett finally cracked in the sixth inning, giving up a double to Alex Rios who would come around to score on an RBI-single from Mitch Mooreland.
Ryne Sandberg shook up his lineup in the second game of the season. Ryan Howard was moved to the five-hole, while Marlon Byrd hit cleanup. Chase Utley was used as a DH, while Cesar Hernandez played second. Jayson Nix manned third, while Cody Asche sat. John Mayberry got the start in right. Domonic Brown was also benched.
Hernandez doubled to start off the sixth inning, and was later driven in with an RBI single from Jimmy Rollins.
Ryan Howard doubled home a run in the sixth inning with two on and two out. He had another opportunity in eighth inning, but struck out with two on the end the threat.
Jayson Nix singled in his first at-bat, but was then caught stealing. He struck out twice.
John Mayberry lined into a double-play in the fifth inning.
We got our first look at a Manager's Challenge, when Texas challenged a ruling in the sixth inning that led to Ben Revere being ruled out on a pickoff play to second. The new rule cost the Phils at least one run, as Revere could have potentially scored on either the single from Marlon Byrd or the double from Howard.
Domonic Brown was used as a pinch-hitter for John Mayberry in the ninth, and popped up.
As a team, the Phillies struck out 12 times.
Jake Diekman took over for Burnett in the seventh inning. Diekman gave up a lead-off single, and after a sacrifice bunt had to face Fielder with a runner in scoring position and one out. The lefty forced Fielder to ground out to short, but then gave up an RBI-double to Adrian Beltre to tie the game.
Antonio Bastardo relieved Diekman in the eighth, and struck out two on his way to a scoreless inning.
Mario Hollands took over in the ninth. Hollands walked the first batter he faced on four pitches. After recording an out from a sac bunt, Hollands issued another walk to Prince Fielder. He was lifted in favor of B.J. Rosenberg.
Rosenberg gave up an RBI-single to Adrian Beltre that ended the game.
Final Thoughts
I understood a lot of Ryne Sandberg's lineup adjustments against a lefthanded pitcher. I liked sticking Marlon Byrd in between Chase Utley and Ryan Howard to break up the team's lefties. I liked that he sat Domonic Brown, who at this point needs to earn the right to be an everyday player.
But I found it really bizarre that Sandberg decided to sit Cody Asche after the performance he turned in on Monday.
Asche couldn't have had a better debut, going 3-4 with a single, a double, a home run, a walk, and two RBI's. He was one of the team's most exciting components of their Opening Day win, and I thought he deserved to be in the lineup again.
We saw some significant flaws of this team rear their heads tonight. The patient approach that we got from this team on Monday was nowhere to be found tonight. The Phillies didn't work a single walk, and rarely threatened throughout the night. The lineup is going to be inconsistent.
The young bullpen was unable to protect a slim lead. Its a lot to ask of this group to hold a one-run lead for three innings, and its times like this that you know they could have really used another veteran arm. Because Ruben Amaro was unable to add another quality vet the stabilize the pen, the team had to lean on Jake Diekman in the seventh and Mario Hollands/B.J. Rosenberg in the ninth. There you have a couple of untested kids getting thrown to the wolves.