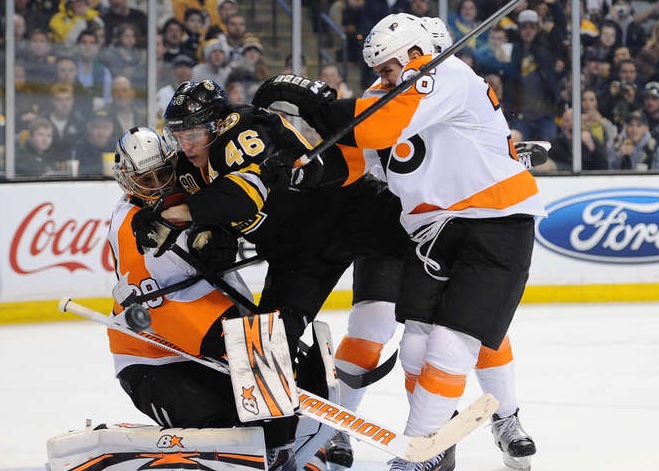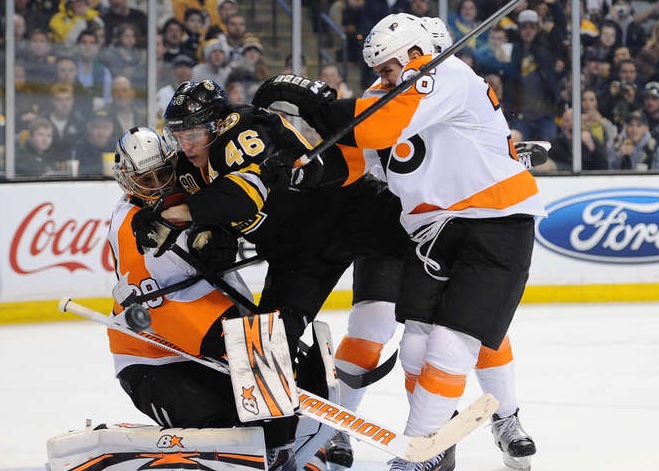 The NHL Department of Player Safety announced on Monday afternoon that Philadelphia Flyers fourth liner Zac Rinaldo has been suspended for four games, or the remainder of the Flyers' regular season.
"As the video shows, off a face-off in the Philadelphia zone, the puck comes to [Buffalo Sabres defenseman Chad] Ruhwedel at the right point as Rinaldo skates out to play him. After Ruhwedel snaps a shot toward the net, Rinaldo launches into him, picking his head and causing an injury. This is an illegal check to the head.

"Rinaldo takes a poor angle of approach and does not make full body contact. Instead, he launches into Ruhwedel with force, picking his head and making it the main point of contact.

"It is important to note, that although Ruhwedel is bent over to shoot the puck, his posture does not make head contact unavoidable on what otherwise would have been a legal, full body check, nor does he materially change the position of his head just prior to, or simultaneously with, contact."
The suspension does not come as a surprise to those who watched the game. Rinaldo scored his 2nd goal of the season playing on the third line with Sean Couturier and Matt Read, but the head hit and associated match penalty came after he was already penalized three times during the game.
Rinaldo's value to the team and organization has been debated since he made his NHL debut during the 2012 Stanley Cup playoffs. Rinaldo had tallied a mere three goals and nine points during his rookie season in the AHL, but had racked up 331 penalty minutes and four suspensions during that tenure.
He's a relentless forechecker with good skating that can deliver ruthless hits in spite of his 5′-11″ frame. He was also introduced into the penalty kill rotation earlier this season, though he hasn't seen much shorthanded ice time this past the New Year.
Beyond that, though? He has generally been a defensive liability with limited to no offensive skills (7 goals and 18 points in 165 NHL games) and is a magnet for minor penalties (regardless of whether they're legitimate or based on reputation). He can go for stretches playing disciplined hockey in which he draws penalties while goading his opponents, but then inevitably has a game like Sunday in which he throws all good will to the wind with inexcusable behavior.
A little more than two months ago, the Flyers iced a fourth line of Michael Raffl, Adam Hall and Chris Vandevelde. It seemed like a viable combination, but was short-lived once Rinaldo was set to return from a minor injury. In my analysis at the time:
"Rinaldo is going to remain on the fourth line for the foreseeable future simply because the organization is emotionally invested in him and his style of play, results be damned. Every time that he begins to build good will about his effectiveness, though, he pulls a stunt like that against the Phoenix Coyotes or Dallas Stars earlier this season and puts his team behind the eight ball for no obvious reason.

"At some point, if he doesn't resolve his penalty differential and start contributing as a more responsible player at both ends of the ice, that well of good will is going to run dry. The Flyers certainly have capable players in the system of handling the third opening on the fourth line and are on the verge of actually icing a competitive line."
Rinaldo tried to rationalize this recent incident with reporters, telling CSNPhily, "It's just one of those hits that kind of slipped away from me. Some bad timing and little vulnerability on his side of the puck, too, so my bad and his bad at the same time."
Rinaldo seems to be the only one throwing Ruhwedel into the conversation as being at fault. Elliotte Friedman of CBC Hockey Night in Canada even weighed in on #36 in his most recent 30 Thoughts column:
"Zac Rinaldo's situation in Philly reminds me of Ben Eager's in San Jose's. You may remember Eager took a major penalty against Vancouver in the 2011 Western Conference Final and the Canucks made the Sharks pay. Eager begged to go back into the lineup to make amends, but Todd McLellan wouldn't do it. He couldn't take the chance. Rinaldo can be a useful player, but is he at the point where the Flyers can't take the chance?"
It's a valid point, and one that the organization should take seriously this time instead of regurgitating the usual "boys will be boys" defense. General manager Paul Holmgren called the suspension "harsh" but did not argue that it was unwarranted.
Many hockey players with better records than Rinaldo have failed to stick at the NHL level, and yet there never seems to be any question as to whether or not he belongs on the team. Even Adam Hall, a premiere face-off specialist and penalty killer that gave the organization flexibility to trade Max Talbot, was placed on waivers at the beginning of the season.
The Flyers need two points from their next eight games in order to clinch a playoff position. It's not impossible that they could tank at just the worst time, but it is very likely they will continue playing after the final buzzer of the regular season. If they can clinch on Tuesday against the Florida Panthers, it will be worth experimenting in the final three games with other alternatives on the fourth line.