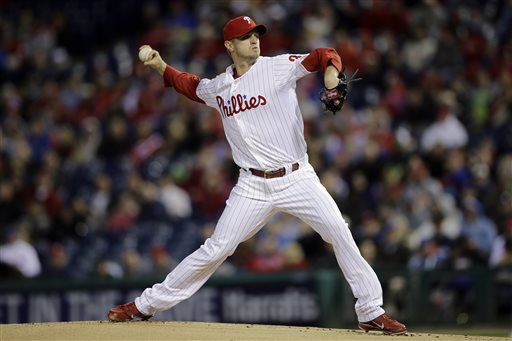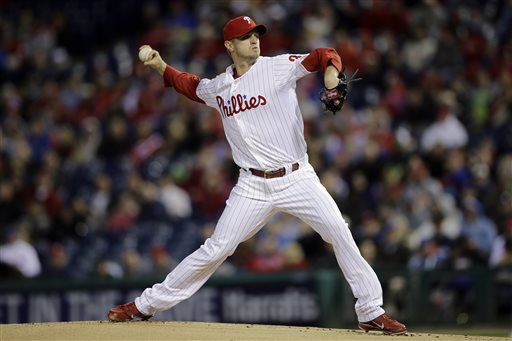 The Philadelphia Phillies lost their second straight game on Tuesday afternoon, falling to the Brewers 10-4. Their record drops to 3-4.
Kyle Kendrick took the loss, allowing six runs (four earned) over five innings. Kendrick gave up nine hits, two homers, and two walks. 

Kendrick allowed four runs to score in the fourth inning, giving up a three-run shot to Ryan Braun and an RBI-single to Scooter Gennett.
Ben Revere went 2-5 (including a triple) and scored two runs.
Jimmy Rollins went 2-4 with a walk, driving in two runs. Rollins hit his first double of the year.
Carlos Ruiz hit third in the lineup, and went 0-4 with a walk. He left four men on base.
Ryan Howard went 1-5 with two strikeouts.
Marlon Byrd went 1-5 and drove in a run.
Domonic Brown went 1-3, and worked two walks.
Cesar Hernandez started at second to give Chase Utley a day off, and went 1-3 with a walk. Hernandez left four runners on base.
Cody Asche went 1-3 with a walk, and also committed an error.
B.J. Rosenberg pitched 1.2 innings, and allowed one unearned run.
Mario Hollands came in and got the final out of the seventh.
Brad Lincoln mopped up the final two innings, and allowed three runs to come around on four hits. He gave up a homer to Ryan Braun.
Final Thoughts
Kyle Kendrick's quality appearances are going to come and go throughout the year.
There's going to be times where he shocks Phillies fans by going seven innings and allowing three runs or less like he did against the Rangers last week.
And there's going to be plenty of days where he looks like a fifth starter, and will get tagged for more than his fair share of runs like he did on Tuesday.
In spite of Kendrick's poor pitching, the Phillies really weren't out of this game, but the bullpen was unable to keep things close. B.J. Rosenberg, Mario Hollands, and Brad Lincoln combined to allow four runs over the final four innings. Your bullpen has got to be able to hold things down and give the offense an opportunity to close the gap.