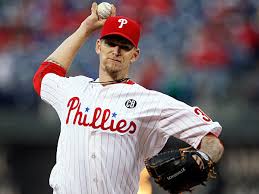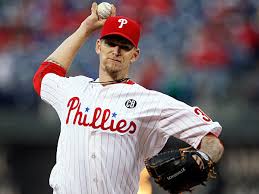 The Philadelphia Phillies snapped their two-game losing streak on Thursday afternoon, taking down the Braves 1-0. Their record improves to 7-8.
Despite suffering a hernia almost a week ago, A.J. Burnett was able to make his scheduled start, and the veteran turned in his best outing to date as a Phillie, tossing seven scoreless innings, allowing only three hits and two walks.
Burnett, however, would not qualify for the win, as the Phillies were only able to tally one run, and they were unable to generate it until the bottom of the eighth, an inning after the veteran departed.
Ben Revere was the offensive hero today, putting together three hits and driving in the game's only run. Revere drove in the run with two outs and two on in the bottom of the eighth.
This was the fifth multi-hit game of the year for Revere, and the third time he's picked up three hits in a game.
Chase Utley was the only other starter with multiple hits, finishing 2-3.
John Mayberry got the start at first for Ryan Howard, who sat against the left handed starter Alex Wood. Mayberry went 0-3 with a strikeout.
Howard made an appearance as a pinch-hitter in the eighth, and worked a walk.
Jayson Nix started at third, and went 0-3 with three strikeouts.
Wil Nieves started for Carlos Ruiz, and went 0-2.
Antonio Bastardo pitched a scoreless eighth, and earned his second win of the year.
Jonathan Papelbon notched his fourth save of the season.
Final Thoughts
While it was good that the Phillies were able to salvage a game from this series, its still pretty disturbing that they've been only able to manufacture one lousy run over their last two games.
Atlanta didn't even need to go into their bullpen after the first game in this series, and Ryne Sandberg has already begun to lose confidence in Ryan Howard, as he's now sitting the first baseman against lefties.
A.J. Burnett did a great job pitching through his hernia today, but I don't know how often he'll be able to pull off performances like this. Playing through injuries like this rarely work out for an athlete, especially ones like pitchers. He may be alright today, and he may make it through the next week or even month with the injury, but as long he keeps playing through it, he's going to continue to aggravate it.
Especially since this injury comes so early in the year, its only a matter of time before the veteran is going to have be shut down to get it taken care of.
Sooner or later, this injury is going to become a lot worse and really take a toll on Burnett's production.