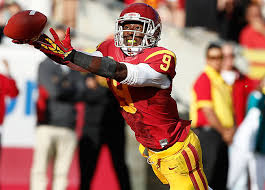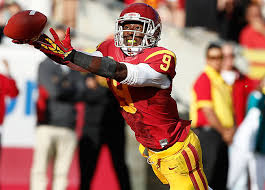 If the Eagles remained at pick #22, wide-receiver Marqise Lee is a name we could hear called on draft night.  The former USC Trojan had some monster games against Chip Kelly when he was coaching at Oregon, and Chip has shown a fondness for Pac-12 players.
Lee's overall skillset, body composition and college career is similar to that of current Eagle Jeremy Maclin.  His size is good but not great, speed is nice but not explosive, and he is more known for making plays after the catch rather than creating plays as a matchup problem.
His game tape reminds me of Greg Jennings formally of the Green Bay Packers and now with the Minnesota Vikings.   Lee could certainly help improve the Eagles receiving core, and his transition to the pro game would be easier than other receivers taken in the first round of the draft.  His versatility, football I.Q. and willingness to block are all attributes that Kelly likes in a receiver.
Lee is not a big guy.  He is 6'0 and 192 pounds.  A lot of his upside would depend on how he was used on the field.   He is not going to blow past defenders with the deep pass and he won't win the jump ball.  His best traits are making defenders miss once the football is in his possession.  He takes good angles and demonstrates patience with allowing for downfield blocking.
The Eagles have had the top end speed receiver for the last six seasons, and if they really wanted to, they could get themselves that type of guy in the first round with Brandin Cooks.  If the Eagles wanted that big, physical wide receiver, they could go in the direction of Benjamin.  In between the elite speed and size is a guy like Lee.
Marqise Lee would be a selection that I would "understand" as our first round selection, this is a good spot for him and he fits an area of need for the Eagles.  Odell Beckham Jr. from of LSU is another name that is projected around our first round selection.   Lee and Beckham Jr. give me the "eh" I'd rather trade back or draft the best defensive player available.
There are other receivers that measure in around or slightly above 6' and weigh 190 to 210 pounds that I would prefer to be drafted outside of the first round.  These are players who I'm looking to take over the role that Jason Avant left behind in terms of receiving targets.  Avant had above average hands, solid blocking and was fearless playing in the middle of the field.  He also had "zero" upside after making the catch, something we must get from a receiver we elect to draft.
Round 3
Jared Abbrederis- Wisconsin 6'1" 195 pounds- Nothing flashy about his game, he brings his lunch pail to work each day and gets the job done.
Jarvis Landry WR- (LSU)- 6' 205 pounds-strong hands and fearless, willing to put his body on the line to make the catch.  Plays with an edge, physical and does well getting off the line of scrimmage when defenders try to jam.
Round 4
Josh Huff (Oregon)- 5'-11" 206 pounds- Jeff Maehl 2.0?  No, this kid has bigger upside at the NFL level, and a different kind of make-up.  Huff is the kind of player that understands where he needs to break his route short, and can be a reliable dump off for his quarterback when he is in trouble.  Huff would do all of the things Avant did, but add the "YAC."  Needs to improve with the dropped passes; something that gets lost in the shuffle after breaking the receiving yards and touchdown record his senior year.
Kevin Norwood (Alabama) -6'2" 198 pounds- good character, smart, willing.  His actual skill set is average, was not very productive at the college level but scouts think he has more to offer in the right situation.
Round 5
Mike Davis (Texas) -6' 197 pounds- Plays a lot bigger then listed, and had a solid career with facing legitimate competition.  Needs to work on his consistency with route running and overall focus throughout the game.
TJ Jones (Notre Dame)- 6'  188 pounds-  Has good overall makeup as a receiver and can help in the return game if called upon.  Athletic for size and could afford adding some bulk to narrow frame at the professional level.
Round 6
Ryan Grant (Tulane) -6' 199 pounds- Solid built with a good second gear once the ball is in his hands.  Overall skill-set is still in the works.
Round 7/Undrafted
Austin Franklin- (New Mexico State) 5'11" 189 pounds- Plays with a chip on his shoulder, fights for the extra yards and has decent speed with good vision on the football field.
Matt Hazel – (Coastal Carolina) 6'1" 198 pounds- Hard worker who has played multiple assignments in the passing game.  Needs to develop skill set; practice squad player.